Edinburgh's Escape The Past: The Anatomist

AD: Tucked at the bottom of a flight of stairs, in a small corner off Nicholson Square in Edinburgh lies an escape room dedicated to the darker side of medical history.
A room steeped in the 19th century, where anatomy and Edinburgh's darker underworld are laid bare, and where you are asked to solve a mystery involving anatomist, Dr Malcolm.
In a city where cadavers were once the hottest commodity, anything relating to the dark art of body snatching and providing corpses for the 19th century dissecting table was always going to pique my interest. 
And so when I was invited to Edinburgh to try my luck in the city's coolest Escape Room, The Anatomist, I naturally jumped at the chance. 
Pre Escape Room Jitters
Having never even stepped foot in an Escape Room before, I had no idea what to expect, and so I was pretty lucky to have cut my teeth in a room dedicated to my favourite pastime. 
As with all escape room experiences, you make up your own mini team (The Anatomist allows teams of between 2 – 6 people)  and I ended up testing my skills along with my good friend Cat, the Human Remains Conservator at Surgeons' Hall Museum and writer of the blog 'These Wandering Bones'.
As we walked down the steps on our way to start our challenge, I had absolutely no idea what to expect as we were greeted by our guide Sophia and taken into the hall of what I imagined to be, Dr Malcolm's home.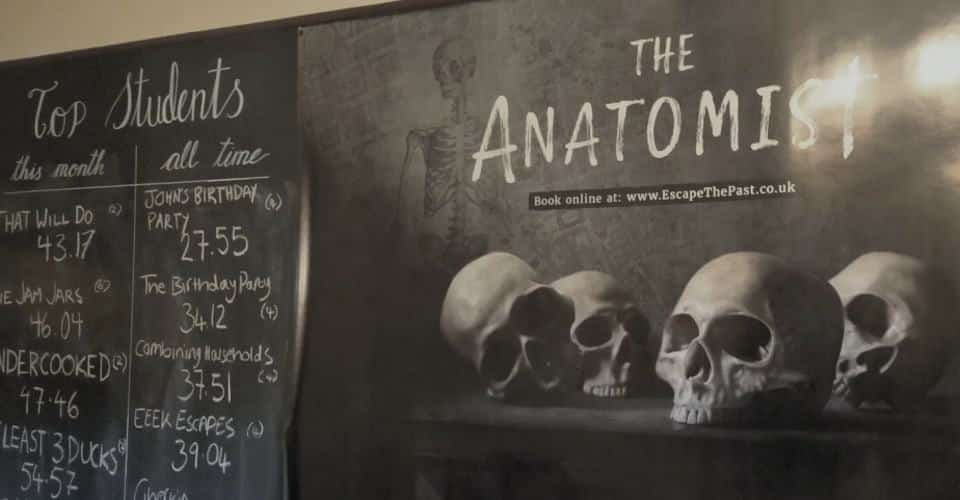 Once inside, I glanced over to the wall on my right and saw a leader board, nothing like a little bit of healthy competition. I'm going to get myself on there I thought, a body snatching expert and an anatomist – we're going to 'kill this', if you'll pardon the pun. 
It was only when we came out did we discover that some of those on the leaderboard were seasoned escapists.
I'll put you out of your misery now, we completely failed at our challenge, and we both hang our heads in shame. 
Let The Challenge Commence: Entering Escape The Past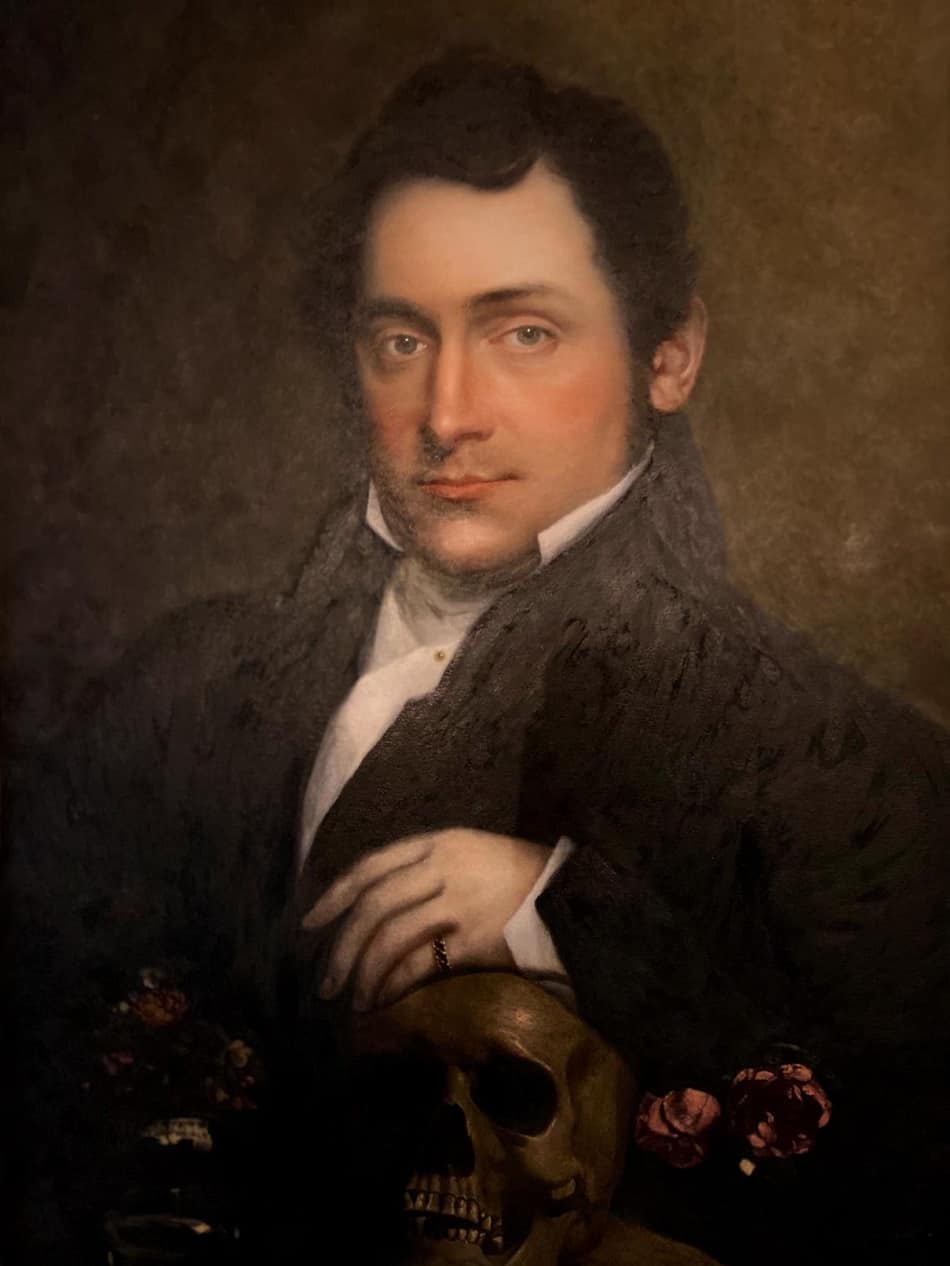 Standing in Dr Malcom's hall-way, our mentor for the day, Sophia, after running through some basic house rules, told us our challenge. 
I won't lie, at this point all I could imagine was Channel 4's The Crystal Maze and wondering whether Sophia was going to be joining us, shouting tips at us through a 19th Century hole in the wall? 
Would we even know what to do once we were inside the room and what on earth was our objective?
I needn't have panicked of course as all of this was explained to us before we entered Dr Malcom's study.
Our mission was to find Dr Malcolm's journal. Do this and all would be revealed as to how he'd been procuring bodies for the dissecting table and what 'crime' had occurred to make him disappear so quickly. 
Heart pounding, (mine, not Dr Malcom's), we were all set. And after a quick squirt of hand sanitiser, we were pretty much ready for anything.
Stepping Into The 19th Century and Dr Malcom's Study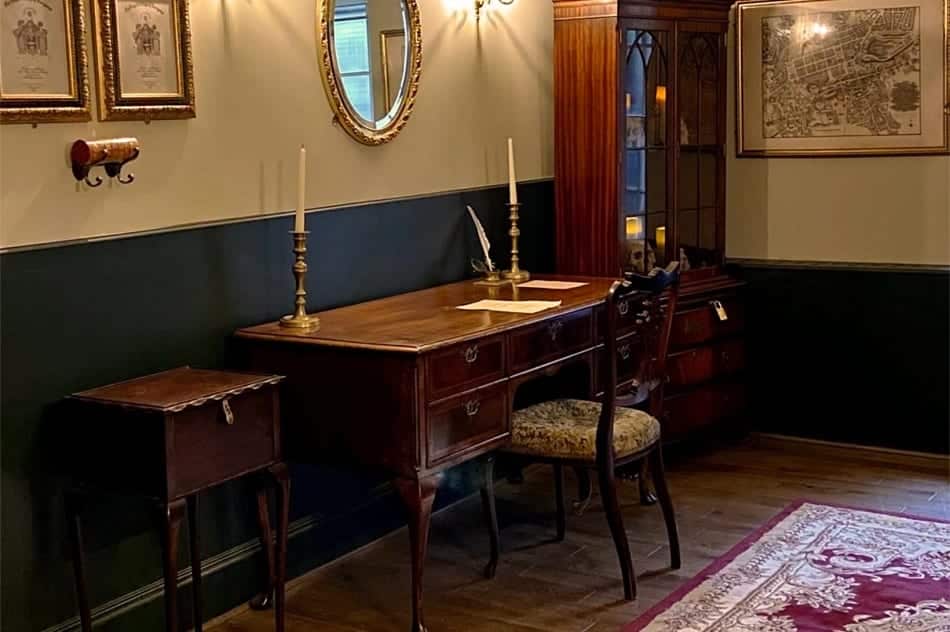 Alas, Sophia didn't cross the threshold with us as we were transported back to a scene that was probably all too familiar in 19th century Edinburgh. 
Images of Dr Knox standing in his study after hearing of the arrest of Burke and Hare immediately filled my head as we excitedly stepped into Edinburgh's medical underworld. 
Before us was a desk strewn with papers, a cabinet filled with skulls, medical texts on the bookshelf and a grandfather clock ticking away quietly in the far corner of the office. Just perfect. 
I can tell you now that both Cat and I were about as excited as each other as we quickly scanned the room wondering where on earth to start. 
Quick there, on the desk…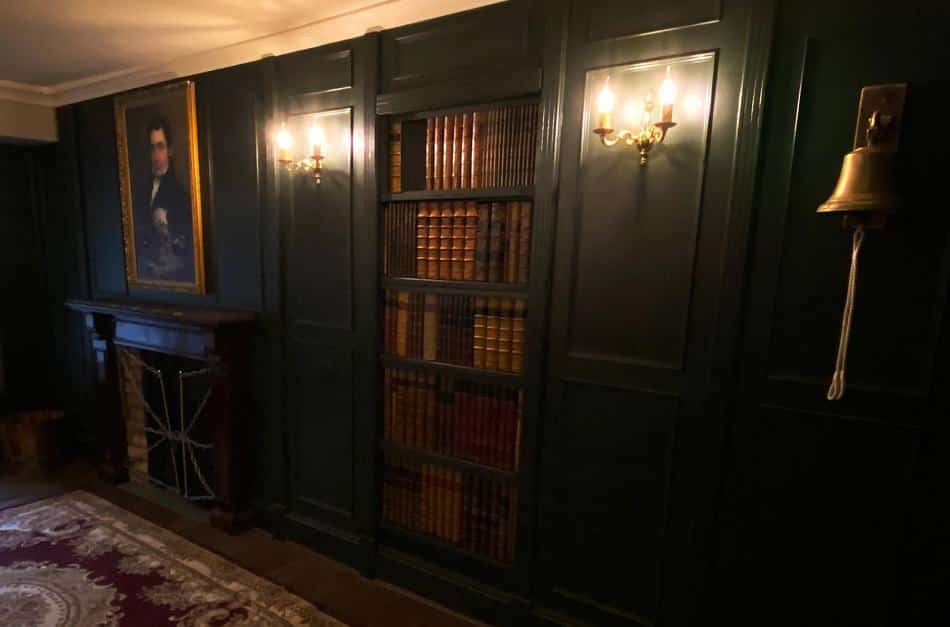 It's hard to share my experience of The Anatomist with you without giving too much away. Paintings and maps on the wall, the bookcase, even the clock or unsuspecting cupboard in the corner. 
Did everything in the room need to be poked and prodded in the hope of finding a clue? 
I'll let you decide when you find yourself standing in Dr Malcolm's study this summer.
There was a fantastic array of objects that concealed clues in the room and the team that put this together must have had a great time coming up with the concept. The room was all dreamt up and created during our first lockdown, I wish I'd been even half as productive with my time.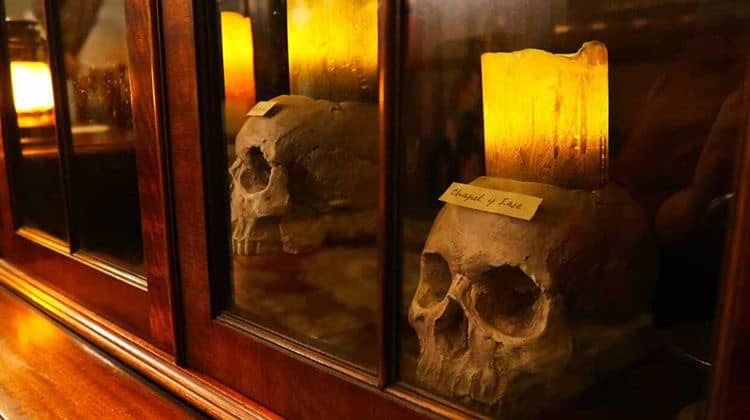 We floundered in our quest at times. We must have done or we wouldn't have heard Sophia's dulcet tones filtering into the room, giving us gentle hints.
Turn this knob here, put that key in the lock over there, perhaps take a closer look at that map on the wall? We really were left to figure things out for ourselves, but when even what appeared to be a simple lock defeated us, our guide was there to provide a little nudge in the right direction. 
I was blown away at how all the clues and information we were gathering during our frantic hour trying to 'Escape The Past' were all slotting together. I had no idea that this was how an escape room worked and loved how little body snatching facts were strategically placed throughout the room – mortsafes, caged lairs even a few famous names, you've just got to know where to find them. 
An hour seemed like a long time, but trust me, it isn't nearly long enough.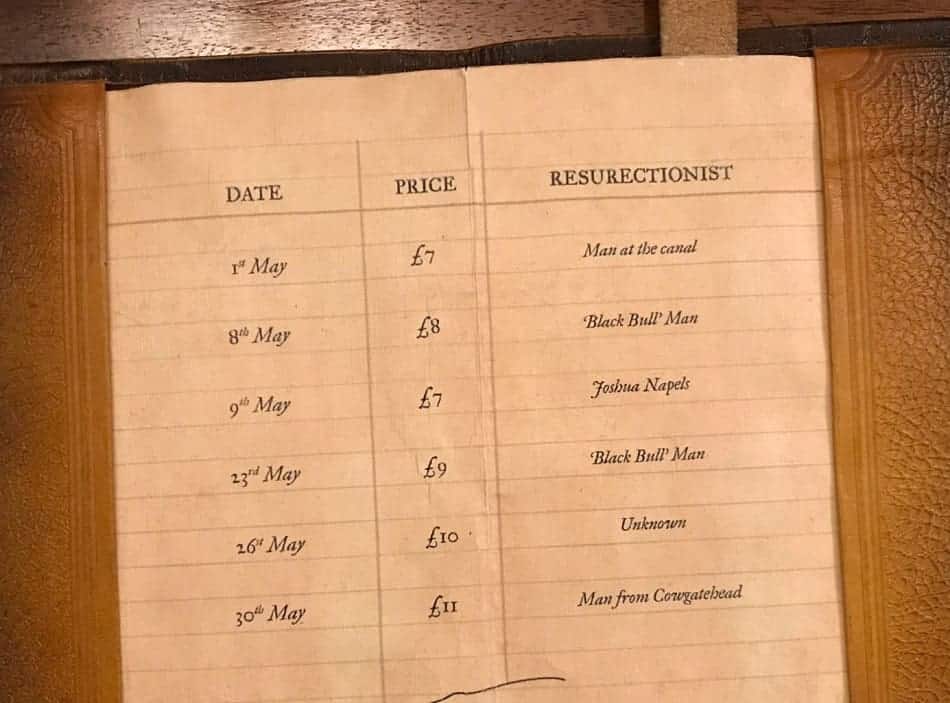 Would I Go Again…?
You bet I would. We were both beaming when we came out of the escape room even though we failed to complete our task. I'd have given my right arm to have had another go there and then. 
The concept and detail that has gone into making this room was exceptionally clever and if you love your medical history and body snatching as much as I do, then this is definitely the escape room for you. 
I hope you enjoy your time there as much as I did.
Getting There & Enjoying Your Experience
It couldn't be easier getting the Escape The Past: The Anatomist as they're located just around the corner from Surgeons' Hall Museum and The National Museums of Scotland on Nicholson Square. 
I headed into Edinburgh from Straiton Park and Ride and I literally could not have got closer to the escape rooms if I'd tried. The bus (No. 47) dropped me right outside the entrance gates.
Tickets are currently priced at between £54.00 – £99.00 depending on group size and tickets sell out fast, please check their website for current prices.
For everything you need to know about finding the Escape Rooms to booking your experience please take a look at their website for more details. They really are a great team there and will be more than happy to help if you have any further questions. 
If you'd like to catch up with their latest news, you can find The Anatomist on Facebook 
Covid-19 Policy For The Anatomist Escape Rooms
The team at The Anatomist are pretty fanatical when it comes to cleaning the room between visitors and I have to say that I felt very safe during my visit. Everything had been sanitised before we arrived and there was hand sanitiser available as we walked in. 
We were asked to keep our face mask on during our time in the room which we were both happy to do.   You're in the room in your 'bubble' and I felt perfectly ok the whole time I was there. 
If you need any further information, you can find this on The Anatomists FAQ page on their website. 
Thank you to Chris and everyone at Escape The Past: The Anatomist in Edinburgh for inviting me to experience the delights of a 19th century anatomist's study.