Body Snatchers In Northleach House of Correction
Northleach House of Correction, one of four in the County of Gloucestershire[1], opened in 1791 where the separate system – so familiar in prisons such as Pentonville – was first trialled. 
When a treadmill was installed in the 1820s, the conditions inside Northleach were said to have worsened – those prisoners sentenced to Hard Labour, were about to endure a much harsher regime. 
As my research into body snatching takes a bit of a turn, I'm digging deeper and looking at the criminal lives of the body snatchers and some of the punishments they had to endure while also sharing with you some of the tales from the inside.
In this post, we're going to look at the stories of just a few of the body snatchers who were sentenced to imprisonment, for however long, in Northleach House Of Correction. 
Often referred to as The Old Prison, Northleach House of Correction was built in 1791 at a cost of £5,11d 6s 4d. The treadwheel, dating from the 1820s, was installed in the mill house, which in turn became the police station in 1859. Northleach finally closed its doors in 1860 and is now a museum/café. You can still see the women's cell block from 1844, along with the original courtroom.   
As much as I'd love to fill this post with details of the harsh regime of Victorian Prisons, I've decided to keep these posts separate on my blog so that you can decide how detailed you want go. 
My post on the Victorian treadwheel or treadmill, also known as the 'everlasting staircase' can be found here if you wish to dig deeper.
A Short Video About Northleach House Of Correction
But to start, I thought I'd share this brief clip on YouTube from prisonhistory.org which gives a quick insight into Northleach House of Correction. It's just over 2 minutes long, so worth a quick peek if you're curious as to what the prison looked like.
Discovering Body Snatchers In The Northleach House Of Correction
I've been tracking down body snatchers for over 15 years now and one of the first places I target for my research, along with the fantastic British Newspaper Archive, are the Criminal Register for England and Wales. [2] 
A time-consuming task, and one where it's so easy to head down the odd rabbit hole or two but it's not hard to track down a body snatcher in these records. Not for their first sentence anyway. You need to be able to recognise their names and take a leap of faith to find any further convictions. 
And this is what I did with Leeds body snatchers, Michael Armstrong. By the time I'd found out about Armstrong's stint in Northleach House Of Correction, he'd already served time, six months of it to be exact in York Castle Gaol for stealing the corpse of 15yr old Martha Oddy from the churchyard in Armley, Leeds. 
Armstrong worked with three other snatchers to take Martha from her grave on the 13th March 1826, three days after being buried, only for the surgeon to panic once he had the cadaver in his hands and subsequently try to ship Martha off to Edinburgh. 
Luckily for her she was discovered stuffed into a box before ever making it out of the county and reinterred 3 days later into the same grave she came out of.
Arrested For Vagrancy & Intoxication
Having learnt nothing from his recent stint in prison, Armstrong decided to try his luck further south and ended up in the spa town of Cheltenham, Gloucestershire. 
Arrested and convicted on a charge of vagrancy and intoxication, in October 1827, just at the start of the dissecting season,  it was only when Armstrong was asked in court how he made a living, that I was able to link him with the case in York a few months earlier. 
Standing in the dock that day, Armstrong slowly produced pencil and paper from his pocket and proceeded to write his answer. Gingerly he stepped forward and handed his scrawled note to the Magistrate:
Honourable Sir – I supply the different annatommicle (sic) Schools in London with Subjects Constant but no one knows me Hear (sic) except 2 or 3 of the surgeons
Enough was said and despite hoping for a more lenient sentence, Armstrong was committed to Northleach for one calendar month of Hard Labour. 
By this time, 1827, the treadwheel had been installed at Northleach and would have been in full swing as it were when Armstrong walked through the gates that October.
Conditions At Northleach House of Correction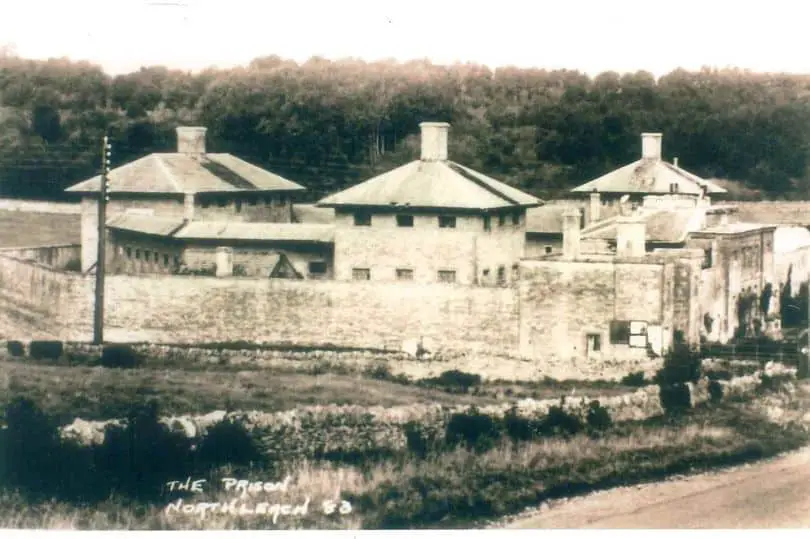 The brutal conditions at Northleach were well known and by the 1840s reports of the hardships were regularly reported in the newspapers. 
So feared was the treadwheel that one prisoner in 1843, on his way to serve his sentence was so scared, that he thought it better to break his leg under a wagon wheel than face the punishment of the 'everlasting staircase'. 
The Bristol Mercury, reporting in October 1842 noted that the prison was so damp that on occasion, water would stream down the walls: 
' that prisoners, after coming off the treadwheel wet through with perspiration, have to take their rest in a cold cell; entirely constructed of stone, and with nothing but a stone bench, or an iron bedstead to sit upon' 
When a prisoner died after being sentenced to six months of hard labour, the cruel conditions of the prison were severely criticised, especially since this was the second such death that had taken place and was being attributed to the rigorous and unwholesomeness of Northleach Gaol.   
The regime was so harsh, the Morning Chronicle reported in 1843, that when one inmate was required to give evidence in court, he had to be 'wheeled in' a wheelchair because he was that weak and unable to stand and in fact, soon after expired! 
Conditions must have been similar for Michael Armstrong, and I bet he wished nightly that his sentence had been more lenient. 
A Body Found Lying Naked in the Churchyard
It was perhaps with some shock that the inhabitants of the quiet rural village of English Bicknor, Gloucestershire awoke to the news on a cold December morning in 1829, that they had been the latest target in this revolting trade.
After trying their luck a few days earlier in the village of Lea, Herefordshire, body snatchers  John Garwood and William Yeame, operating undercover as glass cutters, caused a few too many curtains to twitch as they made their way 'about town' trying to pilfer the inhabitants of the local graveyard. 
Deciding to leave their lodgings after only a few days, the pair crossed the county line into Gloucestershire, and into the Forest of Dean, turning their one-horse cart in the direction of Coleford, some eleven miles away. 
Their new base was in an area on the outskirts of town known as Whitecliffe and to an Inn which dated back to the 1790s -once known as the Nag's Head, it now went under the banner of the Traveller's Rest.  
It wasn't long however before their unusual habits once again started to attract attention. 
The ordering of boxes from the local carpenter could perhaps be accounted for but the marauding around at night was 'enough to excite the suspicions of some of the natives' as the Monmouthshire Merlin so eloquently put it.
Body Snatchers Under Surveillance
The pair were spotted one Sunday evening, all wrapped up in their great coats and heading out of town on foot – much quieter than a horse and cart – in the direction of the nearby village of English Bicknor. 
By 10 pm it was already dark, yet they were spotted by the eagle eyes of parish constable Milson Harris, and were completely unaware that they were about to be tracked throughout the Gloucestershire countryside. 
Seeking back-up, Constable Harris, together with Thomas Porter and George Nash, made their way to the new church of Christ Church, just half a mile out of Coleford itself. 
Here they waited in silence, ready to catch the body snatchers at the work. 
It soon became apparent, however, that their vigil was proving fruitless and that the real target that night was to be another churchyard, the one in English Bicknor, whose church of St Mary the Virgin has been receiving the dead since 1100. 
Extracting A Female Corpse at English Bicknor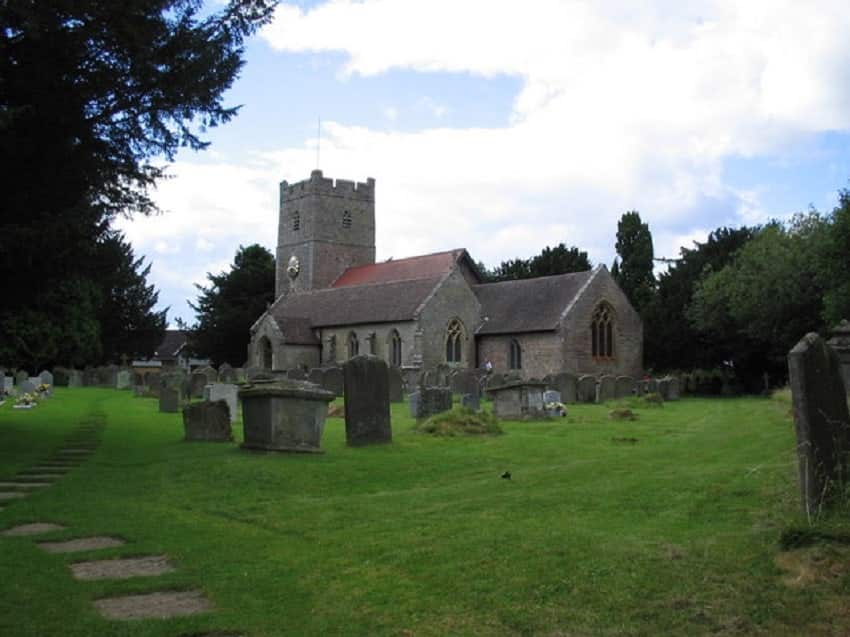 With body snatchers Garwood and Yeame having a head start, it was nearly midnight by the time the would-be heroes had caught up and were peering over the churchyard wall into St Mary's. 
They could already hear shovels rhythmically removing the soil from the grave of Elizabeth Jones who had been buried only twelve days before.* 
They stared in disbelief as the body of Elizabeth was lifted out of the coffin and was being prepared to be stuffed into a sack – her back had been cut and her body already doubled in preparation. 
Without thinking Harris, Porter and Nash scaled the wall, determined at all lengths to stop Elizabeth from being taken away. 
The fight in the graveyard that night was loud enough that it woke those who lived nearest to the graveyard, including John Jones, the parish clerk, who, like all his neighbours thought it was a drunken scuffle and returned back to bed. 
A Few Gruesome Findings
After a failed escape attempt in which various body snatching paraphernalia were discarded, body snatchers Garwood and Yeame were successfully restrained. 
What was found next was proof that the pair were seasoned body snatchers, God only knew how long they'd been targeting graveyards in the area. 
The items found were typical of those used by body snatchers:
The 'papers' were described as address labels, ready to be nailed onto boxes when cadavers were ready for shipment. Another sign that the pair were preparing to remain in the area for quite some time. 
The pocketbook gave details of the parishes to be targeted – Lea (they screwed that one up didn't they), Ruardean, Ross and Walford. 
But don't be too hasty in jumping to conclusions, just because there was a regular coach service from Coleford to London, doesn't mean that Elizabeth was about to head out of the county, for Elizabeth's body was yet to make it out of the churchyard and there were other potential buyers in the vicinity. 
In 1830, the year following our snatching, there were two surgeons practising their trade in Coleford. Could it be that Elizabeth was destined for a dissecting table much closer to home?
Trial & Sentencing
On Monday 14 December, Garwood and Yeame were brought before the magistrates at Coleford, held I do believe in The Angel Inn, Coledford's main coaching Inn and one that used to house the town mortuary and even had an embalming room! [3] 
From here they proceeded the following day to Lydney, just over seven miles away, where their case was to be heard at the forthcoming Petty sessions. 
Thoughts of a reprieve were quickly squashed as the pair were conveyed to Gloucester Prison to await their turn at the next Quarter Sessions. 
Their case was heard at the Epiphany Session, 1830 and despite speculation that the pair would be tried for stealing the burial shroud along the corpse of Elizabeth when all was said and done, they were charged with a misdemeanour – that is the taking of Elizabeth's body only. 
Their punishment for their part in medical advancement was a six-month stint in Northleach House of Correction, with an additional month of Hard Labour tagged onto the end. 
A Trio Of Body Snatchers & The Body of John Cox
By the time body snatchers, John Millard and brothers (?) Isaac and Jacob Hunt were sentenced in 1832, the treadmill at Northleach and the harsh conditions linked with it, would have been the worst kept secret in Gloucestershire. 
They'd snatched the cadaver – amongst other things – of John Cox and the harshness of their sentence stems from the fact that they forgot to remove the burial clothes from the cadaver before carrying it away and hoping to sell it to the Royal College of Surgeons, London.
Cox was stolen from the Wesleyan Methodist Chapel in Oakridge, Bisely in October 1831 after Isaac Hunt, a messenger for the College of Surgeons, took it upon himself to procure Cox's skeleton for the college's collection. 
Being small in stature, Cox, so Hunt thought, would add value to the specimens or exhibits already in the museum, and so, with the College completely unaware of his actions, Hunt stole into the graveyard at Bisley on a cold winter night in October. 
Descriptions of the Body Snatchers
Waiting in the County Gaol before being sentenced at the Quarter Sessions, the register of prisoners was filled out with great detail, and this has to be one of the most descriptive accounts of body snatchers that I have found to date. 
I hope you'll bear with me as I give the descriptions of these three miscreants in full detail, I can't help thinking there must have been something in the water…see what you think:
John Millard – Light brown hair, grey eyes fresh complexion, rather large nose, sandy whiskers, two small moles and a scar on his right arm, two moles and a scar on his left arm, scar left hand little finger, same hand contracted [?] two large and several small moles back of his shoulders
Isaac Hunt  – Dark brown hair, brown eyes, fresh complexion round face, stout made, four moles on his neck, two moles near his left breast, a mole near his navel, seven moles on his right arm, six moles on his left arm a mole on this rump [?] a mole on his right side
Jacob Hunt – Brown hair, brown eyes, thick nose, fair complexion , several small moles near his mouth, five pimples on his right arm, four moles on his left arm and a scar on the same arm, a mole on the back of his shoulders, stout made
Quite something! 
Considered to be the instigator in the snatching, Isaac Hunt received one year's imprisonment at Northleach, with his fellow snatchers receiving six months. 
All three body snatchers received one week of additional imprisonment for stealing grave clothes consisting of:
All of which belonged to Cox's sister, Rachel. 
I have a feeling that there are many more body snatchers yet to be found that saw the inside of this notorious Gloucestershire prison, and it is purely restraints on my time that have stopped me from writing more on this occasion. 
But for now, I leave you with these three short tales and hope that you'll share these stories with your friends if you enjoyed them. 
Taking Things Further
*There are two burials in the English Bicknor parish registers for Elizabeth Jones in 1829. One aged 65, buried 6 September and whose corpse would have been too decomposed to have been of any use to the surgeon and then 'our' Elizabeth, buried 25 November and already nearly two weeks dead and probably not that suitable as a specimen for the dissecting table.
The parish registers give no indication that either grave was tampered with, and despite the papers saying  Elizabeth had been buried only a few days before, I could find no record of an earlier burial in the parish registers. 
Through the process of elimination, and by considering the state of decomposition of the cadaver at the time of the snatching, 6 December, I can only guess that it was 19 yr old Elizabeth, buried 25 November, whose grave was targeted that night. 
[1] The other three Houses of Correction in the County are Littledean, Horsley and Lawford's Gate, Bristol
[2] The original Criminal Registers for England & Wales, 1791 -1892, are held at The National Archives, Kew [Ref HO27] although they are also available on Ancesty.co.uk (£) and Find My Past (£) both sites which many of you will be familiar with. I use both interchangeably for my research. 
[3] I was thrilled to find information on The Angel Inn in Coleford on the Gloucestershire Pubs website, without this, I doubt I would have discovered that the pub had such a dark history. The researching of the mortuary and embalming room is a blog post all to itself I think! 
I delved into the wonderfully rich resource British History Online for Coleford and English Bicknor heritage and found some wonderful gems about these two parishes, which I've weaved throughout this post.