7 Alternative Body Snatching Sites Outside Of Edinburgh
If you've read my blog before you'll know that I'm a body snatching historian, at least I think that's what I'm called, and I LOVE all things related to this macabre topic. 
I also believe there's SO MUCH MORE to see in regards to body snatching history than the relics and stories relating to Edinburgh and the murdering duo Burke and Hare. 
But I want to get you off the beaten track and show you that there are still TONS of body snatching related sites, and relics, that you can discover throughout Scotland that in my opinion, far outstrip some of the things that you can see in Edinburgh.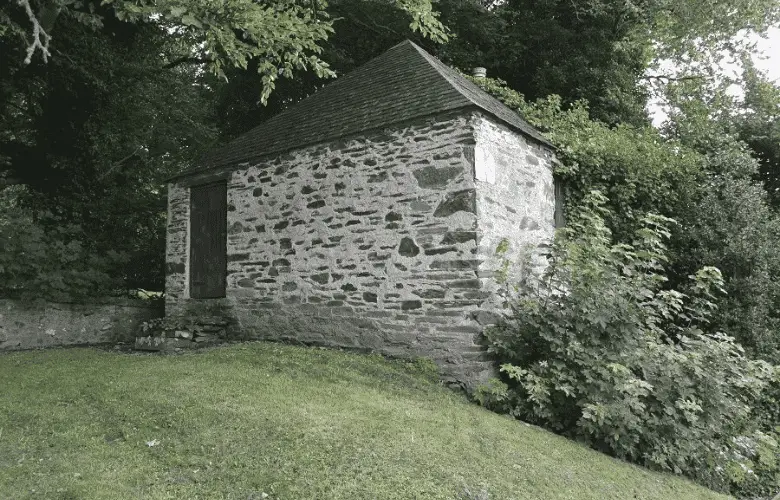 That's not to say that I don't love what Edinburgh has to offer or that I ignore Burke and Hare completely, in fact, if you read one of my favourite posts 'Finding William Burke: The Relics of A Murder' you'll see that I'm just as fascinated in their story as I am in body snatching. 
But in this post, I want to share with you my  7 ALTERNATIVE SITES that you can visit to get your fix of all things body snatching! 
I've chosen these sites not because they have specific relics still in situ, but because to me they represent what body snatching was all about. 
The targeting of graves regardless of the location, and the utter fear that our ancestors went through at the thought of a visit from the dreaded body snatcher.
The Old Kirkyard, Cluny, Aberdeenshire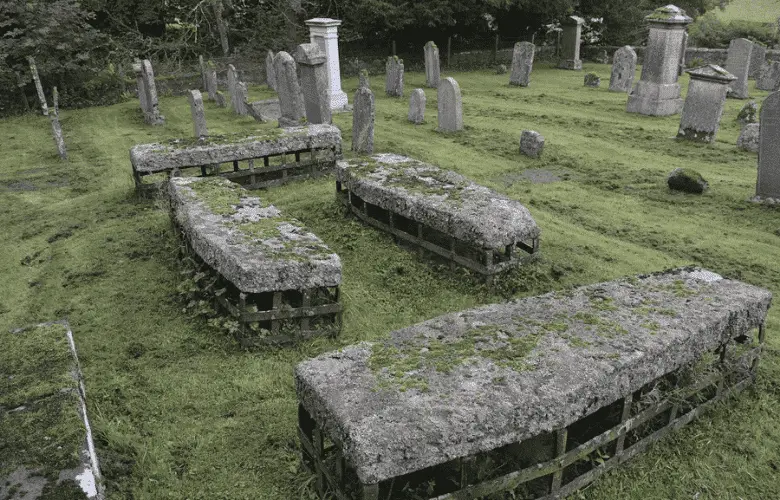 I ADORE the Old Kirkyard at Cluny and I challenge you not to be blown away by this site when you visit it.
During my last visit, I had the place all to myself, apart from the rural postman who was whipping down to the lodge at the end of the road in his van, but other than that, I was free to wander around with no interruptions. 
There are actually three separate sites here at Cluny; two of which are modern and date from the 19th and 20th centuries, and the original site, which was once home to the medieval church, was demolished in 1789.  
Cluny 'Old Kirkyard'
It is the original site, the one now referred to as the 'Old Kirkyard', that to me, is the most interesting.
What you're going to see here is probably UNIQUE. I don't know of any other sites in Scotland where you can find four mortsafes of identical proportions anywhere else. 
There's Logierait I hear you cry! This is true, but Logierait only has three mortsafes, plus I wanted to share with you something a little bit different. And although the mortsafes at Logierait are impressive, they don't come close to the ones on show at Cluny. 
Cluny Mortsafes
Cluny's mortsafes sit atop a small mound in the centre of the Old Kirkyard and are immediately visible from the steps as you enter the site.  
What you see here are perhaps the finest examples of what can be described as a typical Aberdeenshire mortsafe; a thick slab of granite on top, boarded with a latticed iron skirt beneath.
These colossal slabs measure 7ft in length with a width of nearly 2.5ft across, where the shoulders of the corpse would roughly be.  The granite itself is one complete slab and measures nearly 6in thick.
There are similar, almost identical mortsafes at Kirkton of Skene and Towie, both in Aberdeenshire as well as at Kinnernnie below, and it's been suggested that due to their similarity, they could be attributed to the same workman, or at the very least, to the same design.
Mausoleum of Elyza Fraser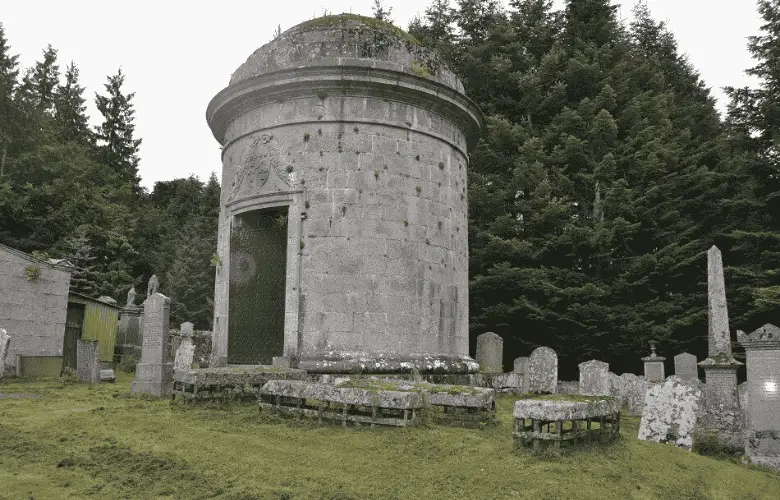 As you walk up to the mortsafes, you probably won't fail to notice the huge pepper-pot shaped mausoleum for Elyza Fraser, the lady laird, that was completed in 1808. 
Built by James Byres, a personal friend of Elyza's, the mausoleum, a Category A listed building is considered of European importance and even has a 'Friends of Miss Elyza Fraser's Mausoleum' group to help preserve and repair this important monument.
But interesting as Elyza's mausoleum is, that's not why I wanted to share this site with you. I brought you here for the mortsafes, pure and simple. 
On the underside of the huge granite slab would have been a series of metal hooks helping to lift the mortsafes into place. 
Such devices could be exceptionally heavy and special lifting equipment called mortsafe tackle would have been used and operated by a number of men. Even then, this would have required a certain amount of strength to stop the thing from running away with you. 
Little is known about the history of the mortsafes here at Cluny and I suspect that any papers relating to their commission may be held in private hands, although further research is still needed. 
It is extremely likely however, that the mortsafes belonged to members of the Fraser family who lived in the nearby Fraser Castle, now owned by The National Trust for Scotland.  
This lack of information about who commissioned the mortsafes or even who made them also makes these relics more intriguing. 
Getting to The Old Kirkyard, Cluny
Cluny isn't exactly in 'the wilds' but it's still a fair way off the beaten track. Cluny lies about half an hour from Aberdeen and information on how to get to the church can be found on the church's website here. 
If you'd like to see a more in-depth history of the site, you may find the  Aberdeenshire Council Historic Environment Record (HER) which accompanies the Old Kirkyard at Cluny of particular interest. 
St Mary's Cemetery, Old Kinnernie, Aberdeenshire
If you head to Cluny and think that's impressive, JUST WAIT until you see Kinnernnie. 
With only two mortsafes, however, it's not the body snatching relics that will hit you, it's probably the relief you'll feel that you've actually found the place! 
Only joking, although this site was a devil to find and had me on a 15 mile detour before I finally figured out what my GPS was trying to tell me! 
What made this site so special to me was that it actually made me stop and contemplate the events that may have taken place here. To think about the body snatchers skulking around in the dead of night. 
Keep that in mind when you're looking over the mortsafes and wondering how many bodies were taken before such devices were used. 
Although the two mortsafes have been moved from elsewhere in the cemetery, I rather like them in their current position. 
They sit end to end along one of the exterior walls of what was the old church. They seem to suit the location and I find it hard to visualise them elsewhere on the site. 
In typical Aberdeenshire fashion, these mortsafes have the thick iron granite slab and the iron lattice skirt running under its edge.
The ironwork is starting to crumble in places due to its age and to the elements but as yet, it's still holding its own. 
Visiting Old Kinnernnie
To access the cemetery you need to walk past a number of private houses and there is very limited parking here, enough for one car and only for a short period. 
The best way to find this site is via Canmore, the National Record of the Historic Environment website.
The Old Parish Church, Kirkton Of Culsamond, Aberdeenshire
I very nearly didn't visit this site. The information in my trusted copy of Geoff Holder's 'Scottish Bodysnatchers: A Gazetteer'  didn't really sell it to me, but if anything I am thorough so on a recent trip to Aberdeenshire before lockdown started, I was determined to tick it off my list.
All my preconceived ideas about this site; that it was boring, that it's only a watch house etc. etc.  were gone the second I pulled up alongside the churchyard wall.
Here at Culsamond, you're going to find one of only a few two-story watch houses that exist.  
Still quite rare, you wouldn't call it a 'typical' watch house design as you would Symington which we'll visit in a bit, or St Cyrus, also in Aberdeenshire. 
The upper story, which is technically at ground level, was originally used by the watch men who guarded the graves of this remote parish from the hands of the resurrection men. 
Below, in a subterranean layer, lies the old morthouse. A damp and dark room that once housed around a dozen coffins over three tiers of shelves. 
The barrel-vaulted ceiling however couldn't entice me into the dark space when I visited the site.
Perhaps if it wasn't so early in the morning or if I'd not been there on my own, I may have summoned up courage, but nope.
I got to the edge of the door and stuck my camera in, not exactly what is needed from a 'travel -guide'. 
Using The Morthouse
The morthouse was used by not only the parishioners of Culsamond but also those of the neighbouring parishes of Cullen, Banff and Portsoy. Although using the facilities naturally came with a cost. 
Fees ranged from 3d up to 1s for the locals moving to a higher fee of anything between 5s to 10s for those in the outlying parishes.
For added security against the bribing resurrection men, four keys for the morthouse were issued and distributed amongst four different men within the parish.
I do like the fact however that a fine of £1 (the equivalent of  around £57 today) was in place for any 'leaky coffins'. 
This to me suggests that there'd been more than a few problems in the past and that the local carpenter, who was often called on in situations such as this, had had about just enough of fluids leaking from the corners of poorly made coffins and dripping everywhere. 
The Watch-house After Body Snatching
By 1860, the threat of body snatching had well and truly passed and the watch house entered a new phase. 
A Sunday School was established in the upper half of the building, where the watch had originally sat. The children however, fearful that the place was haunted, refused to attend and the School sadly closed.  
The space was then taken over by the parish choir and adapted as a suitable gathering point for the Bible Class and general parish meetings.  
Finding The Old Church at Kirkton of Culsamond
Culsamond lies about 12 miles from the parish of Inverurie on the junction between Lawrence Road and Cadger's Road.
The Canmore website gives a very clear map of the area, as well as some excellent background information on the site. 
In regards to getting to the site, however, I think there can be no better description than that given on the Imperial War Museum's website that also offers information about the WWI memorial that hangs within the kirkyard.
Spynie Cemetery, Moray
At Spynie, you'll see one of the finest morthouses still in situ, in my humble opinion and if you combine it with a visit to Kirkton of Culsamond, you begin to get an idea of what the morthouse on that site may also have looked like inside. 
Drive through the town of Elgin and on your left-hand side you may notice the smallest of signs pointing in the direction of the kirk. Follow this and you'll avoid yourself a wee detour like I did! 
If you're anything like me, when you see this roofless cube of stone your heart will skip a beat for you can only begin to imagine what histories could be told if walls could indeed talk!
Lining the walls of this stone building are three rows of stone shelves that would have taken a number of coffins prior to burial. 
The shelves, although not very wide, would I imagine, have held around 18 coffins at a push when full. 
A small plaque hangs to the right of the gated door of the mortshouse and reads 
This is the site of the west gable of the old Spynie kirk.
This paque records the 250th anniversary of the building of the new Spynie Kirk at Quarry Wood in 1736
Wander inside this ruined building and you'll be able to see a series of air vents built into the back wall. 
Elsewhere on the site, the taphophiles amongst you will not be disappointed. Some of the finest memento mori in Scotland can be seen here in my opinion, you've just got to know where to look. 
For example, to the left of the door in a roofless mausoleum behind the morthouse hangs a superb grave slab, clasped onto the walls with iron grips and decorated with skull and crossbones. 
Almost buried in the grass are grave slabs covered in skulls, crossbones and hourglasses. Wander around with your head hung low and eyes focused on the ground and I can guarantee you're in for a treat. 
Again, I had the site completely to myself, meaning I could get lost in the moment, taking myself back to the resurrection times and the need for the parish to install a morthouse to protect their dead. 
Trust me when I say I spent hours here, I hope you find it as enticing as I do.
Discovering Spynie Cemetery
The most useful resource I have found on getting to this site was via the popular Find A Grave website
Here you can find a map which shows the area really well, which should help you when trying to find the cemetery. 
The Parish Church, Symington, South Lanarkshire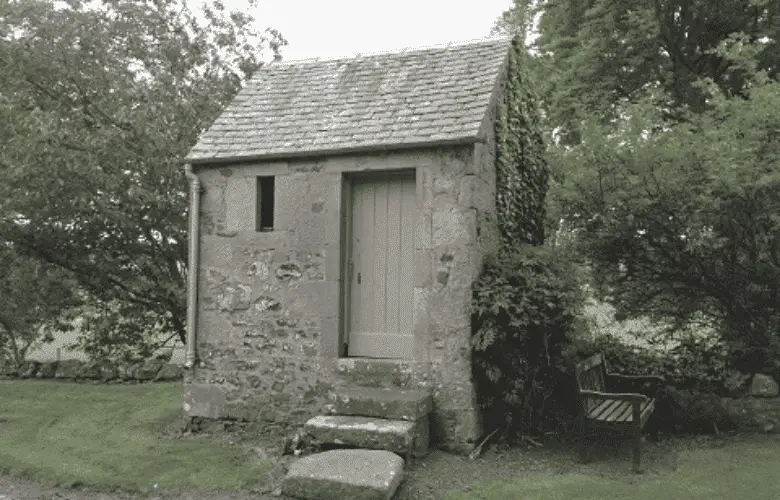 When it comes to watch houses, they really don't come any sweeter than the one found in the grounds of the parish church at Symington. 
The basic style of watch house found here is what we would refer to as being a typical example.
A near-identical watch house can be found built into the wall that surrounds St Bridget's Kirk at Dalgety Bay, Fife. 
The watch house itself was designated a Category B listed building in 1971 and is a single-story building that rather unusually, has two windows. Dalgety Bay, incidentally only has the one; facing in the wrong direction out over woodland. 
The windows in the watch house at Symington fare much better, even though they are narrow single slit windows, built presumably to keep the draft out and to provide an extra layer of cover for the watch men. 
I poked my head through the opening of this window as best I could and the interior was looking a little past its best, the building now appearing to be mainly used for storage. 
Gravestones
The church that you see on the site dates back to the mid 1800s although some of the gravestones are much earlier than this with the earliest one found is said to date from 1629. 
If you walk round the site and behind the church and make your way along the path back to the watch house, just glance down and you will see two very simple stones. 
They lie along the edge of the footpath, one decorated with the words 'Memento Mori' the other depicting a cloaked figure. Neither gravestone bears a date. 
Finding Symington Watch House
Symington lies near the town of Biggar in Lanarkshire and is just shy of 30 miles from Edinburgh.
There's also another parish called Symington in South Ayrshire which often comes up in search results so please don't get the two muddled up. 
The Symington I mention here is described on the Genuki website which also has a great map included helping you get your bearings. The official church website is also very useful. 
The Old Parish Church, Aberfoyle, Stirlingshire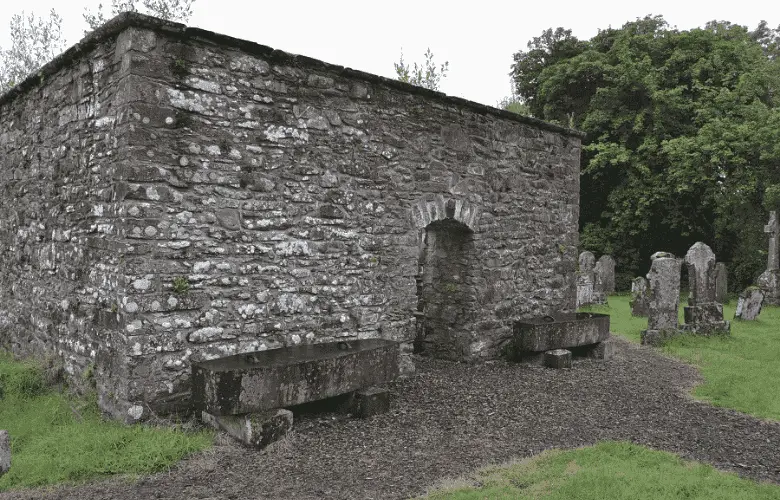 I'm not going to lie but Aberfoyle was an absolute pain to find. Then the minute I'd found it, everything seemed rather logical. 
However, this was a site that I was absolutely adamant in ticking off my 'MUST VISIT' list and I cannot recommend it enough! 
The Old Parish Church, on Manse Road, is now a ruin which adds to the character of the site and creates the most stunning backdrop for perhaps two of the most beautiful mortsafes you'll ever find . 
The mortsafes here are completely different to those that you'll see at Cluny in that they are the over-coffin style rather than a caged style of mortsafe. 
These thick iron covers  would have been lowered over the wooden coffin once it had been placed into the grave. After being in situ for a number of weeks, the iron coffin was then lifted off. 
It all seemed such hard work, but the alternative was much feared, and parishioners were willing to do pretty much anything to keep the resurrection men at bay. 
When you see these mortsafes, just grab one of the handles and feel how solid they feel. You can even lay down and get a glimpse of the underside if you're agile enough and have a torch with you. 
The Fairy Minister
Wander through this site and at the back of the ruined kirk you'll find a memorial to the Rev. Robert Kirk better known as  'The Fairy Minister' which dates from 1793. 
Although dying suddenly as he was making his way up Doon Hill in May 1692, he is said to have appeared as an apparition at his own funeral claiming that he was in fact being held captive in Fairyland. 
'The Fairy Minister's' memorial is now often found covered in coins. 
Finding Aberfoyle Mortsafes
I don't want you to get in a hole like I did trying to find this site so a few specific directions are in order here. 
When searching for Aberfoyle church online, the current parish church is often listed instead of the old church on Manse Road. 
What makes it especially confusing is that the current parish church is also located on a road with a similar name: The Manse Lochard Road. An entirely different place altogether. 
The only glimpse of a website that I have been able to find that could give enough of a description to the Old Kirk is one from British Listed Buildings which not only gives a small map of the area, but also a much-coveted description of history of the site. 
I hope that this helps in some way to find the site. 
Pentland Old Cemetery, Old Pentland, Midlothian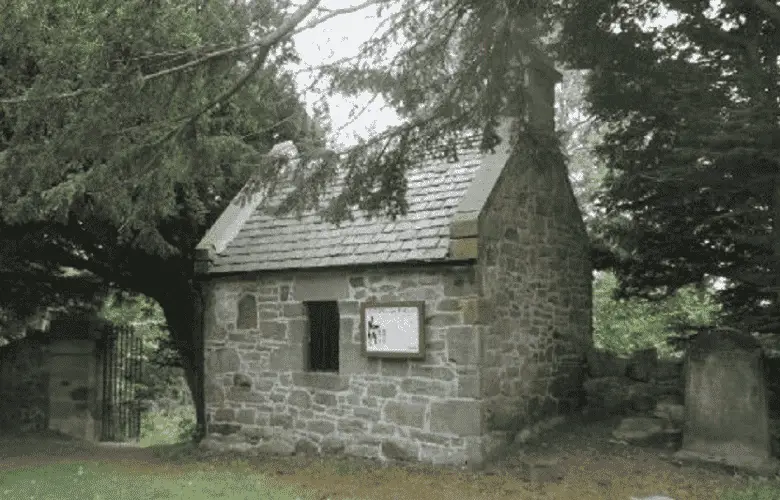 Although now not too far from an Ikea warehouse, the site at Old Pentland would have once been on a remote road about six miles outside of  Edinburgh. 
It is this close proximity that perhaps made it an attractive location for gardener turned body snatcher John Samuel to steal into the graveyard on 6th April 1742 and steal the body of 9 year old Gaston Johnson. 
Although this particular snatching took place outside of the City of Edinburgh, Samuel's was already a suspected corpse stealer and had previously been threatened by an irate mob who had recently lashed out against surgeon Martin Eccles and the body snatching rumours that were permeating throughout the city. 
Samuel's had already been warned about the consequences of his possible implications in these earlier snatchings, with any future involvement in the dead body trade meaning the mob wouldn't be as lenient. 
When he was caught walking through the City's Potterow Port gate with the body of Gaston Johnston wrapped in a parcel and tucked under his arm, that was pretty much the end of him. 
He was whipped through the streets of Edinburgh and banished from Scotland for a period of seven years. 
Old Pentland Watch House
But although Old Pentland may be the site of one of the earliest recorded body snatching cases in Scotland, it also has a small watch house just on the left as you walk through the cemetery gates. 
This watch house, with its small chimney and window, is in the more typical style that can also be seen at Symington, although it is fractionally larger. 
Inside there is a fireplace, a common feature in most watch houses to keep the cold at bay on those long winter nights. 
The barred window keeps safe a pair of 14th-century grave slabs, now broken in half,  which was placed here for storage long ago. 
This sandstone watch house bears no date over its lintel, although Historic Environment Scotland label it as 18th century, where the Midlothian Historic Environment Record dates it a century later.
It is this that I have brought you to see. A small stone structure that would have housed no more than two or three men, trying to stay awake on those long winter nights as they kept a watchful eye out for Edinburgh's body snatchers.
Finding Old Pentland Cemetery
With no parking at the church it is recommended that you try to park in the nearby Ikea superstore. 
It's been a few years since I visited the site, so some rudimentary parking may have appeared since, but I'll let you use your own judgement on this. You'll know when you're in the right spot however as the site is clearly marked.
Perhaps the best site to direct you to for a map and location is again Canmore If you do head onto this site, take a look at the two pictures of the cemetery that have been uploaded and were taken in 1975.
They show the site in a very rundown state, with gravestones knocked over and one of the main gates flung onto the ground.  
With so many sites linked to body snatching still to explore around Scotland, this list is by no means exhaustive. There are so many sites that I wanted to include here, and it was tough choosing my most recommended. 
But next time you find yourself exploring in Scotland, why not give some of my favourites half an hour of your time. I hope you enjoy them as much as I do.