The Extraordinary Life of Deacon Brodie (A Full Account)
Spend any time in Edinburgh and chances are you'll venture into Deacon Brodie's Tavern, one of the most iconic pubs on the Royal Mile. The place is always crowded, especially during the summer and I can guarantee that one of the questions you'll have while you're there is 'Who is Deacon Brodie Anyway'?
After asking myself this more than once, and after I'd visited the graveyard where he is buried, it was time for me to knuckle down and find out about the man who has given his name to this popular watering hole on Edinburgh's Royal Mile
Did he really inspire one of Robert Louis Stephenson's greatest novels and are the rumours about his double life really true?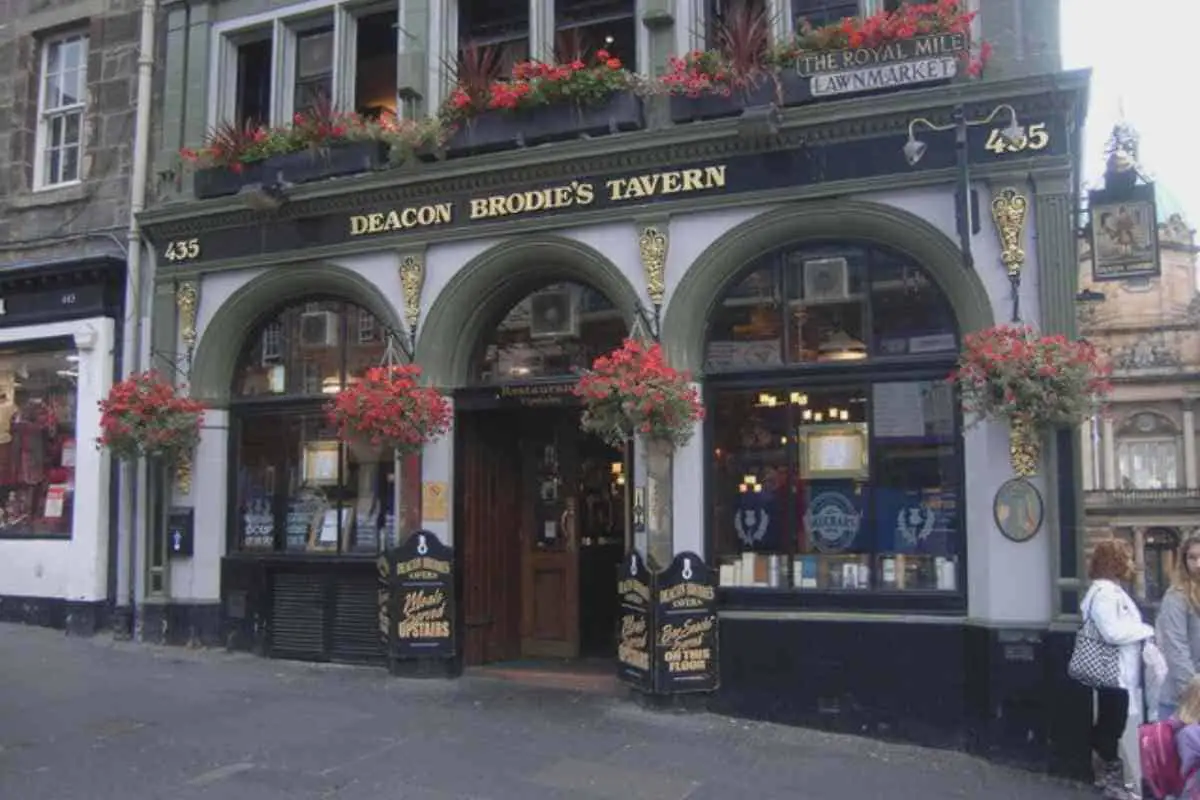 William Deacon Brodie's life was certainly a colourful one, even by today's standards but just what made this once fine craftsman into one of Edinburgh's most notorious legends?
Your #6 William Deacon Brodie Facts
Deacon Brodie Tavern, Edinburgh
Found on The Royal Mile, Edinburgh, Deacon Brodie's name lives on for prosperity in the ever-popular Deacon Brodie Tavern.

What Job Did Deacon Brodie Do?
William Brodie was a Master cabinet maker, just like his father Francis. Brodie was also a locksmith, skilled in making and installing locks.
What Crime Did Deacon Brodie Do?
Using duplicate keys he'd made, Deacon Brodie broke into shops and premises stealing jewellery, money, tea, and even a ceremonial mace!
How Was Deacon Brodie Caught?
Deacon Brodie was caught in Amsterdam after fleeing a botched raid on 6 March 1788. He was caught when his letters home raised suspicion. He was tracked down and found in a cupboard.
What Year Was Deacon Brodie Hung?
Deacon Brodie hung on the 1st of October 1788 in The Old Tollbooth on the High Street in Edinburgh. He was dressed in a full black suit and a powdered wig.

Where is Deacon Brodie Buried?
Deacon Bodie was buried in the Orthodox Chapel of St Andrew, known today as Buccleuch Burial Ground, Chapel Street. There is no gravestone but he is buried in the northeast corner of the site.
Who Was Deacon Brodie? The Double- Life of Edinburgh's Master Cabinet Maker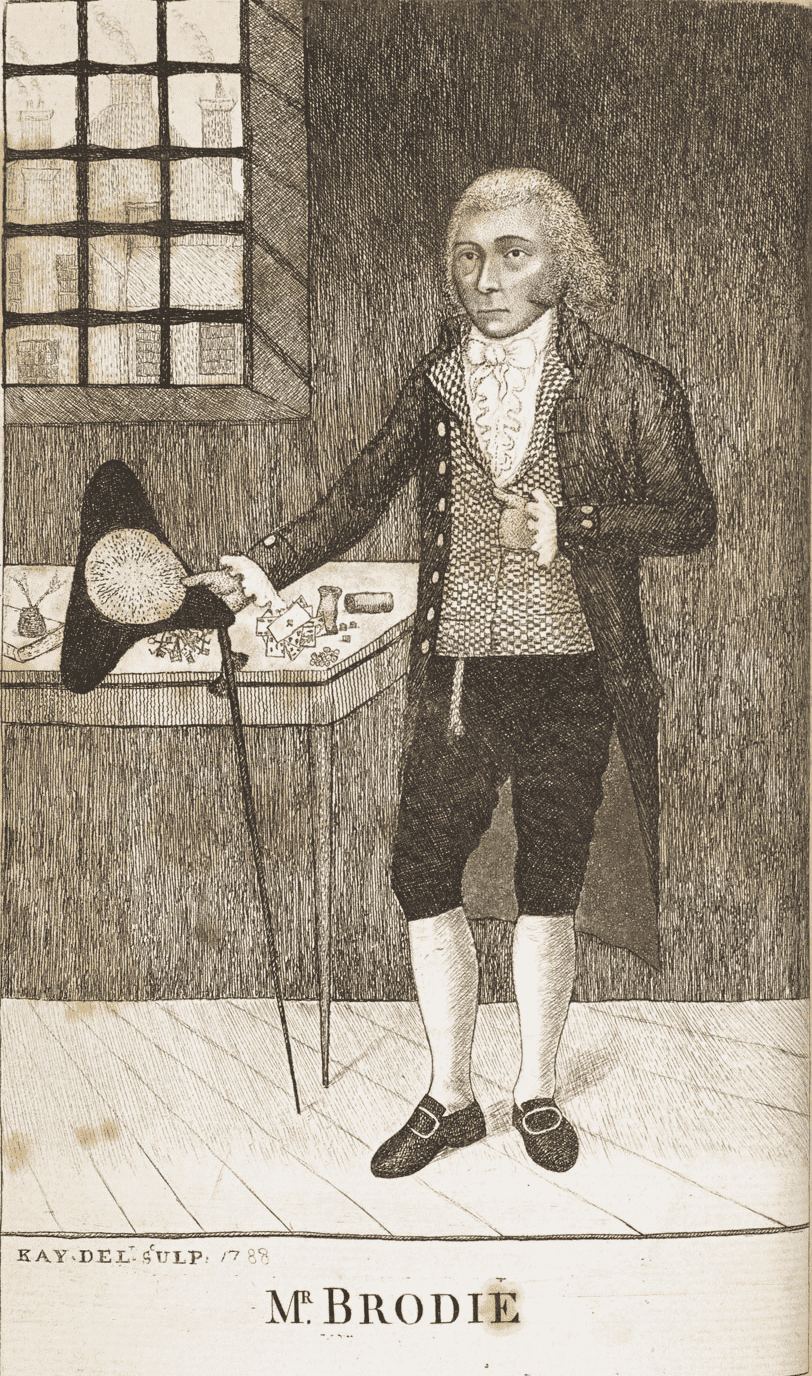 On the face of it, William Brodie didn't have enough dirt on his hands to warrant being the basis and true-life inspiration for one of Robert Louis Stevenson's best-known novels The Strange Cases of Dr Jekyll and Mr Hyde, but trust me, he most certainly did.
Born William Brodie to Francis Brodie and Cecil(y) Grant, 28 September 1741, Brodie was not only a Master Cabinet Maker, Deacon (head) of the Incorporation of Wrights and Masons and member of Edinburgh's Town Council, but he also led a double life which was a heady mix of women, gambling and drink, and by 1768 had run up a huge debt.
Underneath this facade, Brodie was a different man altogether.
Deacon Brodie – His Job As A Cabinet Maker
Cabinet making was in the Brodie family with William's father, Francis Brodie, being considered the pre-eminent Scottish cabinet maker in the 18th century. In fact, when he died in 1782 he made his son a considerably wealthy man; £10,000, four houses and his business.
Brodie followed his father into the craft and along with making cabinets, had a particular penchant for making and installing locks.
Such was Brodie's skills as a lock maker that he saw himself in the enviable position of being a locksmith to some of Edinburgh's most rich and famous.
A job that would put him in prime position to carry out his double life right under the noses of those who trusted him.
The Burglar & Womaniser – Brodie's Double Life
As darkness fell on the streets of Edinburgh, Brodie's alter-ego however would be released.
In contrast to the respectable life, he was living during the day, come nightfall, there were two mistresses to entertain, five illegitimate children to feed, bets to win (or lose) and whisky to be drunk.
His two mistresses Jean Watt and Anne Grant were oblivious to each other's existence, although I do wonder how.
The wage of the Master Cabinet Maker and renowned locksmith simply couldn't maintain his two lifestyles, despite trying to win his fortunes back by gambling, by 1768 Brodie had run up a sizeable debt.
What Crimes Did Deacon Brodie Do?
Don't for one minute believe that Deacon Brodie was an 18th-century version of Robin Hood, robbing from the rich to give to the poor.
Everything Brodie stole he kept for himself to maintain his double life and pay off his debts.
Deacon Brodie, together with gang members George Smith, John Brown (alias Humphrey Moore) and Andrew Ainslie robbed various shops and premises throughout Edinburgh between 1786 and 1788. Using his position as Master Locksmith, Brodie obtained entry to the premises by making duplicate keys. In total, the gang robbed nine premises with plans for more burglaries in the future.    
The gang's known crimes have been recorded as follows:
Date Of crime
Premises Robbed
Location of Premises
Items Stolen
9 October 1786
The shop of Goldsmith
James Wemyss
Parliament Square, Edinburgh
26 gold rings set with diamonds or precious stones,
24 plain gold rings with precious stones,
5 seals set in gold, 1 gold broach, 2 silver set broaches,
2 set crosses, 3 set ear-rings, 4 silver tea spoons (+1 plain one), 10 new silver table spoons, 1 silver tureen spoon, 2 silver punch spoons, 1 silver seal and block,
12 silver stock buckles, 3 single silver shoe buckles, 46 pairs of silver knee buckles and 4 single knee buckles
Late November/Early December 1786
The Hardware Store of Davidson McKain
Bridge Street, Edinburgh
Disturbed during the raid. One red pocketbook was stolen along with a few other items not recorded
8 December 1786
The Tobacco shop of John Law
The Exchange, Edinburgh
£10 – £12 in money stolen that was contained in a canister
24 December 1786
The Hardware Store of John & Andrew Bruce

Lady's gold watch, a plain gold watch, a small gold watch, 1 small single cased watch, 2 silver watches, gold rings, breast pins & lockets, several knee & shoe buckles, 2 lancet cases full of lancets
16 August 1787
The Grocery Store of John Carnegie
St Andrew's Street, Leith
350 lbs of black tea
29 October 1787
The College Library at Edinburgh University
Edinburgh University
Ceremonial Silver Mace
Christmas 1787
The house of John Tapp
18 guinea notes, a twenty-shilling note, a silver watch, rings, miniature picture of a gentleman
8 January 1788
The Silk Merchant shop of Inglis & Horner
The Cross, Edinburgh
Silks and cambric's worth between £300 and £400
5 March 1788
Edinburgh Excise Office
Chessel's Court, Canongate Edinburgh
Disturbed during the raid while in the cashier's office but managed to carry away some banknotes, two bottles believed to contain wine
During Brodie's confession, the details of future crimes were given. These included jewellers, stage coaches and even the Bank of Scotland!
Links With an Unsolved Bank Robbery
An unsolved robbery dating 13 August 1768, much earlier than when Brodie was active was attributed to the gang when Brodie was caught.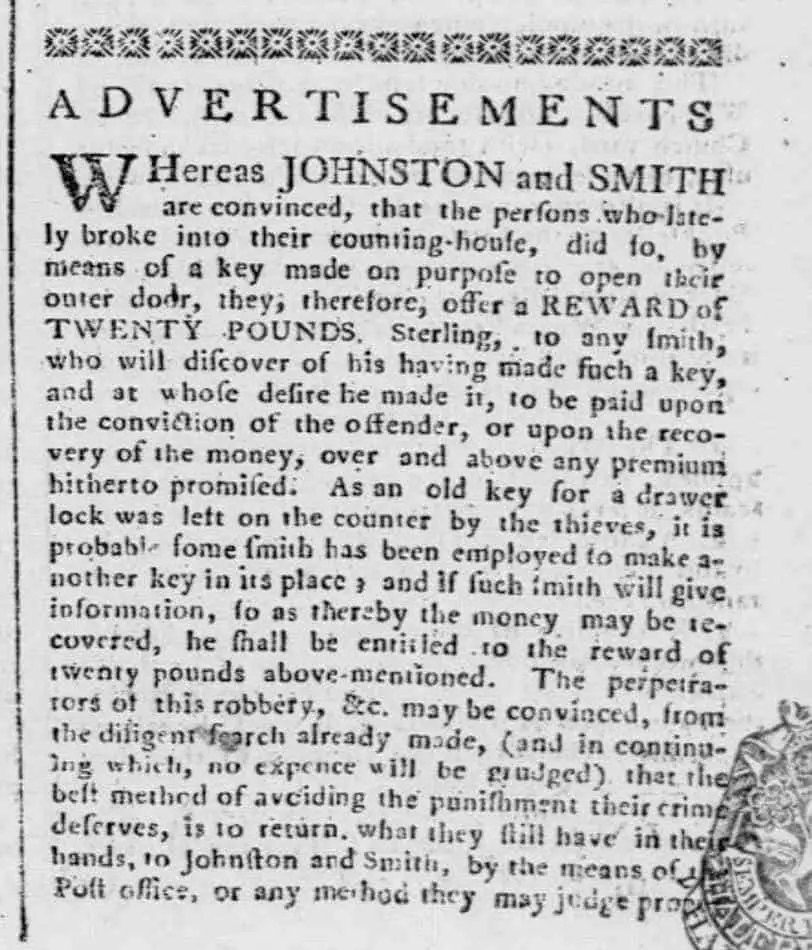 A large number of mixed notes, £830 in fact, was stolen from the compting-house of Johnstone and Smith, bankers at the Exchange in Edinburgh. Newspaper reports show that at the time they strongly believed that the thieves had gained access by using a false key.
This is probably why Brodie and his associates were swiftly linked to the crime once arrested.
No proof however has ever been found to link the two together.
How & Where Did Brodie Get Caught?
Brodie was actually caught in Amsterdam and not Edinburgh as you might have expected. But how was he caught?
Deacon Brodie was found hidden in a cupboard in an Inn in Amsterdam after fleeing Edinburgh on 6 March 1788. On arrival in Amsterdam, Brodie sent letters home via a Mr Geddes, also travelling onboard the Endeavour. Geddes handed the letters to authorities on becoming suspicious and a King's Messenger, Williamson, tracked Brodie down in Amsterdam.   
But a number of things led to Brodie's demise, not just being found hidden in a cupboard.
Brodie and his gang were only active for eighteen months before they were caught due to Brodie himself falling asleep when he should have been keeping watch during the raid on Edinburgh Excise Office. 
The Gang are Disturbed During Their Raid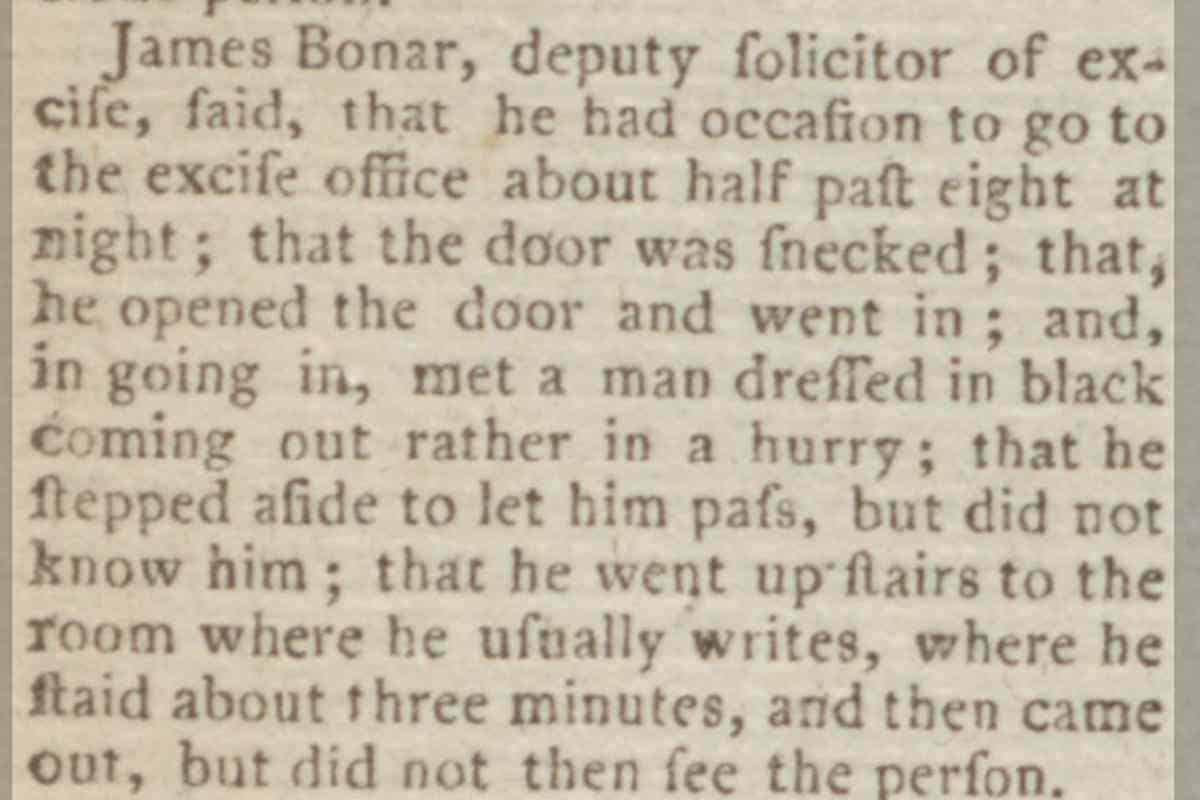 The plan to rob the Excise Office was going well until James Bonar, Deputy Solicitor of Excise returned unexpectedly at around 8.30pm. Having originally believed that they were 'safe' for at least two hours, Bonar's appearance came completely out of the blue.
With Ainslie being the watch inside, Brodie was the eyes on the outside and failed to hear the whistle that alerted the gang to any dangers. As Bonar made his way up the stairs inside the office, Brodie darted out from behind a door and fled. They dispersed with only £16 in proceed between them. 
The Morning After in Which Brodie Makes His Escape
The morning after the raid, Brodie was in a blind panic, deciding that his best change of freedom and ultimately his life was to fell Edinburgh at his earliest convenience.
That convenience came the following morning on the 6th March.  By noon he was on his way to London, looking for help from his cousin William Walker, currently a solicitor in London.  Six days later, the coach carrying Brodie entered the city.
After trying to dodge Williamson, a King's Messenger who had followed him from Edinburgh, Brodie's stay in London finally ended on 23rd March when he boarded a ship bound for the Netherlands. 
This part isn't 100% true or is it. It's said Brodie boarded the ship Endeavour that was originally bound for Edinburgh but bribed the captain to take a detour to the Netherlands. It must have been some bribe.
With a bounty of £150 on Brodie's head and a further £50 being offered if a conviction against him was brought, it wouldn't be long before Brodie was captured.   
Other gang members weren't so lucky at Brodie. Andrew Ainslie, caught inside the Excise Office was arrested almost instantly turned King's Evidence. The other gang members slowly falling one by one.
The final fate of Brodie's gang members is listed below.
Name
Occupation
Final Fate
George Smith
Originally a hawker & locksmith from Boxford, Berkshire.
Travelled England with his wife hawking goods.
Later established a grocers shop in Edinburgh's Cowgate
Hanged at Edinburgh along with
Deacon Brodie on 1 October 1788
Andrew Ainslie
A 'sometime shoemaker'
Turned King Evidence and received a Pardon
John Brown (aka Humphrey Moore)
A known criminal – fled to Edinburgh after
escaping from England after receiving a sentence of 7 year
Turned King Evidence and received a Pardon. Rumoured to have died a beggar on the
streets of London
Confessions of The Gang – The Implicating of Deacon Brodie
John Brown was the first to come forward, no doubt tempted by the bounty of £150 on offer. His part in the crime all but forgotten as he received a King's Pardon due to information he spilled on the table. He even showed authorities a stash of duplicate keys, no doubt made by Brodie and Smith that was hidden under some stone at the base of Salisbury Crags near Arthur's Seat.    
Although Brown had confessed everything, he hadn't implicated Brodie and at this stage, his involvement in the crime was still unknown.
George Smith's Confession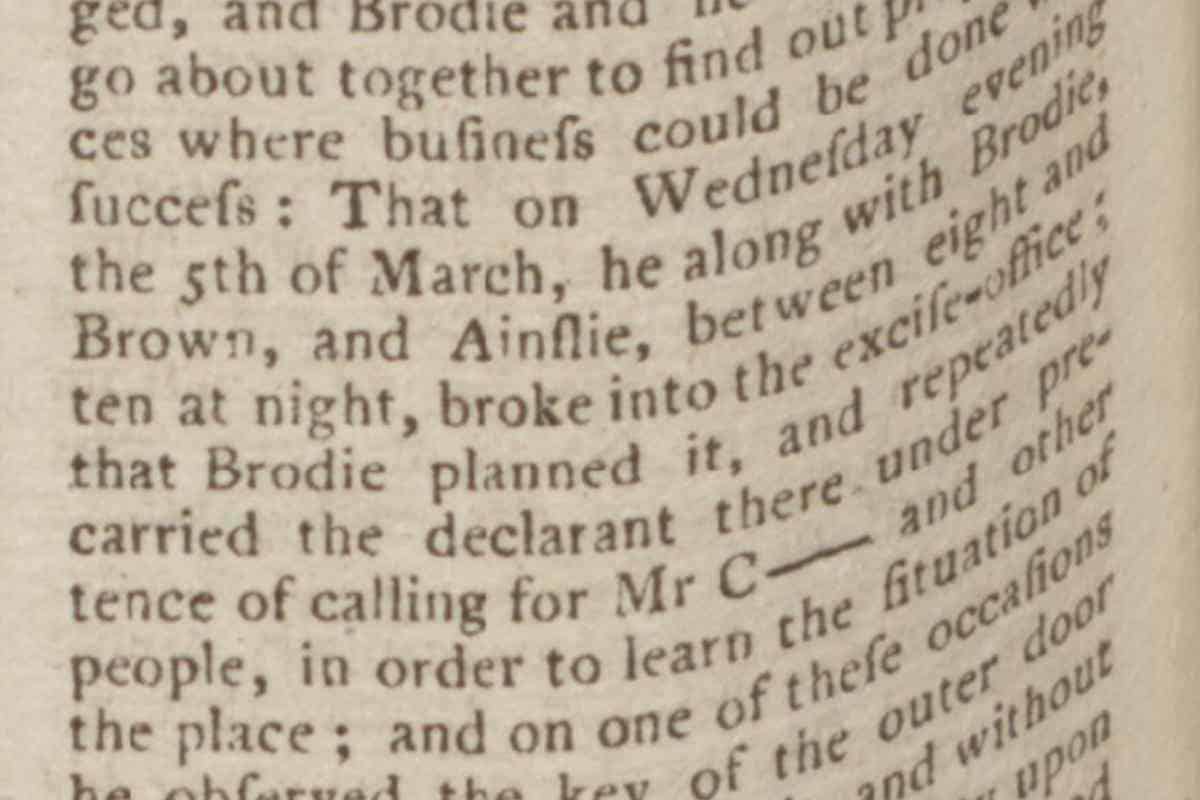 In a statement given to Sherriff Archibald Cockburn four days after the robbery, George Smith, in an attempt to save his own neck laid everything on the table.
In it, he stated that it was Brodie who had planned the raid and who had scouted out the premises on his own beforehand and it was Brodie who'd taken an impression of the key to the Excise Office.
He spoke all about the theft of the tea from Carnegie's grocery shop in Leith and how Brodie kept watch outside. He gave details of the robbing of the ceremonial mace from Edinburgh University and how Brodie said that he 'must have it'.
Smith left nothing out. Details of other robberies started flowing from his lips and Brodie became a wanted man
Where was Deacon Brodie Imprisoned?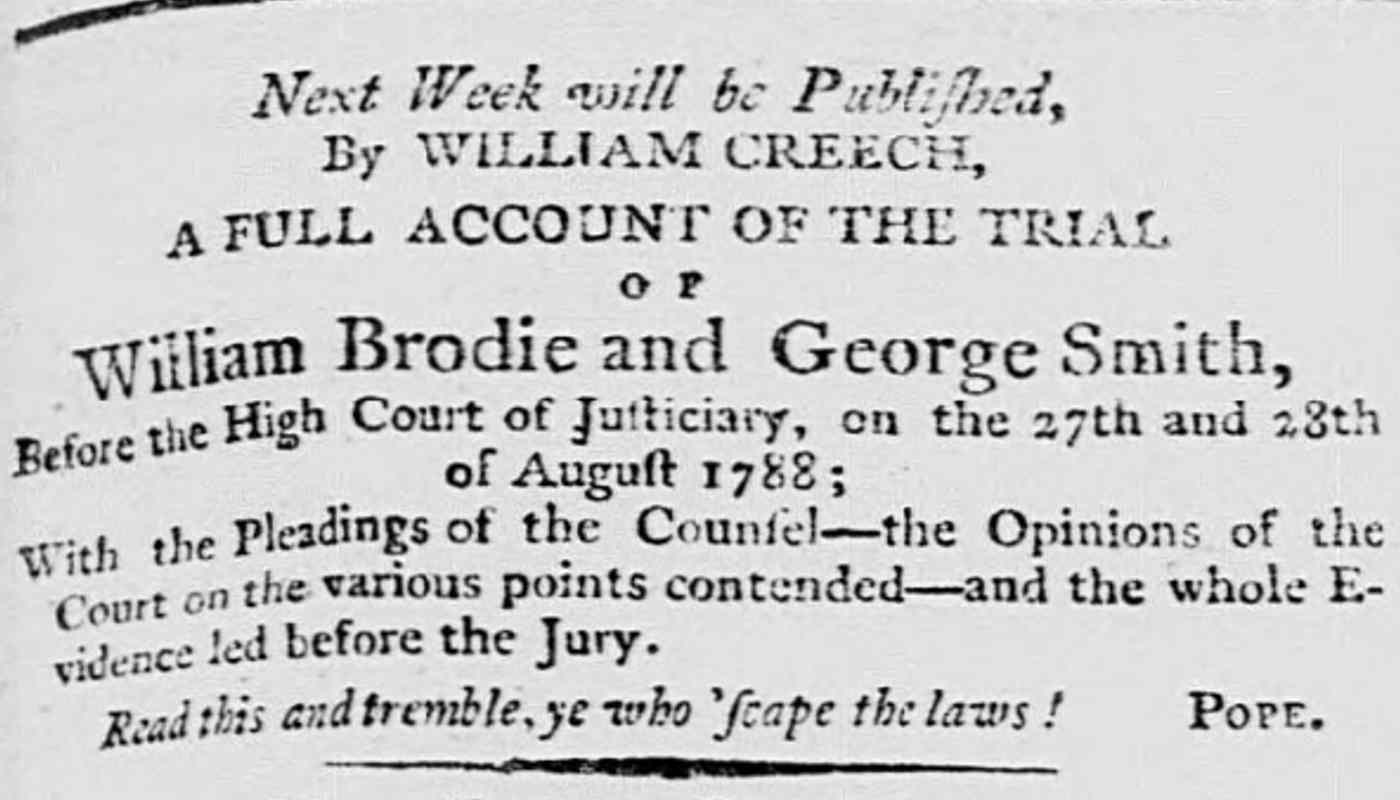 Deacon Brodie was dragged back to Edinburgh from Amsterdam in chains and imprisoned in the notorious Tollbooth Prison that once stood outside St Giles' Cathedral. His trial began on the 27th August 1788 at 9am in the morning. He was tried with gang member George Smith.
The Tollbooth is the one formerly found in West Parliament Square just outside St Giles' Cathedral. It's the one now marked with the Heart of Mid-Lothian, you know the place that you're supposed to spit on for good luck.
Don't confuse it with the Canongate Tolbooth, funnily enough on Canongate which is now the Tolbooth Tavern. Although a prison, Canongate Tolbooth would see debtors, and in the early days Covenanters behind its walls rather than the more determined criminals like Brodie or Jean Waldie and Helen Torrence, Edinburgh's first body snatchers.
During his trial, the depth of Brodie's involvement in the robberies slowly came to light.  Duplicate keys are said to have been found at his house, along with disguises and pistols presumably used in the raid on the Excise Offices.
The letters that Brodie had sent back via Mr Geddes were also used as part of the evidence and it is here that Brodie's fate is sealed.
Brodies Life in Prison
Denied visits from friends and family under the instruction of the Magistrate, Brodie's time in prison was spend thinking about his crimes and listening to workmen building his scaffold outside his window.
It was reported that Brodie would rather wait his fate with the hangman than commit suicide if poison or a dagger had been laid before him.
The night before he was hanged, Brodie went to bed at 11pm, sleeping till 4am. He rose at eight and an hour later was having his wig dressed and powdered ready for his date with the hangman that afternoon.
What Happened to Brodie & Where and When Was He Hanged?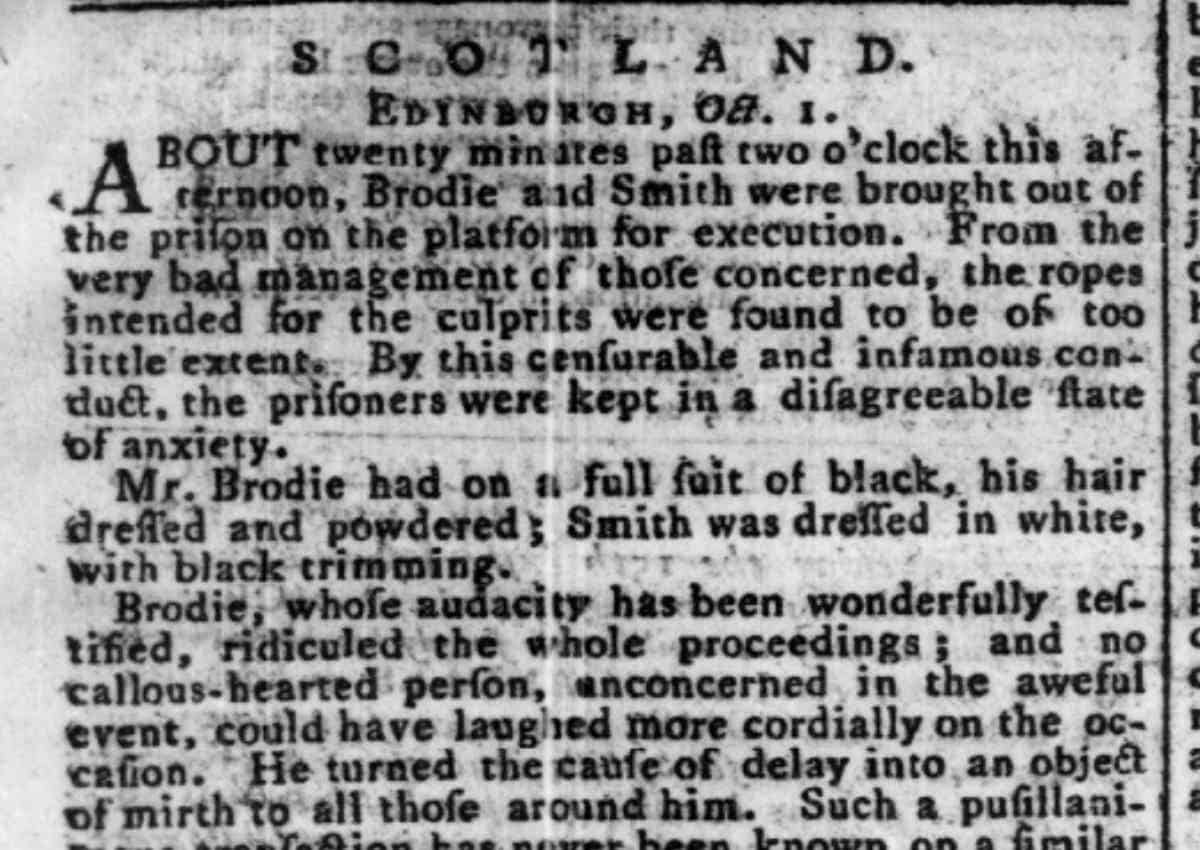 From his trial on 27th August to the date he was sentenced to hang was less than two months.
Deacon Brodie was sentenced to hang in Edinburgh's Old Tollbooth, High Steet on 1st October 1788 along with George Smith. The rope from which he hung was adjusted three times before it was a suitable length. Brodie went to his death in front of a crowd of 40,000 people which included his own daughter Cecile.
Wearing a full suit of black with a powdered wig a Brodie, together with Smith were brought out of the Tollbooth at 2.20 pm. When the rope was discovered to be the wrong length, according to the Hampshire Chronicle, Brodie ridiculed the proceedings.
It is said that Brodie himself had helped raise funds for the construction of the gallows some years prior.  It is also said that Brodie cheated the hangman by wearing a steel collar but whether either tale is true I cannot say.
You can explore the background to events for free online in William Roughead's The trial of Deacon Brodie, written in 1906 via Archives.org website.
Where is Deacon Brodie Buried?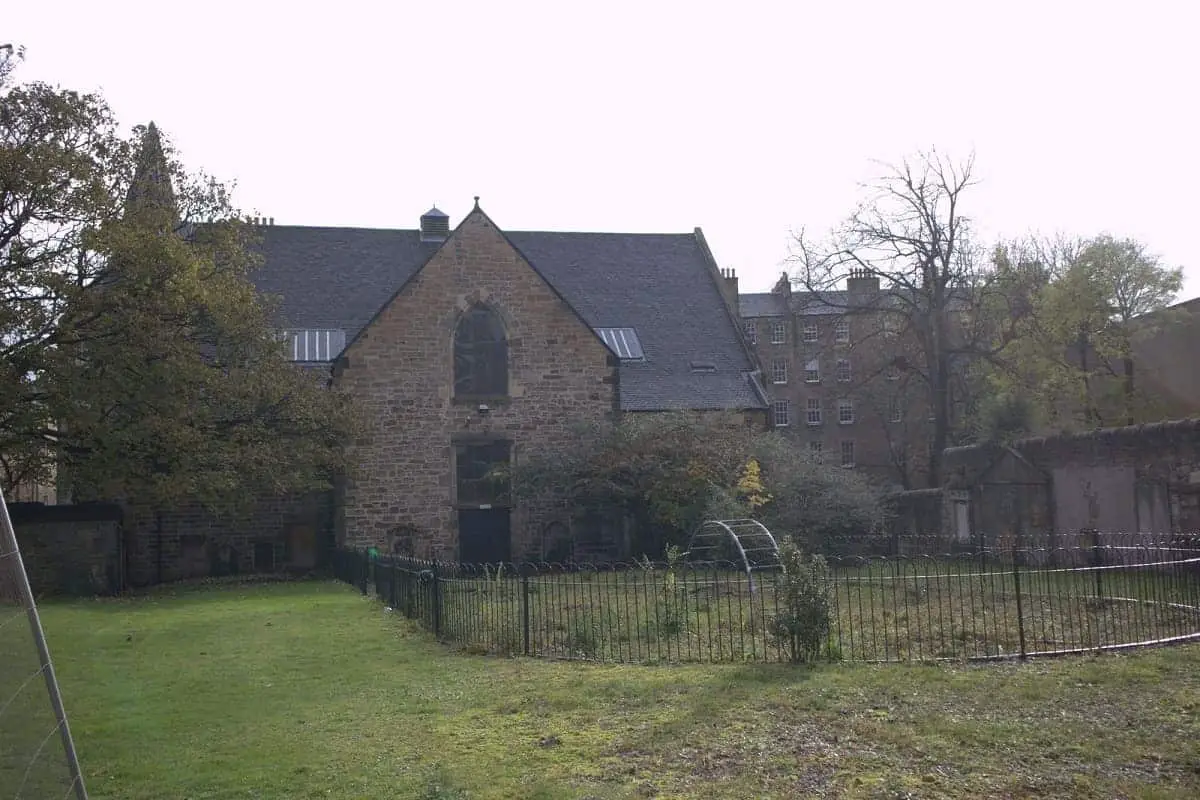 Following his hanging on 1 October 1788, Deacon Brodie was buried in The Orthodox Chapel of St Andrew, originally St Cuthbert's Chapel of Ease. His grave has no headstone but is said to be in the northeastern corner of the graveyard.
The graveyard today is better known as Buccleuch Burial Ground on Chapel Street, Edinburgh.
The site today looks rather forlorn and over its time even rented out its church hall to a skating academy.
Evidence of another dark side of Edinburgh also exists here. Caged lairs hug the outer walls on the right as you enter the burial ground, evidence that the site was once targeted by body snatchers who stole cadavers to sell to the surgeons in the 18th and 19th centuries.
Deacon Brodie's Last Will & Testament

The Last Will and Testament of Deacon Brodie was printed in the Hampshire Chronicle  20  October 1788.  He finishes with the words:
To my good friends and old companions, Messrs, BROWN and AINSLIE, I bequeath my villainy, an whole other bad qualities, not doubting but their own will secure them a rope at last.
And lastly, my neck being now about to be embraced by an halter, I recommend to rouges, sharpers, thieves, and gambles, as well as high as in low stations, to take care of theirs, by leaving off all wicked practices, and becoming a good member of society. Dated October 8
You can read Brodie's will for yourself via a subscription to The British Newspaper Archive
References
I relied on two main sources for my research on this post. The British Newspaper Archive (£), a superb online resource that if you're not already using you really should be and also the superb website deaconbrodie.com
The latter is filled with a full breakdown of the crimes of Brodie and a wealth of other information relating to his life including a full list of the witnesses for both the prosecution and the defence. I really do urge you to take a look if you want to explore further than I have here.
Found This Post Interesting? Pin It For Later