Caged Lairs: No.1 in Body Snatching Prevention
Come across an iron cage in the middle of a churchyard and you'd be forgiven for wondering what it was.
They were there to protect your loved ones from the clutches of the body snatcher and the threat of the anatomist's table.
Some are grand and some are rusty and those that have survived are few. Still plentiful however to let us appreciate just how much of a menace within society body snatching had become.
But what exactly is a caged lair?
Essentially an iron frame around a burial plot, the caged lair was the ultimate in body snatching prevention. They could either be complete iron frames that would act as a cage over the grave; a style predominantly found in Glasgow, or they could be more elegant; an iron slatted roof embedded into the top of a stone enclosure like the examples found predominantly in Edinburgh.
This unique piece of body snatching history can be found spread throughout Scotland, but you'll only see the popular ones mentioned in the guide books.
In this post, I want to take you beyond the guidebooks and show you what the rest of Scotland has to offer in this short introduction to caged lairs.
But first, let's start with the obvious. Greyfriars Kirkyard, Edinburgh.
Edinburgh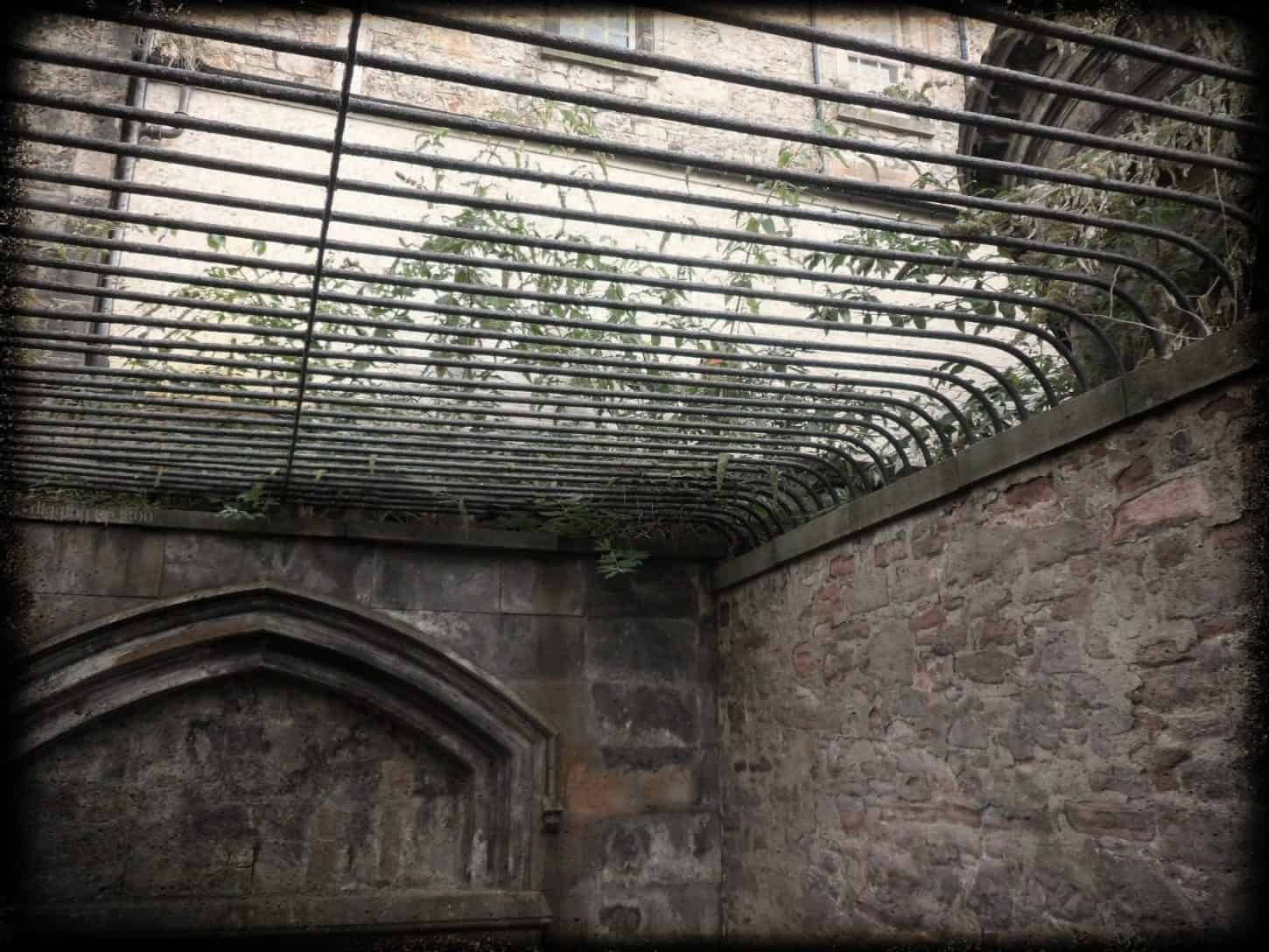 Whether you love or hate graveyards, take a trip to Edinburgh and I'm sure that it won't be long before you're stepping through the gates of a kirkyard or two and top of your list will no doubt be Greyfriars Kirkyard.
I've discussed Greyfriars Kirkyard in an earlier post, sharing with you my 'Top 7' macabre graves to see if you visit the site, so here, I'd like to just concentrate on the caged lairs themselves.
You can walk freely around the interior of the caged lair at Dunbar if you want to read the memorials within.
Don't forget to look out for the watch house also on this site, although with no roof or a door, it is a little worse for wear. It should be on your left as you pass by the caged lair if my memory serves me correctly
There are plenty of body snatching related relics here at Lasswade and the gravestones are simply to 'die for'.
Here you can find a mortstone and a watch house made from a former bell tower. And right in the centre of all of this is a magnificent example of a caged lair.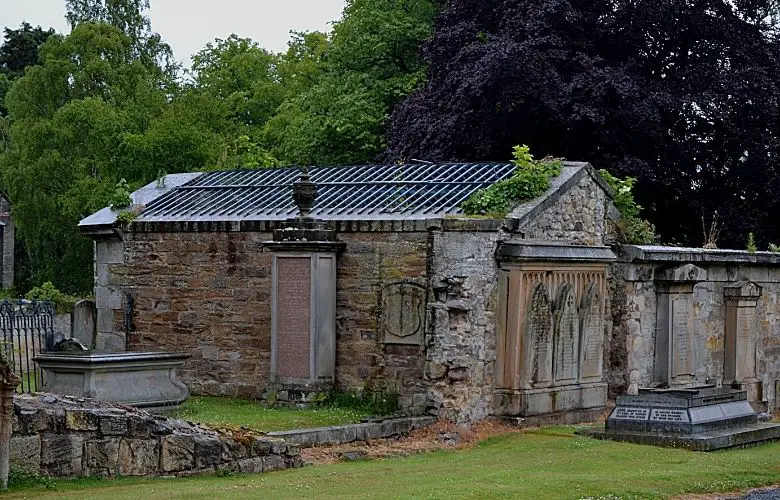 Rather large and grand in nature, this particular example is built of sandstone and belongs to one of four enclosures on the site, the Calderwood Enclosure. You may be lucky that during your visit the iron gate is open, if so, please take the time to wander inside.
Although the kirk itself was abandoned long ago, and the bell tower that formerly housed the watch house on its lower floor has since disappeared, a visit to this site is guaranteed to occupy more than a few hours.
Things can't always be in pristine condition when they're potentially over 200 years old and it wouldn't be right not to include at least one less than a desirable example of a caged lair in this post.
My final caged lair lies in the small town of Fenwick, some sixteen miles from the body snatching hot spot of Glasgow.
This rather dilapidated structure sitting long forgotten in the corner of the churchyard is nothing to shout home about.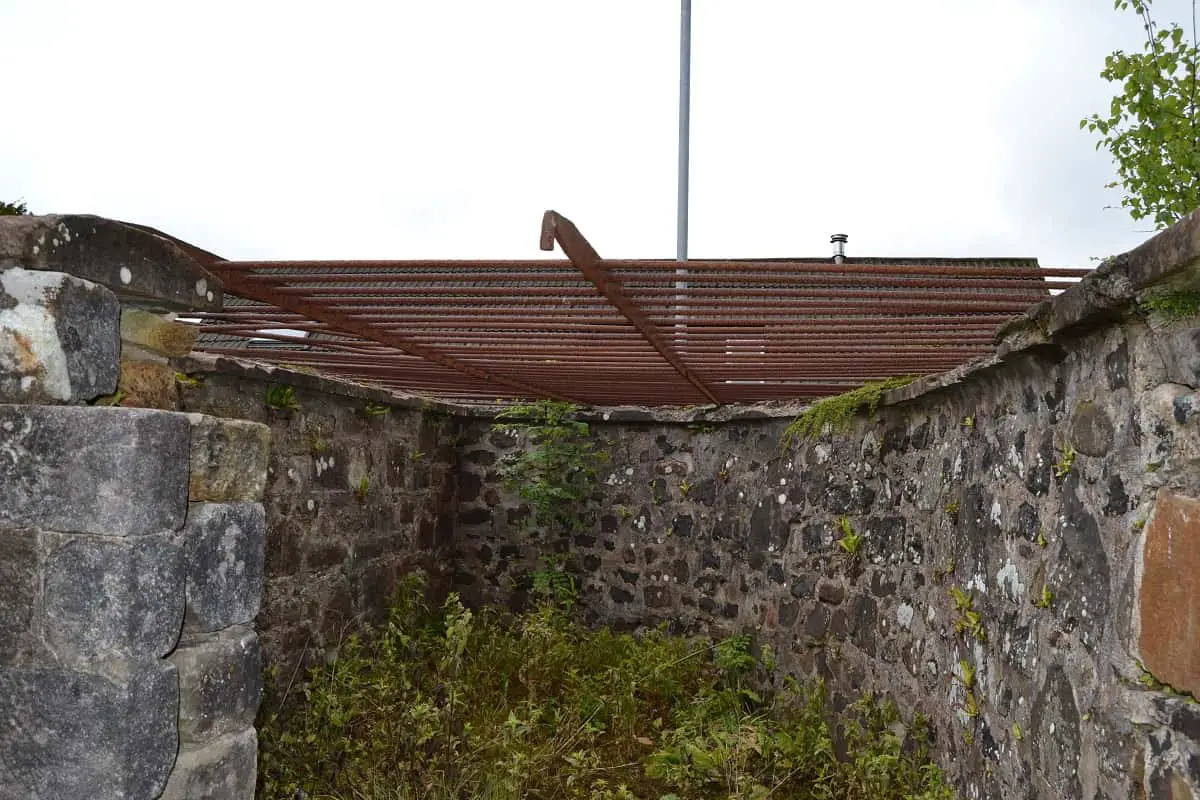 Its iron roof bars are hanging down in places and the ground underfoot is pretty uneven which makes this perhaps the most underwhelming caged lair that Scotland has.
But the site has so much more than just being the proud owner of a long-forgotten body snatching relic. Guarding the gates in the churchyard wall are two sentry-like watch houses.
These windowless buildings are currently painted white, something which I suspect wasn't the case in 1828 when they were built.
Don't forget to check out the punishment jougs hanging from the church wall as you head around the back of the site to the caged lair.
And I'm sure you'll spot some memento mori that is worth getting your camera out for.
The Last Word
If you could afford it, the caged lair offered the most protection against the body snatchers. It also, luckily enough, had a second advantage in that it allowed you to display your worth to the town.
The caged lair certainly proved its worth in regards to keeping the body snatchers at bay for I am unaware of any cases where a body snatcher was successful in disinterring a cadaver when faced with something quite so robust.
Researching Caged Lairs
Not all of Scotland's caged lairs have been included in this short introduction, but I hope that this post has given you some idea of what remains.
When I was just starting out researching body snatchers, I grabbed myself a copy of Scottish Bodysnatchers: A Gazetteer by Geoff Holder and the link will take you to AbeBooks.co.uk if you're interested in buying a copy
My own copy of Geoff's book is now heavily annotated as I've travelled through Scotland documenting these relics for myself, but I still wouldn't leave home without it.
I would have liked for there to have been a place index at the back of the book, and trust me when I say some of the sites listed are incredibly hard to find even with modern GPS, but it's a great starting point.