I am delighted to welcome Catherine Curzon aka @MadameGilflurt as my latest guest blogger. During her relentless research, it was perhaps inevitable that Catherine would stumble upon a body snatching case and this latest tale is quite remarkable.
So without further ado, I give you Prinny Goes Graverobbing…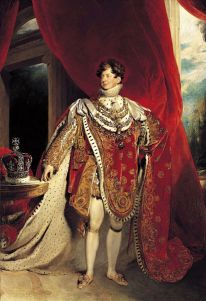 Whilst researching my book, Life in the Georgian Court, I had a wonderful time following the exploits of the mad, bad and utterly fabulous King of Bling himself, George IV, aka the Prince Regent or, earlier still, the Prince of Wales.
No stranger to wenching, drinking and throwing cash hither and thither, the pleasure-loving court of the rip-roaring Regent took a rather different turn in 1813 when George decided to try a little regal graverobbing.
Combining shady doctors, opened tombs and severed heads, it was not the Regent's finest hour, but I don't think any story sums up his devil may care attitude better than the tale of when George IV met Charles I.  
Despite his reputation for largesse, George was actually a man of refined and thoughtful tastes and he was intent on leaving a legacy that would see him remembered for all the right reasons.
To this end, he built or improved any number of royal buildings and one of those that was scheduled for renovation was St George's Chapel at Windsor.
Here, George had commissioned a brand new burial vault and it was to prove a fateful decision when workers stumbled upon the tombs of Henry VIII, Charles I and Jane Seymour.
When George heard about this discovery he flew to the chapel with his physician, Sir Henry Halford, in tow, both men eager to survey the scene.  
The discovery of Charles I's lost tomb was a major historical find and the first time that this long-rumoured resting place had been uncovered.
Although it was generally believed that Charles was interred beside Henry VIII, this had not been proven until now and, mindful of the historic significance of the site, George asked Halford to examine the remains.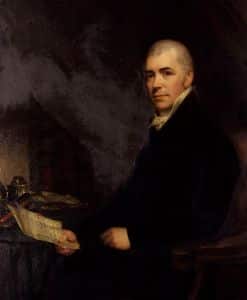 As the doctor recalls, the prince's presence would ensure "the most respectful care and attention to the remains of the dead during the enquiry"[1]
This was Prinny, though, so it did no such thing.
Though the late monarch's  nose, one eye and one ear were missing and his skin was discoloured, Charles certainly "bore a strong resemblance to "the pictures of King Charles I by Vandyke"[2]
Even better, as far as Halford was concerned, was the fact that the head of the corpse had been severed in a way that perfectly matched accounts of Charles's execution.
There, in the presence of the Prince Regent, it was agreed that this was indeed the body of the executed King Charles I.  
Like so many Georgians, Halford was a chap who loved to collect curiosities and to this collection, he added one of the king's bones.
It was a vertebrae that clearly showed the mark of the axe blade that had killed Charles and, at dinner parties, he liked to hand it around to the shock and amusement of his guests.
The vertebrae remained in Halford's family until Queen Victoria came to the throne. She was far from amused to discover what had become of Charles I's bone and requested that it be returned.
This was swiftly done and Charles was reunited with his stolen remains in 1888, the late king resting in peace once again.  
About The Author
Catherine Curzon is a royal historian and blogs on all matters 18th century at A Covent Garden Gilflurt's Guide to Life and you can follow her on Twitter or Facebook
Her work has featured by publications including BBC History Extra, All About History, History of Royals, Explore History and Jane Austen's Regency World. She has performed at venues including the Royal Pavilion, Brighton, Lichfield Guildhall and Dr Johnson's House.
Catherine holds a Master's degree in Film and when not dodging the furies of the guillotine, she lives in Yorkshire atop a ludicrously steep hill.       
Life in the Georgian Court is available now from Amazon UK
About the Book
As the glittering Hanoverian court gives birth to the British Georgian era, a golden age of royalty dawns in Europe. Houses rise and fall, births, marriages and scandals change the course of history and in France, Revolution stalks the land.  
Peep behind the shutters of the opulent court of the doomed Bourbons, the absolutist powerhouse of Romanov Russia and the epoch-defining family whose kings gave their name to the era, the House of Hanover.  
Behind the pomp and ceremony were men and women born into worlds of immense privilege, yet beneath the powdered wigs and robes of state were real people living lives of romance, tragedy, intrigue and eccentricity.
Take a journey into the private lives of very public figures and learn of arranged marriages that turned to love or hate and scandals that rocked polite society.  
Here the former wife of a king spends three decades in lonely captivity, Prinny makes scandalous eyes at the toast of the London stage and Marie Antoinette begins her last, terrible journey through Paris as her son sits alone in a forgotten prison cell.    
Life in the Georgian Court is a privileged peek into the glamorous, tragic and iconic courts of the Georgian world, where even a king could take nothing for granted.  
[1] Halford, Sir Henry (1813). An Account of What Appeared on Opening the Coffin of King Charles the First. London: Nichols, Son and Bentley, p.7
[2] Ibid., p.7.