What Happened To William Hare? |Top #4 Theories
What happened to William Hare? Isn't that the question on everyone's lips? Did he really end up as a blind beggar on the streets of London or did he manage to escape and spend his days back in the bosom of his family back in Ireland?
In this post, I've gathered up the top 4 theories surrounding the disappearance of William Hare, the other half of that infamous duo Burke and Hare who ran through Edinburgh's streets in 1828 delivering particularly fresh cadavers to the 'completely ignorant' Dr Knox.
You've no doubt heard that one of the 'duo, William Burke, is hanging in the anatomy museum at the University of Edinburgh, and has been there ever since his bones were boiled and articulated as part of his sentence back in 1829. 
But what have you heard about his partner William Hare? It's time to find out a bit more about this 'Edinburgh Murderer' who has fallen out of the limelight, unlike his more famous sidekick William Burke?
What Happened To William Hare?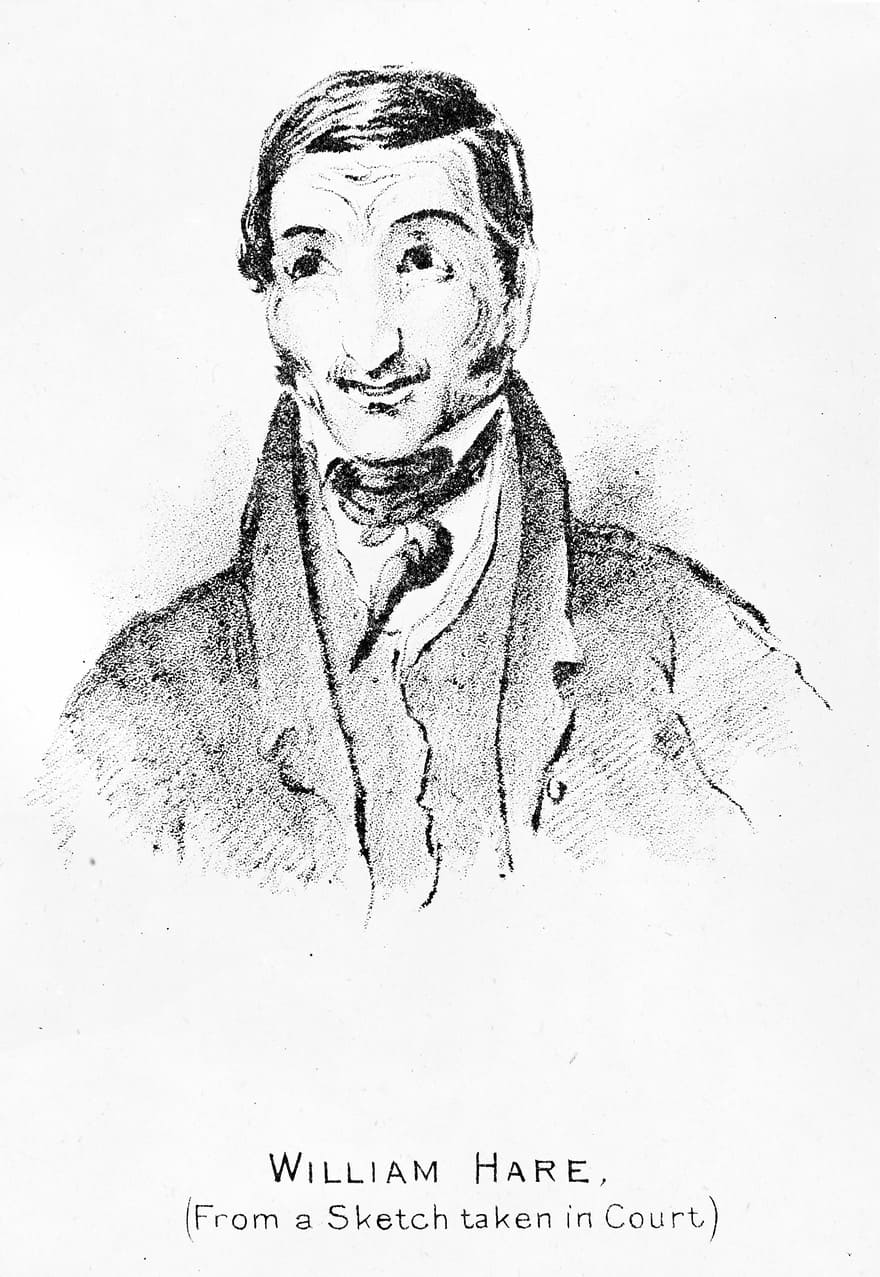 You know that it's not going to be an easy question to answer when all resources you look at come up with the same line 'no one really knows what happened to William Hare' and then start to talk about the murders and list the unfortunate victims in order of their demise.
The whereabouts of William Hare following his release from custody in 1829 is surrounded by speculation and very little proof. The most favoured theory is that he spent the remainder of his days as a blind beggar on the streets of London. But it is also rumoured that he stayed in Scotland, emigrated to Canada and ended life as a convict in Australia.
With this post, I wanted to focus on the 'facts' and rumours circulating the internet about William Hare after the trial and try to decipher the scant evidence that is available.
It's time to gather together all the theories of Hare's last movements and see if any of us really have any idea of what happened to the other half of Edinburgh's most infamous duo.
Who Was William Hare?
It only seems right that I should include a brief description of who Hare was, or at least, who we think he was, although I will try to refrain from giving details about his part in the crimes and how he met William Burke.
William Hare was (or was not) born near Newry in Ireland and came to Scotland as an Irish Navvie, in other words, a manual labourer, to work on the Union Canal which would eventually link Edinburgh with the Forth and Clyde Canal near Falkirk. 
It is well known, if you are familiar with the case, that he lodged with Margaret Laird and her husband, taking a fancy to his landlady and quickly taking her as his common-law wife soon after her first husband passed away. 
Historians can also agree that Hare was an uncouth, illiterate and quarrelsome individual who by all accounts was unpleasant to deal with. Some mention that he had scars on his face and brow, but I digress.
What I really want to concentrate on is the man after the trial. The questions everyone keeps asking but that no one seems to be able to answer.
Releasing Hare From Gaol
For those of you who know the trial, or are familiar with it, you'll know that Hare turned King's evidence. This meant that to the utter disgust of the whole of Edinburgh, if not Scotland (and beyond), Hare walked free.
If you're not familiar with the case, you may enjoy reading my other posts on Burke and Hare where I talk about their last victim Margaret Docherty or you can read about their murder method 'Burking' in my post 'The Simple Art of Burking and see how it became a word synonymous with any attempted murder/kidnap in the years after Burke's hanging in 1829.
At 8 pm on Thursday 5th February 1829, after spending two months in custody in Calton Gaol, it was deemed safe enough to release William Hare and set him free to start his new life.
During his time in prison, Hare would not admit to where he would go if he were indeed released. He told a fellow inmate [?] Lindsay that he would probably head back to his homeland of Ireland, a comment that was later confirmed by the Chief Warder of Calton Gaol, John Fisher.
The day he was released Hare hid under a heavy coat and pulled his hat low over his eyes. Accompanied by his gaoler, the pair made the short trip to Newington where Hare boarded the mail coach, southbound for Dumfries.
What is recorded next seems to hold true for most sources that you read are quoting the same thing, that Hare made his way to Dumfries.
What differs is how he gets there.
Hare's Journey from Edinburgh To Dumfries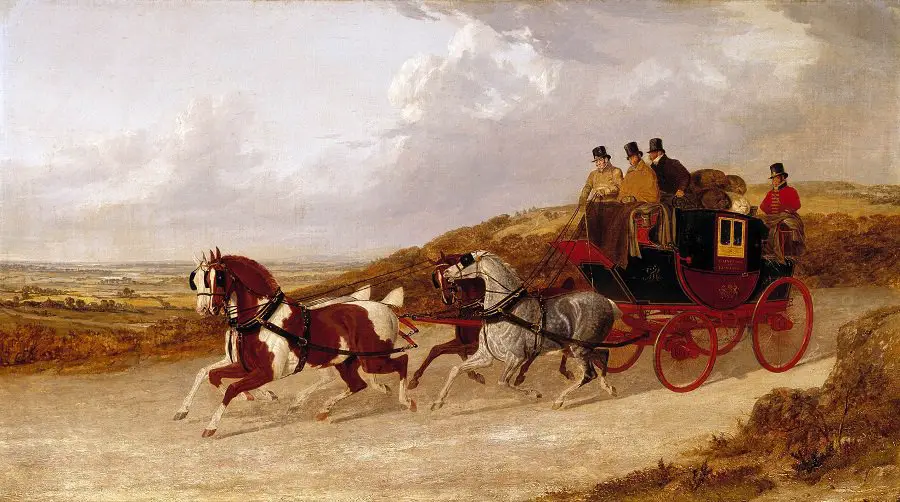 Hare was definitely put on a mail coach leaving Edinburgh, this we can be pretty certain about.
It is perhaps obvious as to why the mail coach was chosen to remove Hare out of Edinburgh. Speed, together with the limited number of stops on the journey was the best option at getting the man out unrecognised.
Having precedence over other traffic on the road and not being delayed by tolls at the turnpikes, mail coaches were the quickest form of transport in the 19th century.
These black-painted coaches with their scarlet wheels and undercarriage travelled at an average speed of 5mph/8km/h in winter and would have taken around 16-17 hours to get to their destination*.
If he'd left the city on foot, a precious cargo such as William Hare may not even have made it as far as the city boundaries.
Travelling on the outside of the coach, Hare's journey to Dumfries would have been an unpleasant one. The other passengers that day travelled in the slightly more palatial interior of the coach and for a while were completely oblivious as to their companion's identity.
When the coach broke its journey at Noblehouse, however, about twenty miles out of Edinburgh, Hare was recognised.
Erskine Douglas Sandford, a junior counsel who had represented the family of 'Daft' Jamie Wilson, recognised Hare from the courtroom and let slip, not too quietly, that their travelling companion was none other than the murderous William Hare.
When Hare tried to ride the next part of the journey inside the carriage, Sandford flatly refused to allow him entry, explaining to the other passengers exactly the reason why.
What Happened To William Hare in Dumfries?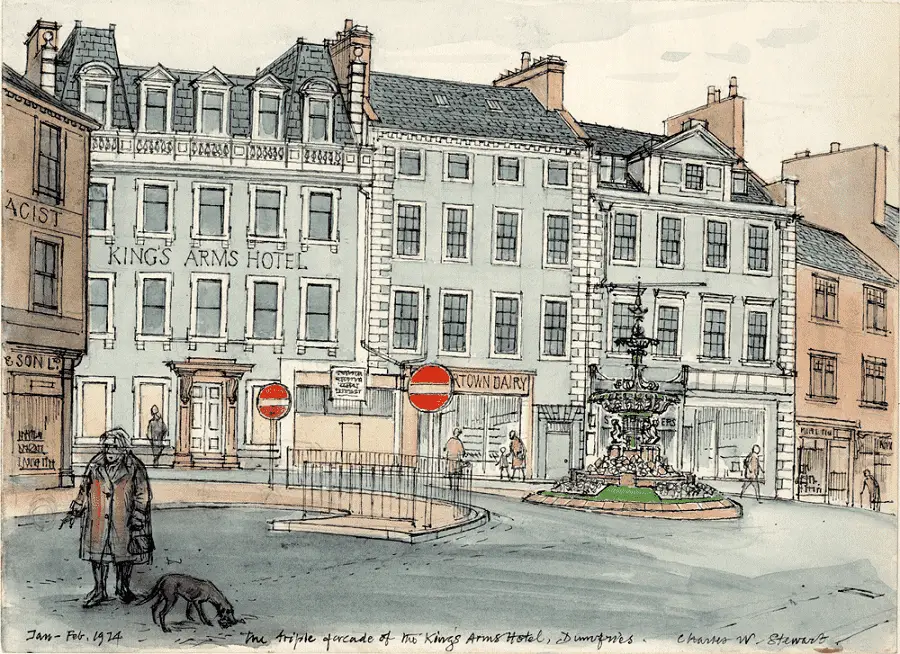 Had Hare not been recognised, he would no doubt have alighted at The King's Arms situated on the High Street in Dumfries. From here there was a daily coach to Portpatrick, the then gateway to Ireland, which, in all intents and purposes, Hare (and the authorities) was hoping he'd be on.
It is said that by the time Hare had stepped foot into Dumfries a mob of 800 – 6000 (even 8000 in some accounts) had already gathered. The dramatic difference in this estimation of numbers in available sources certainly cannot be relied upon.
The population of Dumfries in 1841 was just a fraction over 10,000. Jump back ten years or so and the estimated mob of 6000 or nearly 8000, would have nearly have been the whole town would it not?
And so our story begins to break down, the history of Hare's life begins to fall into obscurity and what remains of his tale is a woven series of possibilities, each of which being as plausible as the next.
Some accounts say Hare was whisked off immediately on his arrival to the town Gaol for his safety, others say he was taken to the King's Arms where he later escaped through a back window and was then taken to the town gaol.
Hare had to wait four hours for the next coach to Portpatrick and according to Owen Dudley Edwards, the leading authority on Burke and Hare, he spent this time in the bar at the King's Arms, even accepting drinks from curious strangers before the mob turned sour against him.
However he got there, we can safely say that Hare did find himself back behind locked doors on what was essentially his first night of freedom since his arrest in December 1828.
Getting Hare Out of Dumfries
Once inside prison, the authorities had to get Hare back out. The crowd, however, had different ideas.
They were certainly aware that Hare was being locked up for his own safety for they continued to riot and cause disruption, breaking windows and extinguishing gas lamps.
It was not until 1am on Saturday morning, that it was thought safe enough for Hare to leave prison and make his way out of Dumfries.
All accounts agree that Hare was set free on the Annan Road out of the town. If his hope was to get back to his homeland as he told his inmate Lindsay, then he was certainly heading in the wrong direction.
However, and I tend to agree with Dudley Edwards here, Hare was warned to abandon plans of heading to Portpatrick for the mob had word of his desire to head back to Ireland and were probably waiting for him along the route.
Last Confirmed Sighting Of William Hare
Hare was apparently seen twice after he was effectively escorted out of Dumfries and both of these times he was in the vicinity of Carlise.
In terms of specifics, it is perhaps best to turn to Dudley Edwards again for his is one of only a few accounts that gives details of these sightings rather than a mere summary.
The first sighting of Hare was supposedly by a young boy at 3 am who saw Hare passing Dodbeck on Saturday, two hours after his release from Dumfries Gaol.
Dodbeck on the banks of the Mouswald Burn appears to no longer exist, but for clarity, it can be seen on this OS Map here via the National Library of Scotland's website. Just make sure you zoom in a lot! It lies near the larger village of Mouswald, on the Annan Road.
Hare was later seen, and recognised, a little over two hours later by a mail coach driver who spotted him sitting by the side of the road near Carlisle. A few hours after this the final time one of Scotland's most infamous murderers was actually seen, was two miles outside of Carlise heading in the direction of Newcastle.
What follows next is mere speculation.
Theory #1 ~ William Hare: The Blind Beggar
Perhaps the most recollected series of events surrounding Hare is that he ended his days as a blind beggar on the streets of London, having been blinded when quicklime was thrown in his face when he was recognised by a group of labourers.
The origin of this source is often credited to J. B. Atlas who compiled 'Famous Trials of The Century' in 1899 yet many agree that there was no evidence to prove where he got his information from.
I have also found mention that an earlier source, quoted in Beechcombing's Bizzare History Blog (see below in William Hare Goes to Australia), printed in 1881 is perhaps the origin of Atlas's idea that has now become the 'go-to' theory of what happened to William Hare.
The Grantham Journal, published 31 December 1881, referred to a blind William Hare being on the streets of London at this time, a story which, can apparently be discredited for the actual identity of the individual, was that of Thomas Ware, who had fallen into a lime pit.
Are you keeping up?
To cut a long story short, this mistaken identity has led to the poor Thomas Ware being coupled with the notorious William Hare ever since.
I also noticed that this Thomas Ware is also referred to as William Ware. Dare I say that I have come across a William Ware in my body snatching research who was stealing cadavers in Hull in 1833. But I digress…
Theory #2 ~ William Hare Stays in Scotland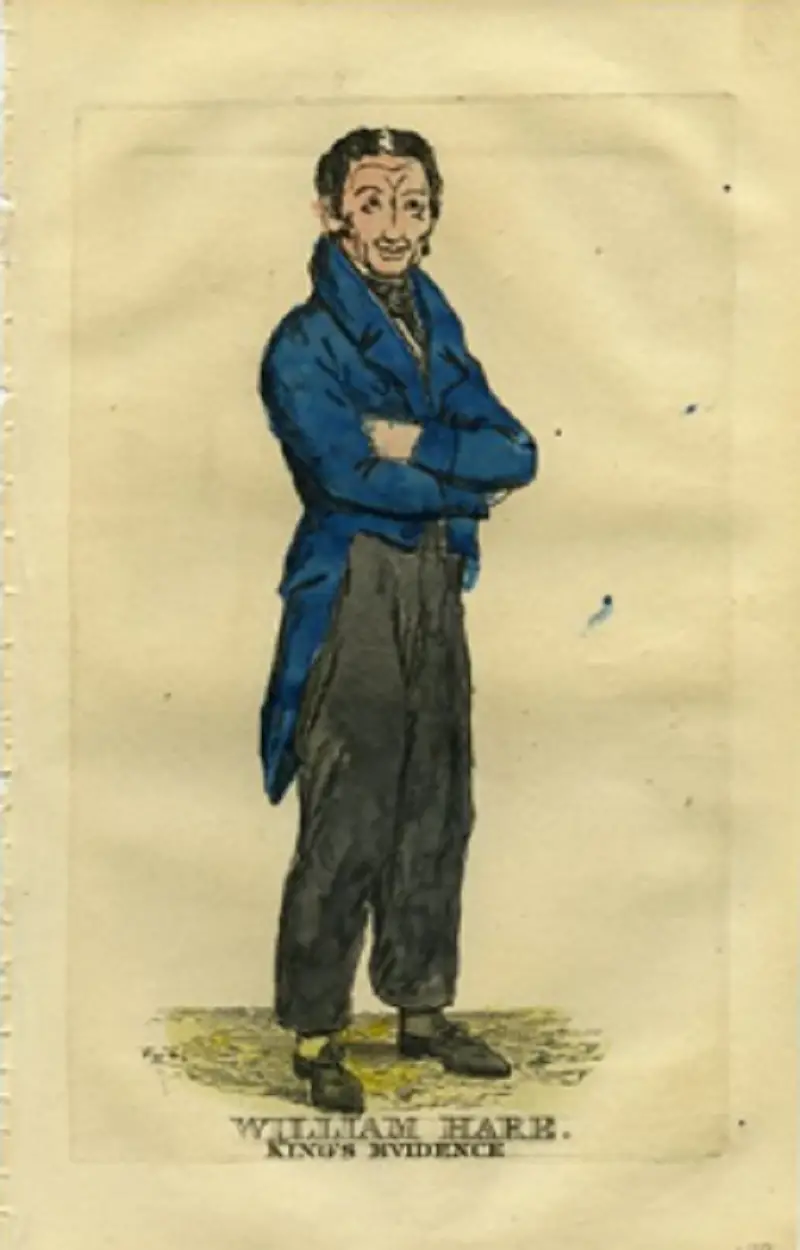 Applecross, on the North West coast of Scotland, is a favourite spot in which to send historians of Burke and Hare.
Many believe that William Hare arrived in the small town under the assumed name of William Maxwell.
Although there is no information given as to why he didn't arrive there until 1840 or what he'd been doing since his release from custody in 1829, Applecross seems a strong contender to many.
William Maxwell is said to have worked in the lime kilns ( a crossover with the London theory) and although born at sea with a mother unknown, legend has linked him and William Hare to be one and the same.
Theories #3 ~ William Hare Takes A Trip To Australia etc…
Theories abound as to what actually happened to William Hare once he was set forth on his journey out of Dumfries.
Some accounts say that he never actually left Scotland as we've seen, but others have Hare travelling far and wide.
I stumbled upon these two final theories on Beachcombing's Bizarre History Blog and although I tried looking for further evidence or suggestions of these theories, this was the only source I have found.
But, because this post is all about what happened to the elusive William Hare, it is only right that they are included here and I have hopefully given you the gist of the outline below for each case.
This one mention of William Hare ending up in Australia (even Wikipedia doesn't give it a mention), sees him arrive into the country as a convict, after being transported for seven years for petty theft.
We pick up his story when he is a member of a road gang in Liverpool, New South Wales.
Falling sick around 1832/3 Hare arrives at the Convict Hospital in Liverpool where his identity is discovered after some careful detective work over a number of months carried out by the man lying in the next hospital bed to Hare, who just happened to come from Edinburgh.
Vexed about his crimes and the fact that he wasn't punished in the same manner as Burke, Hare's fellow patient, a man named Clarkson, appears to have killed our villain as he was found dead the following morning, discovered by wardsman Charles Hodges.
Hare is said to be buried in the cemetery in Liverpool.
Theory #4 ~Canada Bound For Mr Hare
Another theory is that Hare made his way to Canada. Arriving in the town of Ekfrid, in the county of Middlesex, Ontario, this account sees Hare settle on the very extremities of the town, keeping himself to himself.
As the town grew, the more of a recluse this man became, moving his home further away as the town advanced.
Unfortunately, a Scotsman, settling into the neighbourhood had brought with him a pamphlet from his home town of Edinburgh which just happened to be about the notorious murders carried out by Burke and Hare.
After suspicions heightened and following some careful detective work by the inhabitants of Ekfrid, they deduced that the man living quite happily on the outskirts of town with his wife was in fact the same man that had escaped the hangman's noose for murdering 16 people in Edinburgh some years previous.
The man named Hare to whom this accusation was directed (for he had failed to alter his name in any way) asked to see this pamphlet and upon reading its contents is said to have been seized with such 'violent paroxysms' that he died within a view short moments of the priest being summoned.
It is perhaps safe to say that no one really knows what happened to William Hare since his release from gaol in 1829. Some would hope that he did indeed make it back to Ireland or was able to start a new life for himself elsewhere. Others would like to think that he perhaps met his end at the hands of an enraged mob, authorities turning a blind eye to anything they heard.
Reading Up on William Hare ~ Book Recommendations
So many books where Burke and Hare are mentioned, and as with all things, these vary in quality.
But if you want to dive in to a great read in fiction then you can't go far wrong with Peter Ranscombe's novel, Hare. Grab youself a coffee or drink of your choice cause this one's a page turner!
If you want something a little more serious then it has to be Owen Dudley Edwards 'Burke and Hare'. A little dry and heavy going in places but this man has done his research I can tell you!
Owen Dudley Edwards is considered a renowned authority on Burke and Hare and his latest book, which is perhaps not surprisingly called 'Burke and Hare' is widely available.
Researching William Hare
*I tried to find the time it would have taken the mail coach to get from Edinburgh to Dumfries but unfortunately without success. If this is your area of interest and you know happen to know the time, then drop me a message on social media @mymacabreroadtrip, I'd love to hear from you.
After much searching on old OS maps, I eventually located Dodbeck which lies not too far from a parish called Mouswald. I'm not 100% certain if the place still exists, and would love to hear from anyone who knows the area if they can tell me anything more about it.
It was quite fun researching the final movements, supposed or otherwise of this notorious man. I've dived in and out of numerous books on body snatching and read blogs to try to gather all the accounts together but I'm still really at a loss as to what actually happened to Wiliam Hare.
I do see him ending up as a convict in Australia, but as for dying in the Convict Hospital because he was recognised, I'm not so sure. I also see Hare remaining in Scotland in Applecross, but this raises quite a few doubts, mainly where was he for 11 years before turning up on their doorstep?
If I was to choose any, I would say he'd either returned to Ireland and slipped into obscurity or he did indeed end up in Australia, and failing to be recognised, died peacefully somewhere once his term of transportation was over.