The 'Edinburgh Murderers' Burke and Hare – The Complete History
This post is all about the Edinburgh murderers Burke and Hare. The two Irish navvies who are repeatedly called body snatchers despite never having stolen a body in their life. 
Many questions get asked about the pair and I thought it would be nice to round these all up into one space so you can see how their story played out. 
This is a very long post, so please feel free to jump ahead to the question that interests you the most.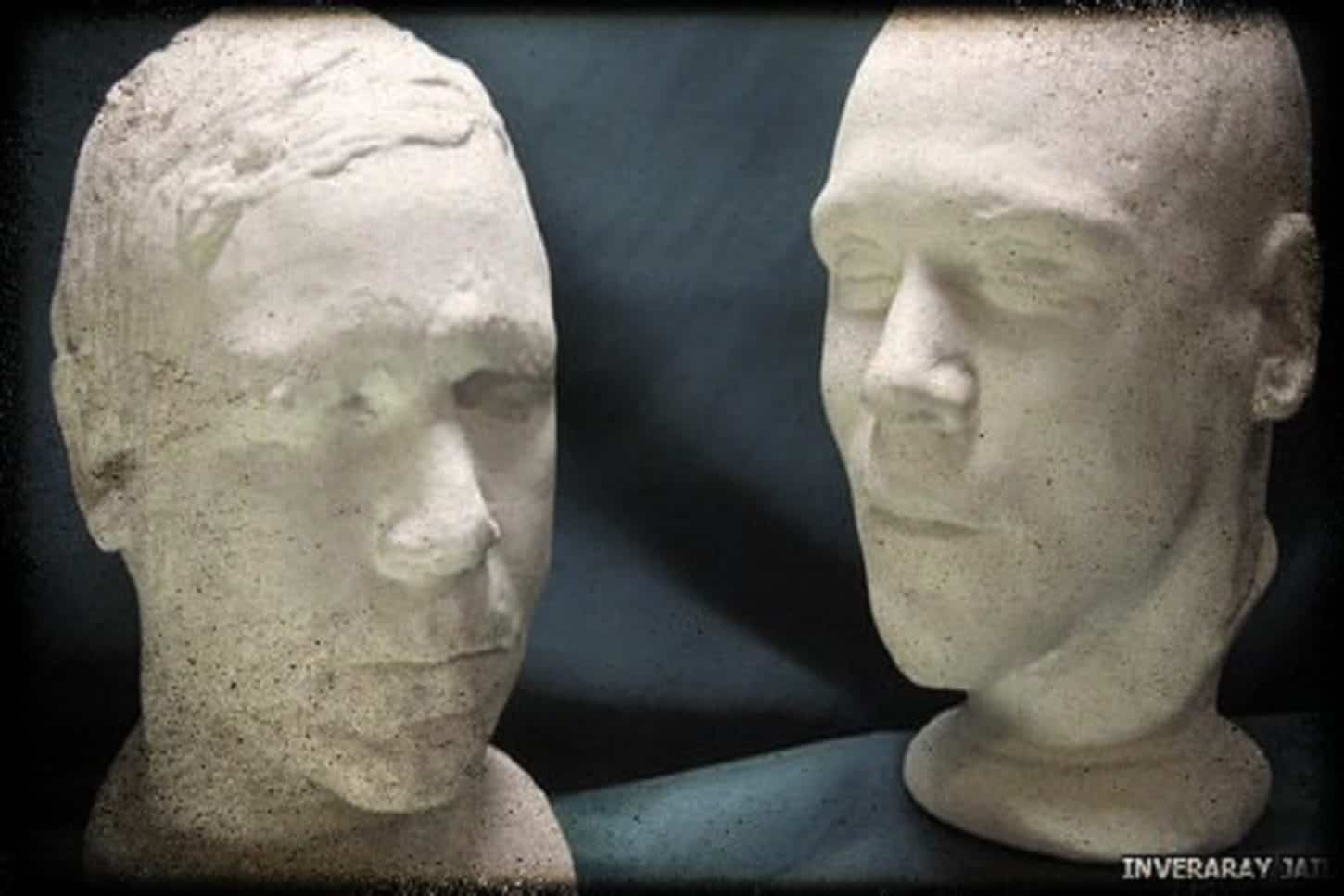 Who Were The Edinburgh MurderersAnd What Are They Famous For?
Burke and Hare were two Irish immigrants who became Edinburgh's most notorious serial killers, murdering at least 16 people between 1827 and 1828. They are famous for two things, being murderers and also incorrectly, for being body snatchers. They killed the lonely and destitute of Edinburgh society, selling the bodies to the anatomist Dr Knox for dissection at his anatomy school in Surgeons' Square, Edinburgh.
They are today Scotland's most infamous murderers. Their story is recounted by tour guides throughout the city, films are made about them and blogs and books are continuously written about them, including my own. 
The pair have become a draw for many an armchair detective or crime historian, and yet, due to the lack of archival evidence that has survived, little is still known about the true character of the pair.
Is It a True Story?
Burke and Hare is very much a true story, yes. They were two murderers based in Edinburgh who, between 1827 and 1828 killed at least 16 people, until they were finally caught on All Hallows Eve in 1828. They sold their victims' cadavers to Dr Robert Knox for dissection, earning an average of £10 per body. William Burke was hanged on 28 January 1829.
Also known as The Westport Murders, the story of Burke and Hare covers the life and times of Scotland's most prolific serial killers. 
In fact, their case, or story if you want to put it that way, helped to bring the first ideas of an Anatomy Act into play.
They weren't responsible for pushing the final Act through parliament, no, that honour went to a trio known as the 'London Burkers', Bishop, Head and Williams in 1831, but Burke and Hare set the wheels in motion lets say. 
But who they actually were remains somewhat a mystery to a certain degree. But, what we do know about then has been pulled together here, along with some of the popular misgivings surrounding the duo.
Were Burke and Hare Body Snatchers?
Burke and Hare were certainly not body snatchers. The acquired bodies to sell for dissection by murdering their victims by suffocation, an act since described as 'Burking'. They are called body snatchers because of the way they disposed of their murder victims, selling them to anatomy schools for dissection. There is no evidence showing that they ever stole a cadaver from the grave.
During his confession, the one referred to as the 'Courant Confession', Burke denied that neither he nor Hare were body snatchers, yet they liked to go under the name as such in the area they lived in, The West Port. 
Likewise in Burke's 'Official Confession', which he clarified again on the 22 January 1828, he declared that 'neither he nor Hare,… had supplied any subjects for dissection except those he mentioned, and had never done so by raising dead bodies from the grave'. 
Like Bailey says in his book Burke and Hare: The Year Of the Ghouls, they had to account for the increased wealth somehow. 
But Burke was adamant that they'd never dug cadavers up from the ground. So much so that Burke continually denies the fact, together with the obvious omission of any evidence pointing in that direction, we can safely say that Burke and Hare were not body snatchers. 
It's a bit like people presuming that all cages over graves had something to do with body snatching, when in fact they don't.
The Birthplace of William Burke
William Burke was born in Ireland in 1792 in a place often cited as being Orrey, in County Cork. He was the son of a Catholic family, moving to Scotland in 1818 to work as a navvy on the Union Canal. In November 1827, Burke moved to Edinburgh where he met William Hare. They would become Scotland's most prolific serial killers, Burke and Hare.
The true whereabouts of William Burke's birthplace is unknown and the information that we do have is thought to be a mispronunciation of the Irish village Urney in Strabane, County Tyrone. 
Burke and Hare expert Owen Dudley Edwards in his book 'Burke and Hare' points this out quite clearly. Edwards believes that due to Burke's accent the 'n' in Urney was missed by all, a mistake that has now gone down in history. 
'What Burke is in fact saying' states Edwards 'is Ur'ey' a word in which only the keenest ear could detect a subscript 'n'. Riddle solved, Edwards can see 'no reason to doubt him'. 
I have also read that Burke was born in Poyntzpass, a village on the border of County Armagh and County Down in Ireland. I have also read that Burke was born in the year 1804 rather than 1792. If he was born in 1804, this would make him 24 years old when he committed murder with Hare. 
In Burke's first confession, given 3 November 1828, he states that he was thirty-six, a fact that Edwards, and myself, have little reason to dispute. 
Sometimes, people want to reinvent the wheel when there is no wheel to reinvent.
The Birthplace of William Hare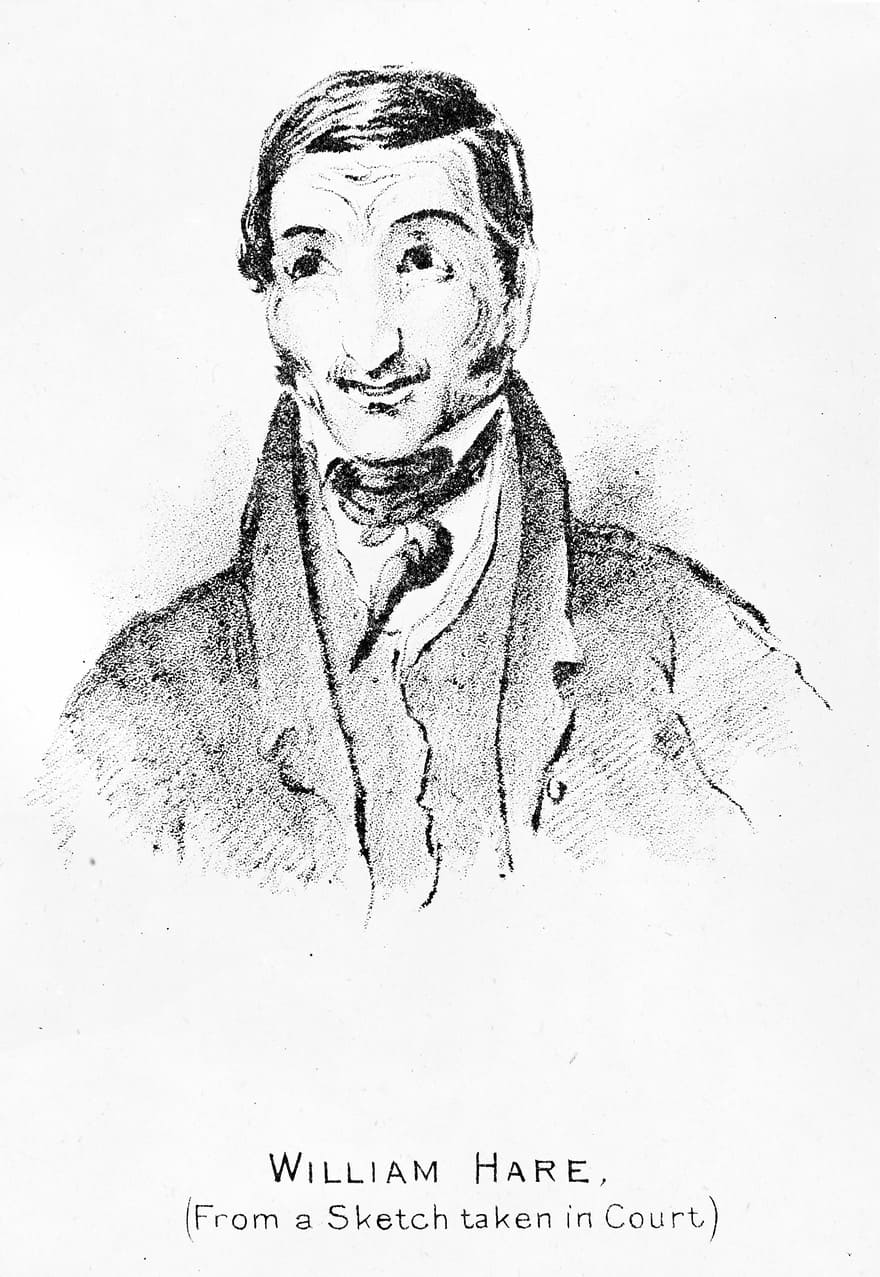 William Hare was born in Newry, County Down, Ireland, although the exact date of his birth remains unknown. Hare arrived in Scotland to work as a navvy on the Union Canal, it is thought in 1818, the same year as William Burke. William Hare was given immunity in his part in the murder of 16 individuals in Edinburgh between 1827 and 1828.   
William Hare appears to be extremely elusive with Edwards citing that the only information we have of him being from the evidence gathered during the trial. 
His character seems to be altogether different to that of Burke's. Described as uncouth, Hare was also immoral, violent and quarrelsome, a contrast to Burke's who was a well proportioned five foot five Irish man, 'not quarrelsome, expert with a spade, and a pleasant enough companion…'.
What Jobs Did they Do Before Being Murderers?
Before turning to murder in 1827, both William Burke and William Hare were employed as navvies on the Union Canal, linking Edinburgh with Falkirk via the Forth & Clyde Canal.  Before arriving in Edinburgh in 1818, Burke had served in the Donegal Militia but William Hare's life is more elusive, working as a labourer, it is also thought that he may have spent time in the Irish militia.  
The Union Canal took four years to complete and all sources agree that both Burke and Hare were employed on the canal for this whole time.
After this period it is believed that Burke worked his way around Leith and Peebles hawking old clothes and taking farm labourer jobs as and when he could get them. 
It is during this period that Burke also picked up skills as a cobbler, a trade that he would tout in the early days of meeting up with Hare.
What Burke & Hare Did Before Coming To Edinburgh
Before coming to Scotland, and ultimately Edinburgh in search of work, while Burke was serving in the militia, it has been suggested by some (Edwards) that Hare may already have been in England at this point, working in the hop fields in Kent as a seasonal labourer.  
There seems to be very little information of Hare before his time in Edinburgh, with Edwards even suggesting that he too could have been serving in the militia like Burke to help fill gaps in his whereabouts.  
Hare, just as it was on his release from prison, has proved altogether illusive
Burke and Hare's Wives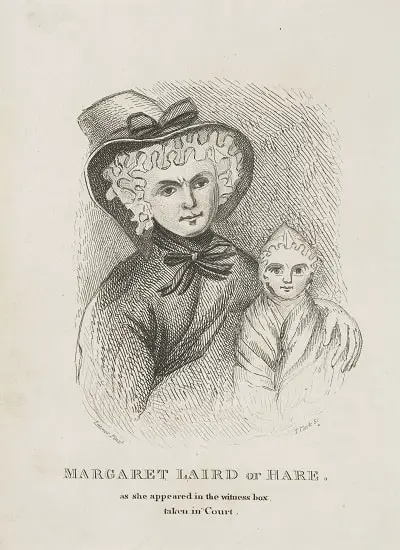 William Burke was already married when he came to Scotland in 1818, although his wife, Margaret Coleman, refused to make the move with him, staying at home with their children in Ireland. Burke would later live with common-law wife  Helen or 'Nelly'  McDougal. William Hare pursued  Margaret Laird, the wife of his former landlord, James Logue, and the pair would eventually marry after his in 1826.
A lucky escape for Burke's first wife Margaret Coleman, who by 1829 is probably quite relieved that she decided to stay in Ireland after her seemingly hasty marriage to Burke while he was serving in the militia.  
The love lives of Edinburgh's most prolific murderers aren't exactly a bed of roses and the history books are filled with snippets of both women showing visible signs of abuse. 
I do however believe that they gave as good as they got for drink and debauchery ran high in the Burke and Hare household, and although they seemed devoted to their respective partners, fighting seems to have been an almost daily occurrence.
William Burke's Wife: Helen / 'Nelly' McDougal
William Burke deserted his first wife, Margaret Coleman, to pursue a better life in Scotland, and ultimately Edinburgh, and it was while working on the Union Canal that Burke met Helen, also known as 'Nelly' McDougal. 
Helen McDougal, an illiterate Scot from Redding near Falkirk, was already in a relationship with another by the time she met Burke. Authors have suggested that she may have been one of the many prostitutes following the navvies as they progressed with their work along the Union Canal. 
Absconding with Burke to Edinburgh in 1827, Nelly took her two children with her. 
William Hare's Wife: Margaret Laird
William Hare lost no time in pursuing the wife of his landlord, James Logue, after he took rooms in his lodging house in Tanner's Close, Edinburgh. 
Nicknamed 'Lucky',  Margaret Laird had also worked as a navvy on the Union Canal, donning men's attire to blend in with the other men. Her character has been described as hard featured and, according to Bailey a 'debauched virago', which, after looking this up means she was showing 'abundant masculine virtues'.
I imagine a woman who can certainly hold her own and will take no nonsense from anyone. It sounds like Laird and Hare were well matched and accounts state that she was 'often brutally intoxicated and seldom without a pair of black eyes'. 
Following Logue's death in 1826, Hare quickly returned to the lodging house where his sweetheart lay and immediately started wooing the woman and moving in, acquiring ownership of the property in Tanner's Close in the process.
What Happened To Their Wives?
The wives of both William Burke and William Hare were released following the trial in December 1828. Burke's wife, Helen McDougal was recognised by a mob after returning back home and is rumoured to have been seen in the North East of England before dying in Australia in the 1860s. Hare's wife, Margaret Laird is said to have secured a passage on board the Fingail, sailing to Belfast. She was possibly sighted in Pair in the 1850s working as a nursemaid.
William Burke insisted that his wife Helen McDougal was innocent throughout the ten-month killing spree, insisting on her innocence all the way to the scaffold.  Although there is evidence to suggest that she was more involved in events than perhaps Burke let on.  
Described as having a 'dull morose disposition', it is believed that the pair had a genuine affection for each other despite the battles between them that ensued on Edinburgh's streets. 
One fellow Irish-man, James Maclean, goes so far as saying that 'the pair led a most unhappy life, everlasting quarrelling'. 
But this most unhappy life was filled with a darker side, one which by the time McDougal stood trial in court, was being venomously denied. 
The Trial of Burke's Wife, Helen McDougal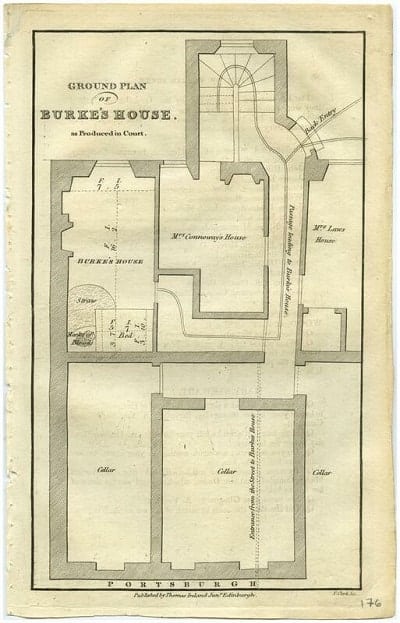 William Burke's wife, Nelly McDougal, appeared in the dock on Christmas Eve/Day 1828 to hear if she was to be found guilty of being an accomplice in the murder of Margaret/ Mary (also known as Madge) Docherty, Burke and Hare's last victim. 
The jury heard how McDougal, had tried to bribe Mrs Grey, their lodger, who had unfortunately discovered the naked body of murdered Docherty under a pile of straw at the foot of Burke's bed. 
Meeting on the stairs in the narrow passageways that surrounded Burke's lodging house, Nelly McDougal pleaded with Mrs Grey to 'hold her tongue' at what she had just discovered.
It could be worth up to £10 per week to her she said if she would say no more about the body. But alas Grey could not be bought. 
It took just 50 minutes for the jury to reach their verdict of 'Not Proven', to which Burke turned to his wife saying 'Nelly, you're out of the scrape'. 
From here both Burke and Nelly were taken to Parliament House where they remained in safety for the rest of the day. Early Boxing Day morning, the pair journeyed to Calton Jail where Burke was escorted immediately into the condemned cell. 
Sending Nelly McDougal Away From Edinburgh
Nelly McDougal was sent to Falkirk the day after being recognised but little good it did here. She immediately returned to Edinburgh to try to see Burke in his cell at Calton Jail but was denied a visit. 
From here, her journey gets sketchy. Seen in Newcastle, she was then sent further south to the Durham border as neither parish wanted anything to do with the woman who was so obvious implicated in the Burke and Hare murders. 
Just like Hare, McDougal disappears from history with unrefuted claims that she died some forty years later in Australia.
William Hare's Wife, Margaret Laird, Appears In Court
When it came to Margaret Laird's turn in the witness stand she arrived clutching her child tight to her breast.
Whether a decoy or from real maternal instinct, the child that Laird had with her that day was suffering from whooping cough and she used the numerous coughing attacks as thinking time before answering any of the judge's questions.
Laird admitted to leaving the house with McDougal as Burke was killing Docherty. For a full 15 minutes, she claimed to be away and upon her return, the 'old woman' (as Hare recalled her) Mary Docherty, was gone. 
And as simple as that, Margaret Laird, wife of serial killer Wiliam Hare, went to bed. 
Most commentators of Burke and Hare agree that Margaret Laird knew about the murders but chose to keep quiet. How could she not, many were committed under her roof, in fact, that was where it all started.   
Although she may not have taken part in the actual act, she still benefitted from the murders for she always took £1 from the proceed received by Knox to cover 'the use of her house'.
The Immunity Of William Hare's Wife, Margaret Laird 
The minute William Hare agreed to turn King's evidence, any possible prosecution against his wife had to be dropped for Hare could not testify against his own wife. 
After being examined a total of three times on the stand, as well as being questioned about her part in the murder of Jamie Wilson, known forever in history as 'Daft Jamie', Margaret Laird was eventually released on 19 January 1829. 
Perhaps not knowing what to do or where to go, she headed home. She was immediately recognised in the Old Town and set upon with mud and stones until the police came and took her in for her own protection. 
Two weeks later, Laird surfaced in Glasgow where she was again recognised. Help eventually came on the 12 February when authorities managed to secure her a passage on board the Fingail, a ship sailing from Greenock to Belfast. 
Another elusive character, Laird then disappears like the others (obviously not Burke). But Bailey mentions a curious sighting of her some thirty years later when she turns up as a nursemaid in Paris. 
I agree with Bailey that this is probably highly unlikely and goes completely against her supposed wish of living out her days in the remote Irish countryside.
Did Burke or Hare Have Children?
Both Wiliam Burke and William Hare had children. Both of William Burke's natural children had remained in Ireland with his first wife when he came to Scotland in 1818. Hare's only child with Margaret Laird is surrounded by uncertainty. Available sources cannot confirm whether the child was Hare's, or a young child of James Logue, Laird's first husband. 
William Burke's two children with his first wife Margaret Coleman, remained in Ireland with their mother when Burke decided to try his luck on the Canal and hopped over to Scotland in 1818. 
Nothing further is known about either of them.
Helen McDougal, Burke's common-law wife, already had two children with the man she was with before Burke but again, nothing more is known about them apart from this. 
William Hare on the other hand may or may not have been the natural father of Laird's sickly child that she carried into court. Although modern authors suggest that the child is Hare's, conceived relatively quickly after Logue's death. 
Margaret Laird is also believed to have had another child by Logue, and so like her 'friend' – and I use the term loosely for the two women are said to have hated each other – had two children. 
Not much is written or recorded on the whereabouts of the children during all of this and the research that I did look into, I will admit, got me a little confused. Dudley Edwards (mentioned above) is perhaps the best source of information for this.
How Did They Meet?
Despite both men being employed as navvies on the Union Canal, Burke and Hare didn't actually meet until Burke and his common-law wife, Helen, 'Nelly', McDougal rented a room in Hare's lodging house on Tanner's Close, Edinburgh. 
Quite by chance did Burke stumble upon Hare for he was about to leave Edinburgh with 'Nelly' and try his luck as a cobbler elsewhere, out of the city. 
As luck would have it, fortune was smiling on the two this day for they met Hare's common-law wife Margaret Laird. 
In an act that seems all too familiar in the story of Burke and Hare, the meeting happened quite by random in the street, and no sooner could the pleasantries have passed than everyone appears to be in perfect company sharing a dram or two of whisky. 
This is exactly what happened to Burke and Nelly. Telling their story of woe to Laird, she immediately invited them to become her lodger, as quite by chance, a room had become vacant at the lodging house her husband Hare owned in Tanner's Close. 
I have also read that the pair met in Penicuik, just under 10 miles (16km) miles outside of Edinburgh while working as general farm labourers and that they travelled to Edinburgh together. 
The consensus, however, is that they met in Edinburgh when Burke and Nelly bumped into Laird. In reality, we may never know in truth how the pair came to meet.
Burke And Hare's Home in Edinburgh
Burke and Hare lived in two places in Edinburgh. Initially, they both lived in Tanner's Close where Burke was Hare's lodger. By the summer of 1828, after a disagreement over Hare selling a cadaver while Burke was away in Falkirk, the pair had split and Burke moved in with his cousin, John Broggan, just two streets away. 
Where Was Tanner's Close in Edinburgh?
Tanner's Close was situated in the West Port, a slum of a place in a city that was vastly overcrowded. Hare's lodging house was at the bottom of Tanner's Close. Demolished in 1903, the site is now occupied by Argyle House.  
You may also have heard of the lodging house in Tanner's Close being referred to as Logue's House. But who was Logue and how did Hare come to be in possession of his property? 
I've mentioned this above but will mention it briefly again here. Before Hare got his hands on the property, James Louge ran the lodging house with his wife Margaret Laird. 
When Hare became a lodger, it wasn't long before he turned his attention to Logue's wife, an act that resulted in Logue kicking him out of his lodgings. 
Logue was to die in 1826 and Hare wasted no time in pursuing Margaret. In doing so, he manoeuvred his way not only into Maggie's heart, and bed, but also into ownership of the lodging house. 
I doubt any official paperwork was settled and Hare, being Hare, just presumed he could assume the status of landlord. 
Why Did They Start Killing?
Burke and Hare started murdering people after they sold their first victim, 'Old Donald' to Dr Knox when he died owing them £4 rent money. Realising that good money could be made from selling corpses, the pair embarked on a ten month murder spree making over £120 before they were caught on All Hallows Eve, 1828.
Whether or not Burke and Hare had committed murder before 'Old Donald' is still open to debate. I personally think that they had a taste of easy money and had no scruples between them once they'd sold their first victim to Knox. 
Good money was to be made from selling a cadaver to the surgeons of Edinburgh, and elsewhere, at this time. Burke and Hare didn't fancy digging their cadavers out of the ground that was all. 
Cutting out the middleman as it were, Burke and Hare realised that they were onto a scheme that couldn't possibly go wrong. More fool them when they started to target any individual that crossed their path. 
If they had not been so bold as to murder Mary Paterson or killed 'Daft' Jamie Wilson, people may not have started to become suspicious of their actions. 
The fact that people were asking questions as to the origin of some of the corpses surely indicates that their killing venture could not have gone on for much longer. 
Had Mary Docherty not bellowed at the top of her lungs that 'For God's sage get the police, there's murder here', would neighbours have turned a blind eye? Would their lodgers, Ann and James Grey have been curious as to the whereabouts of the 'old woman' if she had had a less notable stay at Burke's house, instead of slipping quietly away? 
Where Did Burke & Hare Kill Their Victims?
All bar one of Burke and Hare's victims were murdered either in Hare's lodging house in Tanner's Close, Edinburgh or at Burke's House a few streets away. Mary Paterson/ Mitchell was murdered at Burke's brother's house in Gibb's Close, Edinburgh. All the victims were suffocated, a murder method later known as 'Burking'. 
The killings started in Hare's lodging house on Tanner's Close, a place also referred to as Logue's house as he was the original landlord/owner before Hare took over following his death in 1826. 
It wasn't until Burke and his common-law wife Helen McDougal returned home from visiting her family in Falkirk in the summer of 1828 that the killings were carried out in two places. 
Having his nose pushed out of joint while they were away after discovering Hare had killed without him, Burke left the lodging house on Tanner's Close and instead took up lodgings with his cousin John Broggan a few streets away. 
Only one victim was killed away from the usual place of murder and that was Mary Paterson, also known as Mary Mitchell. 
Mary and her friend Janet Brown were lured to the home of  Constantine Burke, William's brother, in Gibb's Close, off the Canongate in Edinburgh. Here they were plied with drink in preparation for being killed. 
Mary's friend Janet proved especially hard to intoxicate and left, unknowingly leaving her friend to face her fate. 
What Is Burking & Where Did The Term Come From?
Burking today means murder by suffocation so that if detected, it leaves no marks. It is the term used to describe the killing method of William Burke, the Edinburgh murderer. Burking started to appear in newspapers following his execution in 1829 and the hype became known as 'Burkophobia' or 'Burking Mania'. 
Following his execution, the newspapers began to be filled with stories of people being 'Burked'. Any attempted assault or even robbery would be reported as an attempted burking.
There are lots of reports where the intended victim has been approached from behind and a pitch plaster attempted to be slapped over their face. As Richardson has pointed out in 'Death Dissection for the Destitute'  the period between Burke's hanging and the publication of his confession, rumours began to spread like wildfire about the murder method. 
One of these rumours was that Burke and Hare would use a medical pitch plaster to clap over the mouth of his victims, which of course we now know is not true. 
For a more in-depth look at this phenomenon, take a read of my post 'The Simple Art of Burking'
How many bodies did Burke and Hare steal?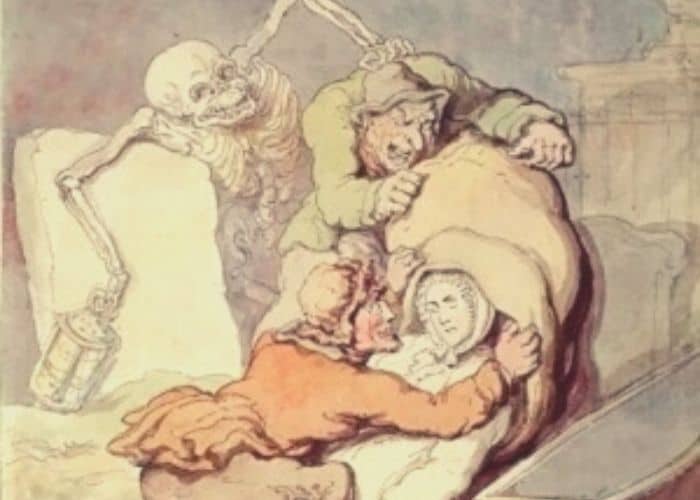 Burke and Hare didn't steal any bodies and are often misquoted as being body snatchers. They got cadavers for sale by murdering victims they found on Edinburgh's streets. They would then sell them to the anatomist Dr Rober Knox in Surgeons' Square for use in his dissection classes. In total, they killed 16 people, none of which were stolen from the grave. 
Sorry to disappoint many of you but despite what you read on parts of the internet, these two men just couldn't see the point of getting their hands dirty by exhuming a corpse from a grave.
A quicker and more lucrative way of making a profit was by simply acquiring cadavers through murder. 
The Burke and Hare Murders
Burke and Hare murdered at least 16 people, taking destitute individuals from the streets of Edinburgh. Their first cadaver was 'Old Donald', an army pensioner who'd died owing the pair £4 in rent. Their other victims included 'Daft Jamie' and 'the old woman', Mary or Margaret Docherty, the pair's last victim.
The first cadaver Burke and Hare sold to Dr Robert Knox in Surgeons' Square, Edinburgh wasn't actually murdered by them. Instead, 'Old Donald' died naturally while still owing rent money and his body was sold to try to recoup their losses. 
Of all the people murdered, Burke was a little unclear in parts as to who was murdered when at the time of both his official confession and that for the Courant. 
In my larger post where I looked at the murder victims in some detail, I reproduced a table from Brian Bailey's A Year of The Ghouls'  where he lists all the victims in order as they were recalled by Burke, or recounted by historians.
The Edinburgh Murder Coffins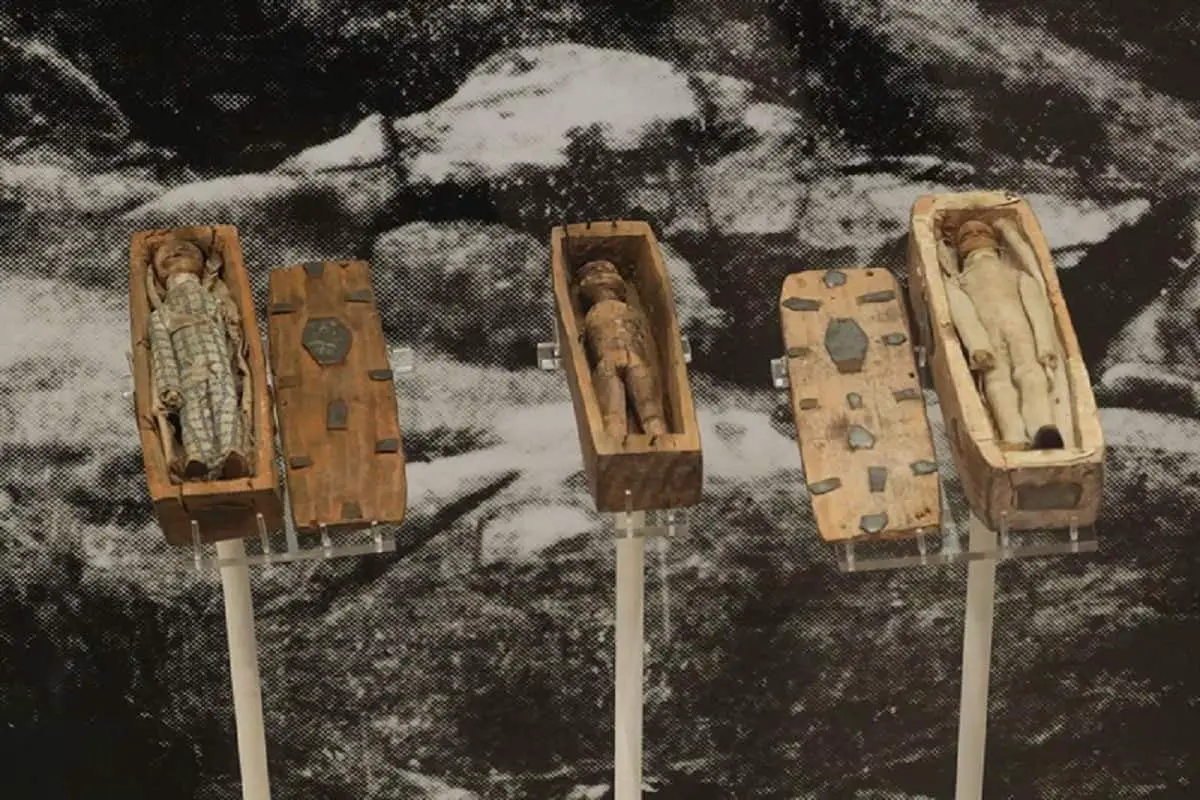 In June 1836, a set of seventeen miniature coffins, complete with carved wooden figures were discovered on the northeast side of Arthur's Seat, Edinburgh. Although only eight survive today, the origin and purpose of the Edinburgh Murder Coffins are still completely unknown but they have been linked to the victims that Burke and Hare murdered between 1827 and 1828. 
These unusual artefacts, now kept at National Museums Scotland in Edinburgh, measure between 3.7 – 4.7 " in length, with a tiny 0.8- 1.0" in depth. 
After their discovery by a group of schoolboys during the summer of 1836, like all things relating to Burke and Hare, speculation as to the origin of these intriguing coffins holds no bounds. 
A few of the other thoughts as to their purpose include:
Again, I've written a larger post specifically on the miniature coffins where I've collected all the different theories surrounding the coffins, referencing work carried out and detailed in the Smithsonian Magazine. 
Can you believe that we nearly lost all of the coffins had it not been for the quick thinking of the boy's schoolmaster Mr Ferguson, also a member of the local Archaeological Society who realised that there could be some significance as to what they'd found.
Before this, the boys were actually throwing them around and 'pelted them at each other as unmeaning and contemptible trifles'.
Where Did Burke And Hare Sell The Bodies?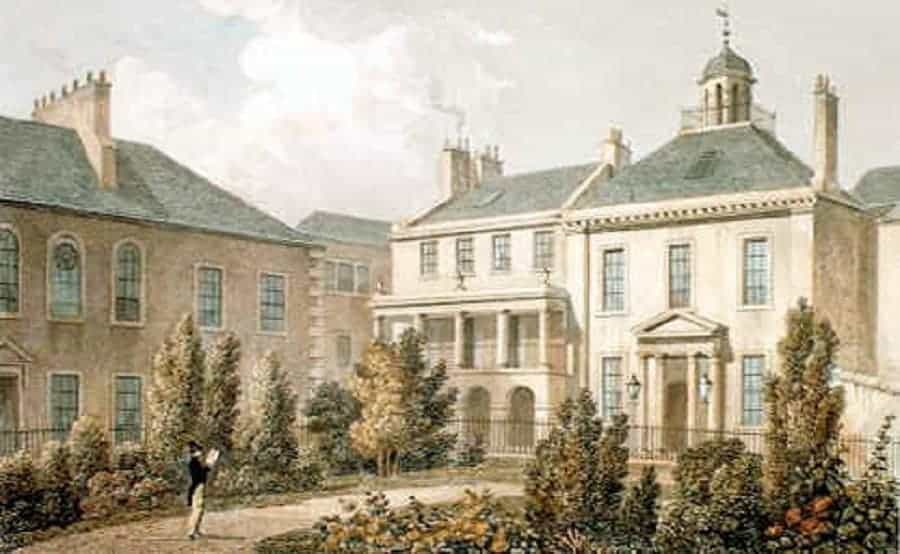 Burke and Hare sold the bodies of their victims to Dr Robert Knox at 10 Surgeons' Square, Edinburgh after they were directed there by a medical student they'd met in College Yard.  
Their original intention, when getting rid of the body of 'Old Donald', their first cadaver, was to sell it to anatomists at Edinburgh University. However, being new to the trade, they didn't know where to go or how to find Professor Monro, their intended client. 
As they were passing through College Yard, they met a medical student and nervously asked for directions. The student quite clearly knew that they had a body to sell and instead of directing them to Monro's rooms, they instead set the wheels in motion for Edinburgh's most prolific murderers and directed them to the dissecting rooms of Dr Robert Knox. 
Although Professor Monro may have missed out on fresh cadavers, he instead not only avoided being implicated in a murder investigation but also had the honour of dissecting Burke after he'd been hanged. 
Dr Robert Knox: The Anatomist Who Purchased The Bodies
Dr Robert Knox purchased all of the sixteen bodies that Burke and Hare killed, handing over a total sum of £102.10s. Dr Knox ran a private anatomy school at No.10, Surgeons' Square which proved very popular with the medical students of Edinburgh. 
As this was Burke and Hare's first sale of a cadaver, they weren't quite sure how to go about the 'usual proceedings'. Their victim 'Old Donald' was delivered still wearing his shirt, an absolute no-no for anyone selling cadavers, murderer or otherwise. 
In the 19th century, a body did not belong to anyone and so, if it was stolen technically a theft hadn't been made. Things changed dramatically however if clothing or a personal item was taken and subsequently sold. 
This would turn the case into a felony which delivered a far more serious punishment than the usual punishments dished out to body snatchers or those caught violating a grave.
What was Dr Knox Famous For?
Dr Robert Knox (1791-1862) is famous not only for being the Scottish anatomist who bought the bodies from murderers Burke and Hare, but also known for being an excellent surgeon and lecturer. He studied medicine at the University in Edinburgh in 1810, becoming principal of Barclay's extra-mural anatomy school at 10 Surgeons' Square, Edinburgh in 1826.
Knox's career was, and is, overshadowed by his involvement with Burke and Hare. Surprisingly, despite his obvious guilt, Knox was never prosecuted for his role in the crime, although his career would never fully recover from his involvement in the scandal. 
What happened to Dr Knox?
Following the trial of Burke and Hare in 1828, Dr Knox remained in Edinburgh with a tarnished character. 
To say Knox was hated by the Edinburgh mob would perhaps be an understatement. On the night of 12 February 1829, a large crowd made their way to Knox's house from Calton Hill carrying a life-size effigy of Knox. Attached to the waistcoat was a label with the writing 'Knox, The Infamous Associate of the Infamous Hare'. 
In Rae's book 'Knox The Anatomist', she states that Knox refused to be intimidated by the mob, continuing to lecture as before to an ever adoring student crowd. 
He would finally leave Edinburgh in 1842 following his wife's death and try for a new life in London. It would be fourteen years before Knox gained another position in the dissecting rooms. He was appointed pathological anatomist of the Cancer Hospital in London, 23 September 1856. 
Knox died following an apoplectic seizure on 20 December 1862.
How Much Money Did Burke and Hare Make?
Burke and Hare made a total of £102.10s between December 1827 – October 1828 when they were active. The average price they received for each of their victims was £10. The least amount was £5 for Mary or Margaret Docherty, their final victim. They squandered all the money they made on drink and fine living.  
The pair were making good money, and they knew it. It's the thing that drove them to kill, together with the fact that they may have started enjoying it. 
How Much Money Did they Make For Each Body?
Burke and Hare made an average of £10 per cadaver sold to Dr Knox. Knox had both a summer and winter rate at which he bought cadavers and most of Burke and Hare's victims were murdered during the winter months. Cadavers sold to Knox during the summer months would make an average of £8 each. 
It was a well-known fact in 19th century Scotland, and elsewhere, that a cadaver didn't last very long during the warmer summer months. 
What is known as the 'dissecting season', that is the period between October to May when the majority of students were studying anatomy, cadavers would have been in high demand. Dr Knox would have wanted to maintain both his reputation as an excellent teacher and as an anatomy school that provided an ample supply of teaching material for his students. 
During the quieter summer months, dissections still took place, although not in the quantity that they would do during the colder winter months. The price naturally fell as demand fell, and unless the specimen had particularly unusual features or ailments, then it would have been hard to negotiate steeper terms.   
He paid a good price for a cadaver, especially fresh ones like those delivered by Burke and Hare. I've itemised the prices for the individual corpses sold to Dr Knox in a larger post looking at how much money Burke and Hare made if you'd like to explore further.
Margaret Docherty: Burke And Hare's Last Victim
Burke and Hare's last victim was Mary or Margaret Docherty, also known as 'the old woman'. She was killed on All Hallow's Eve, 31 October 1828 and her body hidden under a pile of straw at Burke's house. After getting Docherty drunk, she was suffocated by a method now referred to as 'Burking', that is by placing a hand over the nose and mouth of the victim.
The pair's final victim, known by a variation of her christian name Margaret, (Mary/Madge being the most common) is often referred to as 'the old woman'. This name appeared after Hare sought clarification on the witness stand as to which victim he was being questioned about. 
Lured back to Burke's lodging house on the promise of food and drink, the unfortunate Docherty fell for the rouse that Burke was in fact a kinsman and that would you believe it, his mother also came from the small town of Inishowen. 
Quite forgetting that she'd come to Edinburgh from Glasgow to look for her son, Margaret Docherty wandered quite freely into one of Burke and Hare's lairs. 
How Was Burke & Hare's Last Victim Murdered?
Mary Docherty was murdered by being plied with whisky at the home of William Burke, a few streets away from the soon to be infamous lodging house of Hare's in Tanner's Close. 
It was during this drunken stupor, as she lay unconscious on the floor that the 'old woman' was murdered. A hand was clasped over her mouth and nose and she was held down by her chest. 
Her body was then stripped naked, folded into half or threes and stuffed under a pile of straw at the edge of the bed. Docherty would later be found by Burke's lodger Ann Grey when she returned home for breakfast. 
A sad story indeed for Madge was only seeking comfort from a fellow countryman. You can read more about Burke and Hare's last victim, Mary Docherty in the link to my larger post. 
Catching William Burke
William Burke was caught for the murders he committed when his lodger, James Grey informed the police that he had found the dead body of Mary Docherty hidden under straw at Burke's property. 
I've written a much larger post on Mary Docherty, Burke and Hare's last victim and how the discovery of her body led to Burke and Hare's downfall but if it hadn't have been for Burke's strange behaviour – he started splashing whisky around the room to mask any odours – or the fact that Burke and Hare's wives had tried to buy the silence of lodgers Mr and Mrs Grey, then they may have been able to get away with murder for a little while longer. 
William Burke would eventually be arrested and taken into custody when Sergent Fisher, having turned up at Burke's house with James Grey, became suspicious of the discrepancies in the stories given to him by Burke and his wife Nelly McDougal. 
Neither could account sufficiently for the whereabouts of the 'old woman' Mary Docherty, which, together with bloodstains being found on the bedclothes at Burke's house, was enough to raise suspicions. Both Burke and McDougal were taken into custody.
How was William Hare Caught?
William Hare was caught for his part in the Edinburgh murders after Sergeant Fisher called at Surgeons' Square and saw the body of Mary Docherty bound up in a tea chest. 
The body was identified by James Grey as that that he'd seen hidden under the straw at Burke's house. 
Burke and his wife Nelly denied all knowledge of the corpse, presumably laying events onto Hare at this point. The police made their way to Tanner's Close where Hare and his wife Margaret Laird were arrested and taken into custody. 
What Happened To them When They Were Caught?
Burke and Hare, together with their wives Helen McDougal and Margaret Laird were all in custody by 2 November 1828. They were charged with murder later that day and brought before the Sheriff-substitute Mr George Tait to make a statement. They were held in Calton Jail before their trial which was heard on Christmas Eve, 1828. 
Not one of the four statements matched, Burke conjouring up a story that he'd been asked to look after the tea chest by a gentleman whose shoes he was repairing. 
It was only when he looked in the chest, he claimed, that he saw the body which bore no resemblance to the body that he was shown at the police station. 
Further statements were made a week later by both Burke and his wife, where Burke changed the details of what had happened that night saying that he and Hare had found Docherty lying dead under the straw, presumably suffocating herself where she fell asleep intoxicated, head down in the straw.
Burke and Hare's case was held at 10 o'clock on Christmas Eve 1828 in Parliament Square, Edinburgh before the High Court of Justiciary.
Did they hang?
Only William Burke hanged for the murders that he commited with William Hare between 1827 and 1828. William Burke was hanged in Edinburgh's Lawnmarket 28 January 1829 in front of a crowd of over 25,000 people. William Hare was given immunity after turning King's Evidence. His whereabouts after the trial remains unknown. 
Much to the crowd's disgust, only William Burke was hanged for the awful murders that took place in ten months that he and Hare roamed the streets of Edinburgh. 
How was William Burke executed?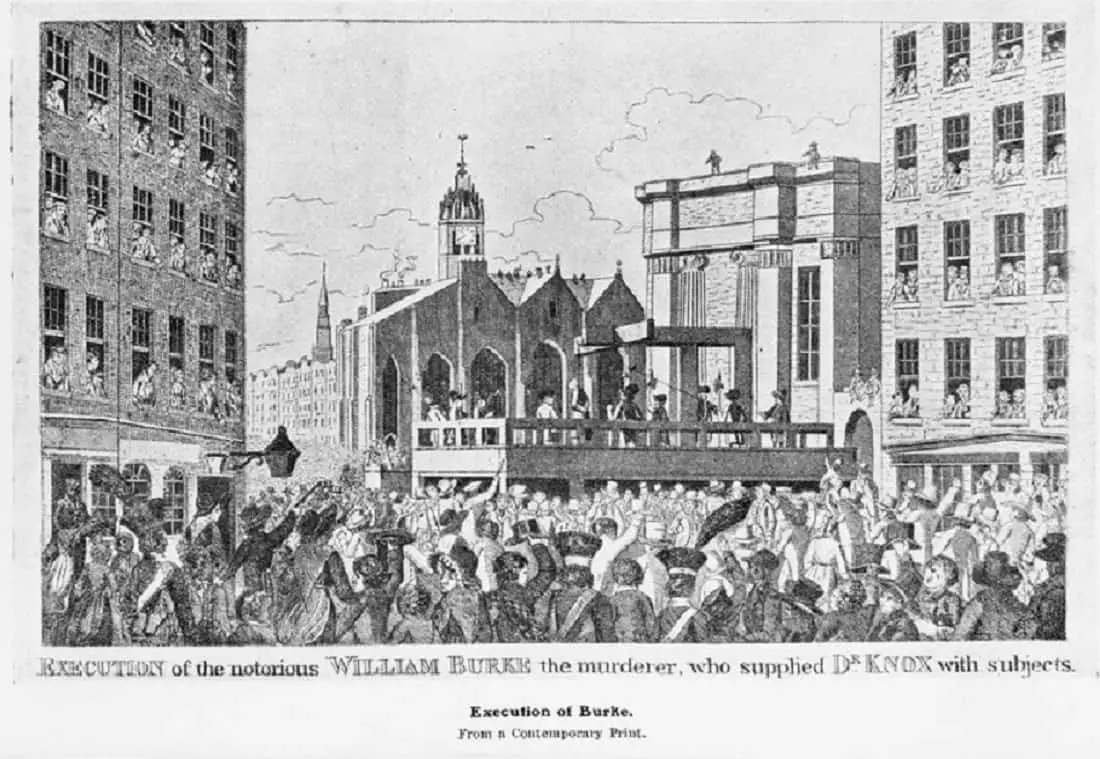 William Burke was executed by hanging and then sentenced to be anatomised in accordance with the 1752 Murder Act; An Act For Preventing The Horrid Crime of Murder. His body was publicly dissected by Professor Monro at Edinburgh University Medical School. 
Burke's hanging took place at 8.00 am on the morning of 28 January 1829 in front of the biggest crowd that Edinburgh had seen. 
The Lawnmarket, where Burke's scaffold had been erected was bursting with people trying to catch a glimpse of this murderer and when the crowd saw him, they immediately started to call for Hare and Knox to be hanged as well. 
We all know that this didn't happen and the unjust feeling that must have run through Edinburgh at this time must have been extraordinary. 
Accounts say that Burke walked quickly up the scaffold steps and struggled little when the steps were pushed away and he was launched into eternity. His body was then coffined and conveyed to an awaiting Professor Monro.
The Burial Place of William Burke
William Burke doesn't have a burial place. Following his execution by hanging at Edinburgh's Lawnmarket on 28 January 1829, he was sent to be anatomised by the surgeons at Edinburgh University, dissected by Professor Monro. His skeleton now hangs in the Anatomical Museum, Teviot Place, Edinburgh. 
On 26 March 1752 the Act, 'for better preventing the horrid crime of murder', better known as 'The Murder Act' came into force. 
Included in the text were the words 'that some further terror or peculiar mark of infamy be added to the punishment' … 'and that in no case whatsoever shall the body of any murderer be suffered to be buried.  
This allowed the Lord Justice-Clerk to stipulate that the murderer either be placed in a gibbet or be subjected to a public dissection following execution. In Burke's case, it was the latter, and he was sent to the dissecting rooms at Edinburgh University where Professor Monro was waiting. 
Where is William Burke's Body?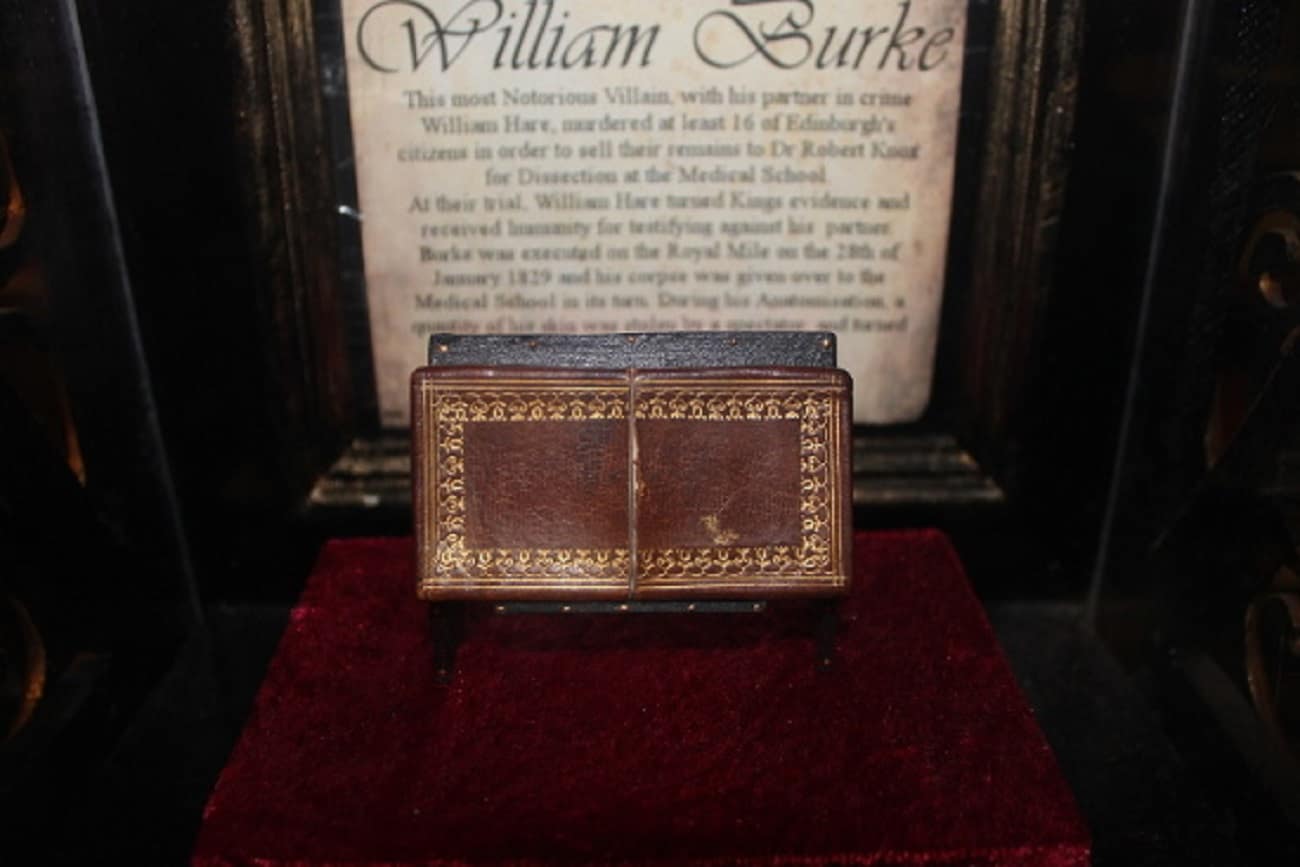 As part of his death sentence, William Burke was anatomised and his skeleton is now on display at the Anatomical Museum, Teviot Place, Edinburgh. Parts of William Burke's body can also be found at Surgeons' Hall, Edinburgh, where a pocketbook was made from his tanned skin and a calling card case, also covered in his skin can be found at The Cadies & Witchery Tour Shop.  A piece of his brain is in a jar at The Science Museum, London.
This man is certainly dotted around the county and since writing my post Finding William Burke: The Relics of A Murderer, I'm quite surprised at how far and wide this guy has actually gone. 
The most famous of all the William Burke relics are perhaps his skeleton and the pocketbook made from his tanned skin. 
They're kept in two very different places. Burke's skeleton now hangs in a display case in the Anatomical Museum at Teviot Place, Edinburgh and the pocketbook at Surgeons' Hall. 
But don't go racing off too soon, Burke's skeleton could once only be viewed on selected days but the museum is currently closed until further notice. Full details about opening etc. can be found on their website. I'm sorry to disappoint you. 
William Burke at Surgeon's Hall, Edinburgh
Hot footing it off to look at the pocketbook made from Burke's skin is a different matter entirely and the book is currently on permanent display at Surgeons'Hall, Edinburgh. 
Alongside the pocketbook is a death mask, hotly disputed to be such by the human remains conservator at Surgeons' Hall, Cat Irving, whose blog you can read here. Even with my rudimentary anatomical knowledge, I can understand why. 
Cat has suggested that there is muscle tension showing in the facial muscles on Burke's face and that this wouldn't be present if he was dead. Also, and I think this is an equally viable reason, if there is a life mask of Hare, then why wouldn't they have taken an impression of Burke at the same time? 
I love that nearly 200 years later, we're still talking avidly about this pair and questions such as this are being raised. 
The World's Smallest Museum
Walk up to the Royal Mile from the Grassmarket and you'd be forgiven for not realising that you've just walked past two unique things in Edinburgh. 
First off, the World's Smallest Museum, which is actually the shop and booking office for the Cadies & Witchery Tour, which I highly recommend incidentally.
Second, is the fact that you'll have just walked past one of the smallest relics relating to William Burke and that a calling card case made from his skin. 
Yep, another macabre artefact for you to admire and I can't tell you how amazing it is. 
Burke's Skin Calling Card Case
Souvenirs from the scene of execution on the Lawnmarket and from the dissection itself certainly occurred as far as William Burke was concerned. 
Not only was rope sold by the hangman, but as we've seen, books bound in his skin, a practice called anthropodermic bibliopegy were made as well as smaller 'offshoots' of the practice. 
I travelled to Edinburgh once to specifically see the calling card case and I'm delighted that I made the effort as I got talking to one of the guides here, Robin, and I couldn't believe it when he took the case out of the cabinet for me and that I got to touch it! 
Trust me when I say it was tiny and in every way perfect. It was almost as if it was covering a smaller template made of stiff card inside and it fit snug into Robin's palm. 
Even if you don't book a tour, you're still welcome to visit and see the World's Smallest Museum with one of the most macabre relics in it to date. 
Burke's Brain In a Jar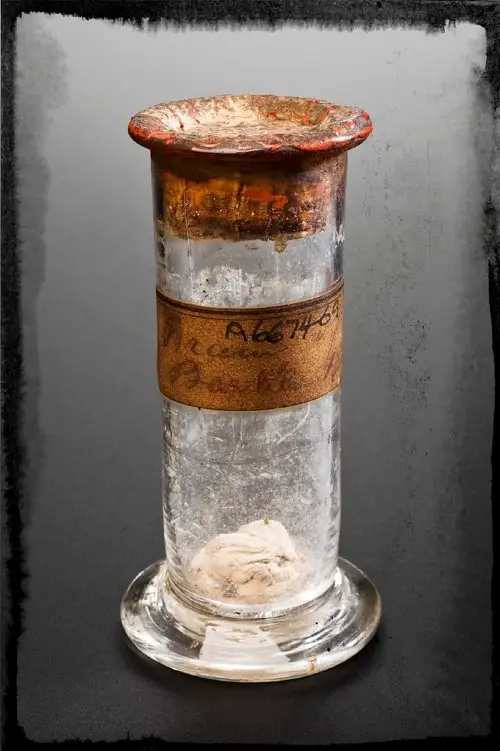 A teeny tiny portion of Burke's brain survives in an anatomical specimen jar at The Science Museum in London. 
The note accompanying the specimen reads:
presented by the doctor who used Burke's body for anatomical purposes, in a sealed glass tube 3" long
I understand that this particular exhibit is not currently on display so if you are hoping to head to The Science Museum to see it, please do get in touch with them beforehand to check if you can. 
The Displaying of Burke's Skeleton
The Skeleton of William Burke is on display as it was part of the sentence passed down to him for murder. The 1752 Murder Act stated that the body of a murderer, once executed should 'in no case suffer to be buried'. Additional punishment of the corpse could also result in either gibbeting or dissection. 
As I mentioned above, the additional punishment of the corpse was left to the Lord Justice-Clerk's  discretion and on summing up Burke's sentence, in addition to being anatomised, he also uttered these famous words: 
'….if it is ever customary to preserve skeletons, yours will be preserved, in order that prosperity may keep in remembrance your atrocious crimes. 
And so it was that Burke was hanged, dissected and to this day hangs in a glass display case in the Anatomical Museum, Teviot Place, Edinburgh. His crimes are certainly remembered, yet he has been made a celebrity of. 
Something that I no doubt think he would quite approve of. 
What Happened To William Hare?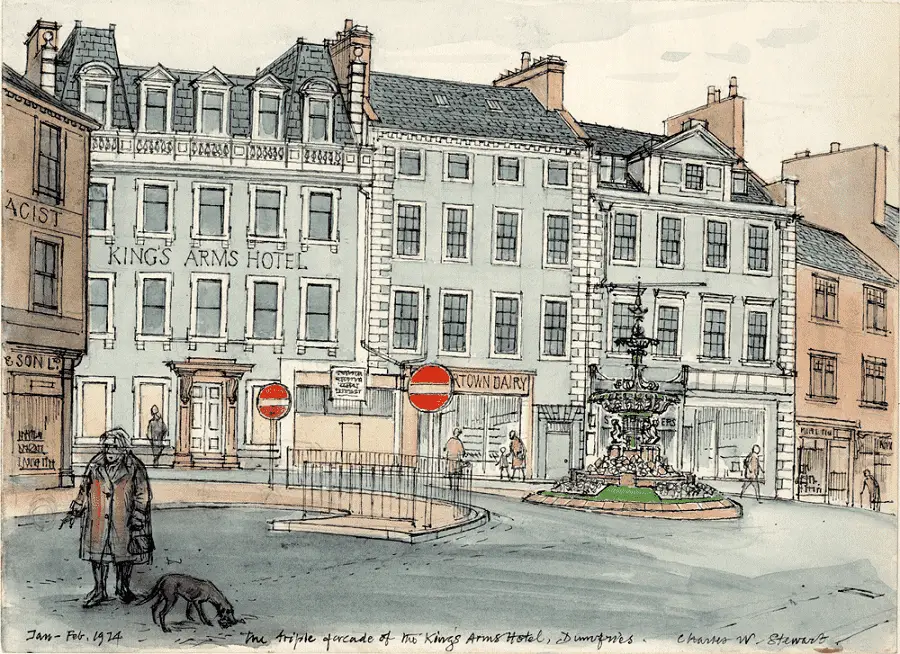 William Hare turned King's Evidence and escaped the hangman's noose. He was given immunity on 1 December 1828 after agreeing to give details about the murder of their last victim, Mary Docherty. Hare was allowed to go free and the last confirmed sighting of him was on a coach bound for Dumfries.  
The evidence that surrounds the last whereabouts of one of Scotland's most prolific murderers is pretty much nonexistent, hence all the rumours that are flying about on the internet and in books today. 
The most common belief is that Hare was actually a blind beggar on the streets of London. Such a well-known figure was Hare that mothers are said to have threatened their naughty children if they didn't behave. Hare will come and get you they said, eek they said…
I've written a more in depth blog post about What Happened to William Hare if you're interested in reading all the theories out there, but if you prefer to just get the gist, then please read on.
William Hare is Recognised In Dumfries
Things started to unravel after William Hare, going under the disguise of a 'Mr Black' was recognized by Erskine Douglas Sandford, a junior counsel representing the family of Jamie Wilson, better known as 'Daft Jamie'.
By the time Hare had arrived at his destination of Dumfries, a mob was already waiting for him and he was quickly escorted through to the back of the Kings Arms pub in the High Street. 
After an undercover escape in the early hours of the morning, the last confirmed sighting of Hare was when he was seen on the Annan Road on his way out of town. From here, folklore and speculation take over. 
The most popular story is the one mentioned above about Hare being a blind beggar on the streets of London, but other stories are starting to take hold and generate their own interest. 
I doubt we'll never know for certain as to what actually happened to William Hare. 
The Burke And Hare Rhyme
Many people know the famous rhyme associated with Burke and Hare. Here it is in its entirety.
Up the close and doon the stair;

But and ben wi' Burke and Hare.

Burke's the butcher, Hare's the thief,

Knox the boy who buys the beef.
A short six-line rhyme, no doubt chanted by children and adults alike on the streets of Edinburgh which sums up their crimes perfectly. 
Although this may be the most famous of the Burke and Hare rhymes, there were many more printed and sung both during and after the trial.
The research on this has already been excellently carried out by PlanetSlade.com if you want to delve deeper into this side of the topic. 
Finally, this YouTube clip doesn't cover the rhyme itself, but instead covers the crimes of the two men and is quite a catchy little thing. It's a little over 2.30 mins long if you fancy tapping your feet for a little bit.
My favourite song about Burke and Hare is actually the title song from the 1972 film by Kenneth Shipman. Now this really will stay in your head all day, so fair warning dear reader. You can find it here, sung by The Scaffold.
I doubt we'll ever get to the end of asking questions about Burke and Hare, but  I hope I've been able to answer a few of yours here. 
Want to Know More? Try These Recommended Reads