Does Body Snatching Still Happen? (8 Real Cases)
There's something strange that lures a person into digging up a dead body, whether that be for medical science, ritual belief or to hold that corpse to ransom. But does body snatching really still happen today?
With figures by some stating that over 16,800* U.S. families have reported the theft of loved ones from graves in the twenty years prior to 2015, it would certainly seem that a simple answer to this question is yes.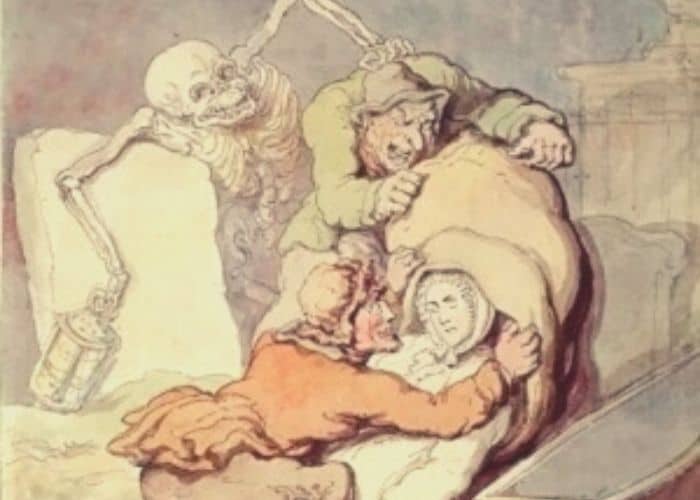 Couple this with figures on Wikipedia (I know, I know) that body snatchers in India alone smuggle more than 20,000 – 25,000 human skeletons out of the country each year to various medical institutions, then surely this has to confirm the answer further. 
There are reports confirming body snatching still continues today with a number of high profile cases remaining in the spotlight. Thefts for ransom include Charlie Chaplin and Cypriot President Tassos Papadopoulos, while many cadavers are stolen for medical purposes, as was the case for TV presenter, Alistair Cooke in 2005. The individual crimes of Anatoly Moskvin and the Ali brothers in Pakistan are rare, although continue to be sensationalised by the modern press.  
But what makes an individual exhume a corpse? In this post, I've looked at cadavers taken from their graves as well as those who were snatched before they even got there. I have focused on what I would class as 'modern body snatching cases', that is in the 20th and 21st century and there will inevitably be cases that I have missed.
Fair warning dear reader, some of the accounts in this post may not be for everyone so I urge you to take caution if you're a little on the squeamish side. Everyone's threshold for this type of thing is different. 
| | | | | | |
| --- | --- | --- | --- | --- | --- |
| | | | | | |
| | Plainfield, Wisconsin, USA | | Mary Hogan Bernice Worden + Other victims unknown | Numerous – Fetish potentially | Life in the Central State Hosptial (now Dodge Correctional Institution) |
| Roman Wardas & Gantcho Ganev | Corsier-sur- Vevey Cemetery, Switzerland | | | | |
| | The Palace of the Counts of Argillo, Spain | | | | |
| Joseph Nicelli, Michael Mastromarino, Christopher Aldorasi & Lee Curceta | Daniel George Funeral Home, Brooklyn, New York, USA | | | Body parts fold for transplants & medical study | |
| Kerry Whitburn, John Smith, John Ablewhite & Josephine Mayo | Newchurch, Staffordshire, UK | | | Protests Against Animal Rights | |
| Prokopiou Kitas, Mamas Kitas & Sabrjit Singh | Deftera Village Cemetery, Nicosia, Cyprus | | | | |
| | Nizhny Novgorod region of Russia | | Believed to be upwards of 150 girls and young women aged 3 – 25 yrs | | Diagnosed with paranoid schizophrenia and transferred to a psychiatric unit |
| Mohammad Farman Ali & Mohammad Arif Ali | Darya Khan Graveyard, Bhakkar District of Punjab, Pakistan | | Saira Parveen & Unknown Male Infant | | |
Body Snatching & Cannibalism
This is one of the most offensive of all the reasons for modern-day body snatching and yet, like it or not it probably holds the most fascination when it's discussed. 
Let's get straight into this one – bodies that were stolen so that they could be eaten. 
Body Snatching For Cannibalism In Pakistan 2011 & 2014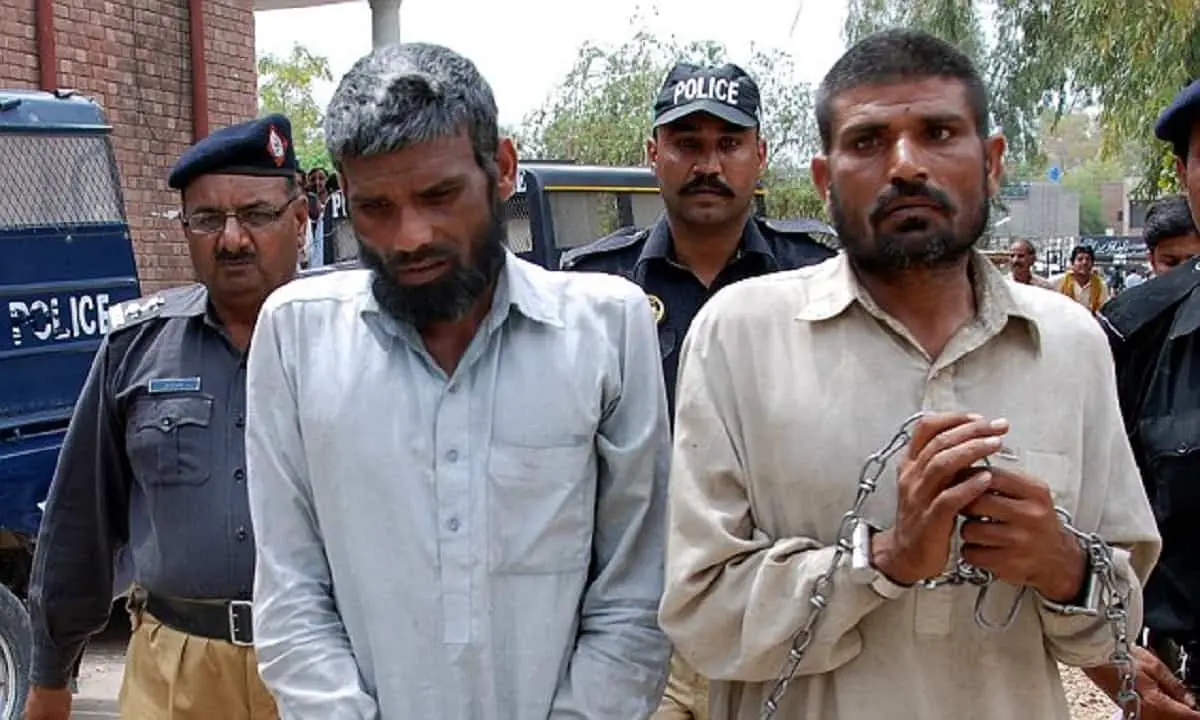 As a general rule, body snatching in order to cannibalize the cadaver is extremely rare.  In April 2011, and again in April 2014, brothers Mohammad Farman Ali and Mohammad Arif Ali from Kahawar Khan the Bhakkar District of Punjab, Pakistan were charged and convicted for stealing cadavers from a graveyard in Darya Khan. On both occasions, investigations led to the discovery of a number of body parts being prepared for cooking.
Mohammad Farman Ali and Mohammad Arif Ali first came to the media attention in April 2011 when they stole the body of 24-year-old Saira Parveen, who'd died of throat cancer, from her grave in a graveyard in Darya Khan, near to where the brothers lived. 
In true body snatching style, the corpse was in the ground no longer than 24 hours before it was removed and the discovery was made the next day.  
Investigations led to the home of Arif Ali, and the press quickly reported that when the cadaver was found, it was missing both limbs. 
The discovery of the corpse makes for gruesome reading so please skip this step if it's not for you.
The details surrounding the discovery were recollected by Inspector Fakhar Bhatti who led the raid. 
"In the middle of the room, I saw a cooking pot which was half full of meat curry. Nearby was a wooden board, a butcher's axe and a large kitchen knife. Bits of fat clung to the board and the blade of the axe."
The fat on the board had attracted ants. Curious, the police followed the trail and the gruesome discovery was made.
"We followed the ants. There were a couple of sacks of fertiliser under the bed. We pulled them out, and behind them, inside a gunny bag, we found the body," says Inspector Bhatti.
"It still gives me the creeps; they had chopped off one of her legs below the knee, and the other one near the shin. The rest of the body was intact. The curry was made from those parts. We got it analysed at a laboratory in Multan."
When arrested, the brothers admitted that Parveen wasn't their first victim and that they'd been stealing the dead for 'a number of years'. 
The brothers, charged for stealing five bodies in total, were sentenced to two years in prison for desecrating a grave, there being no laws in Pakistan for cannibalism. They were released in May 2013. 
In 2013, M Ilyas Khan,  a reporter for the BBC, went in search of the brothers, not long after they'd been released. The account of the discovery, quoted above, was taken from the investigation. The full article can be read here. 
Further Cannibalistic Acts By The Ali Brothers in 2014
Released from jail in May 2013, one year later on 15 April 2014, the police were receiving reports of 'the stink of rotting flesh' coming from the house of the Arif Al. 
On investigation, the head of a two or three-day old child (some accounts say it was a boy) was found in their home, resting next to a burning stove.
After initially blaming all events on his elder brother, Arif Ali finally admitted that he too was involved in preparing the head for cooking before eating it.  
Although there was no proof that the child's body had been taken from the grave, going on previous convictions, this was a high probability 
Mohammad Farman Ali and Mohammad Arif Ali were both sentenced on 12 June 2014 to eleven years and four months in prison.
Body Snatching For Ransom
Many people over the years have targeted the grave of key political figures or celebrities in order to hold the cadaver to ransom in the belief that they can gain from it in some way shape or form. In fact, I've written a separate post all about famous people who've had their bodies stolen if you want to know more.
Corpses that have been taken from the grave and then held to ransom are usually those of key figures as it is believed that such corpses have a larger bartering factor. Cases include the theft of Cypriot President Tassos Papadopoulos, Antipope Benedict XIII, and one of the most famous silent film actors of all time, Charlie Chaplin. 
Cypriot President Ransomed: Theft of Tassos Papdoplopodus

In December 2009, former President of the Republic of Cyprus, Tassos Papadopoulos was taken from his grave in Deftera Village Cemetery, Nicosia, and held to ransom for an undisclosed sum. Brothers Prokopiou Kitas and Mamas Kitas both received a 20-month prison sentence. Accomplice, Indian National Sabrjit Singh, was sentenced to 18 months behind bars after all three were charged with the theft in May 2011. 
On 12 December 2008, at 13:05pm local time, Tassos Papadopoulos, was laid to rest in Deftera Village Cemetery in Nicosia, the capital of Cyprus, after dying of lung cancer at the age of 74. 
One year later, on 11 December 2009, Prokopiou Kitas, serving two life sentences for murder in Nicosia Central Prison was putting his plan into action that holding the President's body to ransom was his meal- ticket out of there. 
In preparation for a memorial service due to being held for the former President the following day, a former aide and bodyguard visited his grave to light a candle. He was met with a grave surrounded by lime and a gaping hole where a 240kg (530lb) marble tomb had once lay.
A Corpse is Found: Body Snatchers Break Their Silence
Despite numerous efforts, initial investigations led to nowhere and all was quiet for three months until one of the snatchers, an Indian National, Sabrjit Singh, informed Papadopaopdus' family that they had the body. It was currently stashed away in a grave in another Nicosia cemetery in the Strovolos area of the city, 3km away from his original resting place. 
Despite a ransom request, nothing appears to have been paid over to the body snatchers and Papadopalopodus' body was quickly secured. 
At the trial in May 2011, Singh together with two brothers, the imprisoned Prokopiou Kitas and Mamas Kitas were all sentenced for their part in what  Cypriot police called 'a highly organized crime'. 
The crime of body snatching in Cyprus is categorized as violating a grave, and so was ruled as a misdemeanor when it came to court, as it was in 18th and 19th century Britain. 
Sabrjit Singh for his part in the crime received an 18-month prison sentence. The Kitas brothers, for their part, received a sentence of 20 months each.  
Theft of Antipope Benedict XIII's Skull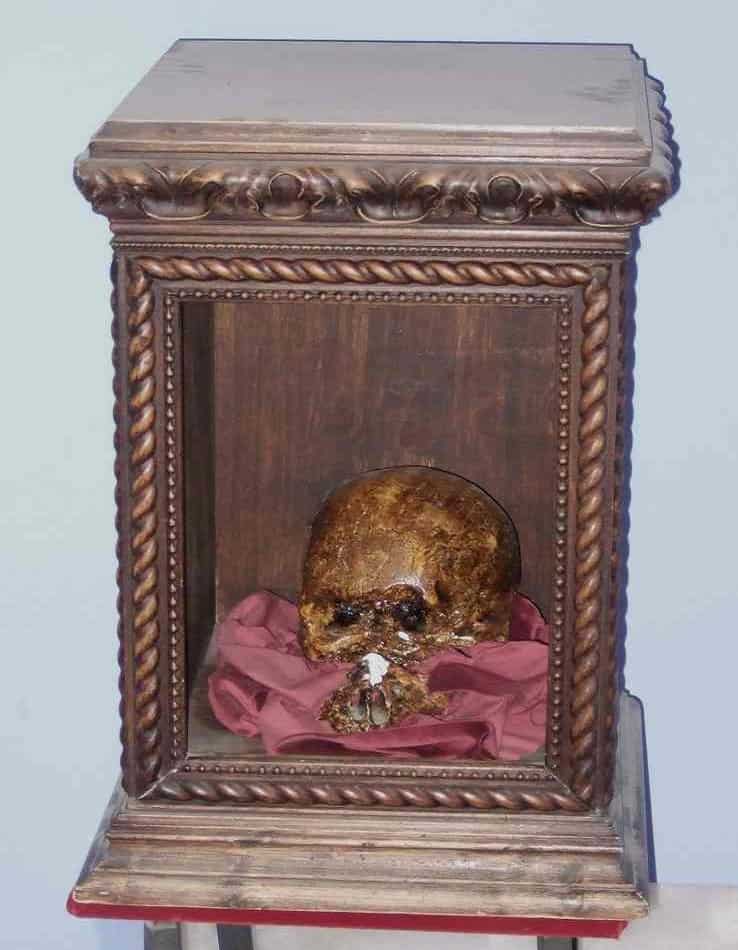 Having died in the mid-15th Century, 1423 to be exact, at the tender age of 95, there wasn't much left of Antipope Benedict XIII's body that could have been stolen. But, two determined brothers didn't let that stop them. 
In April 2000 the skull of Antipope Benedict XIII, better known as Papa/Pope Luna, was snatched from The Palace of the Counts of Argillo, Spain by two brothers aged 19 and 23 and held to ransom for the sum of one million pesetas ($5,400 USD). Photographs of the skull were sent to police and hand-written ransom notes sent to Javier Vicente Inez, Mayor of Illueca, Spain. The skull was returned in September 2000. 
The Destruction of Antipope Benedict XIII's Skeleton
Starting off in Peniscola Castle (the town translates to Illueca), in the now tourist destination of Costa del Azahar in the Mediterranean, Benedict XIII's embalmed corpse was destroyed by French Troops during the 18th Century War of Succession and his bones thrown into the river.  
The only surviving part of the Antipope's body, the skull, was removed to the Palace of the Counts of Argillo, Savinan and put on display in an urn. 
The skull, a highly prized relic and insured for 50 million Pesetas ($269,000 USD) has only been removed once (in 1997) since being placed in the Palace.
Holding Antipope Benedict's XIII Skull To Ransom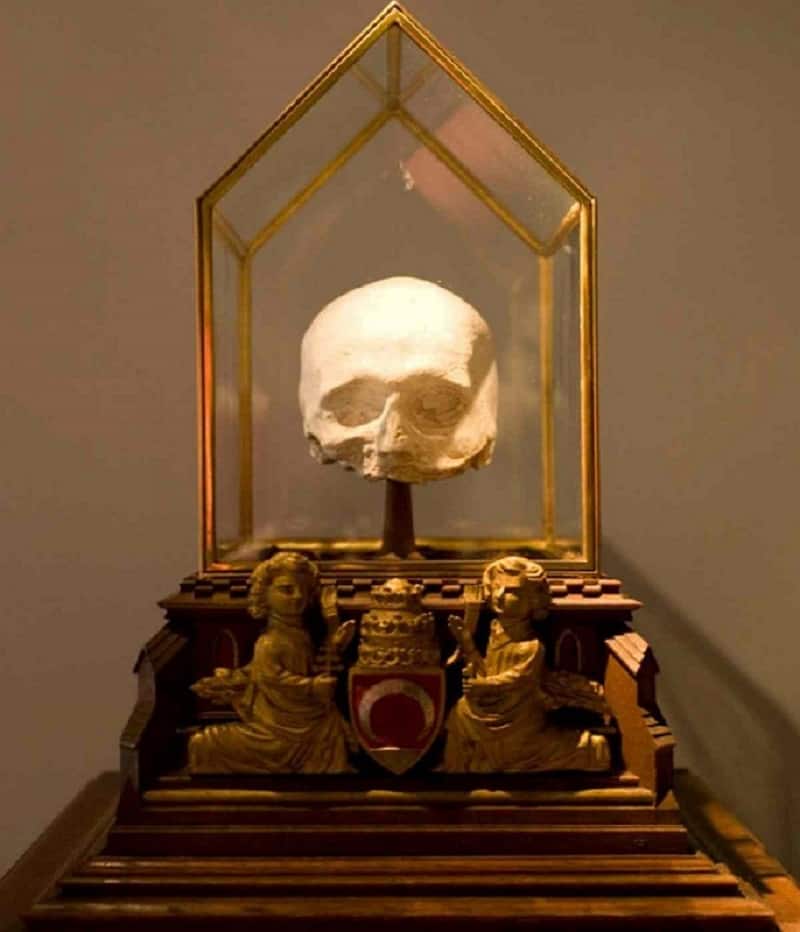 Two handwritten ransom notes were sent to the Mayor of Illueca, Javier Vicente Inez nearly four months after the skull had been snatched, each letter demanding one million pesetas ($5,400USD).
Bring the money to the park in Zaragoza the notes said, and we will give you the skull in exchange for the money. 
But the arranged meeting didn't happen as the snatchers failed to turn up. 
The skull was returned, however, a short three months after it was taken and can now be seen once again on display in the Zaragoza Museum.
I've been unable to trace the identity of the 'two brothers' mentioned in the report by the Independent Online. All I know is their age, given as 19 and 23 years.   
If you can't make it to Spain to view the skull of Antipope Benedict XIII, then a cast of the skull is kept in the Museum of The University of St Andrews, Scotland. They also have a lock of the Antipope's hair in their collections.   
The Body Snatching of Silent Film Star, Charlie Chaplin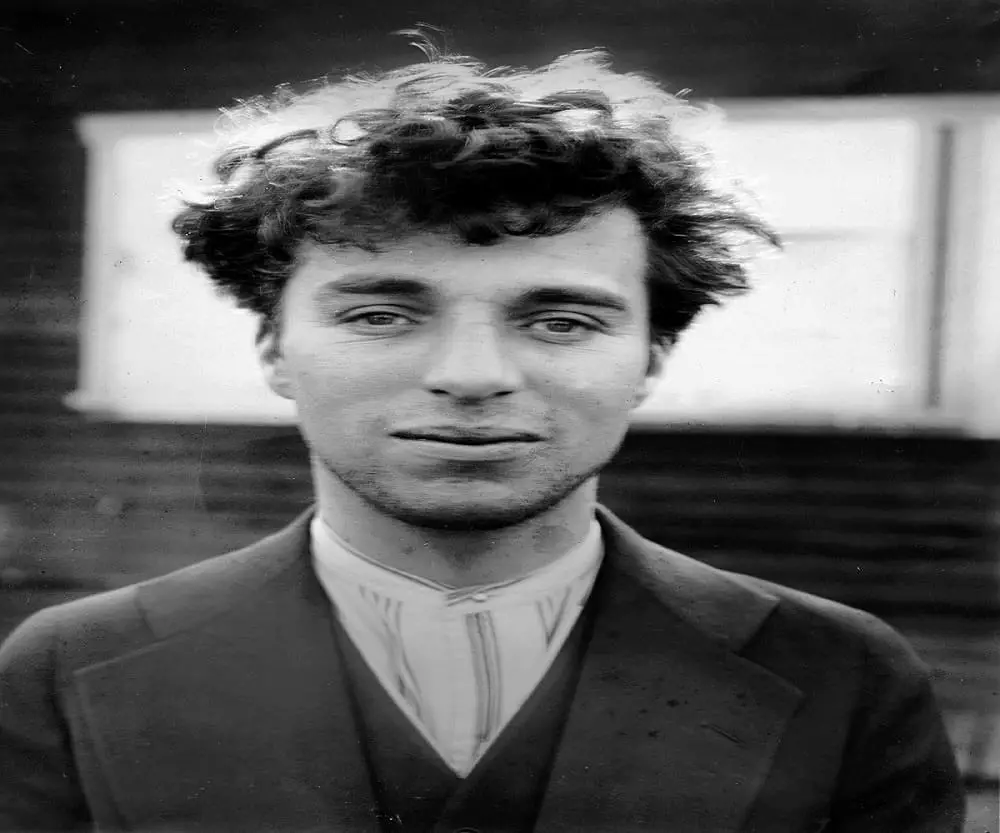 Famed for his hard start in life and his silent comedy, star of the silent movies Charles Spencer Chaplin Jr, better known as Charlie Chaplin, has to be one of the more famous of the modern body snatching cases. 
Charlie Chaplin died on Christmas Day, 1977 at his home in Switzerland. Interred in Corsier-sur-Vevey cemetery on 27th December, Chaplin's corpse was stolen three months later on 3 March 1978. Roman Wardas and Gantcho Ganev dug up Chaplin's body holding it to ransom for £320,000, the equivalent of £1.9 million today. Chaplin's corpse was later found buried in a field near the village of Noville, 15 miles (24km)  away. It was reinterred in a reinforced concrete vault once again in Corsier-sur-Vevey cemetery.
Chaplin's original funeral was a simple affair that was attended by family members and close friends.
Three months later on the morning of 3rd  March 1978, Chaplin's grave was discovered empty by the very man who had dug it, Etienne Buenzod, when he arrived for work at 2pm. 
Unlike their Georgian counterparts, body snatchers Roman Wardas and Gantcho Ganev, both of Eastern European descent, had completely removed and stolen Chaplin's coffin. Newspaper reports at the time speculated that the pair could have 'been in France within half an hour or in Italy within three'.  No-one knew where Chaplin's body was.
The Disappearance of Charlie Chaplin's Corpse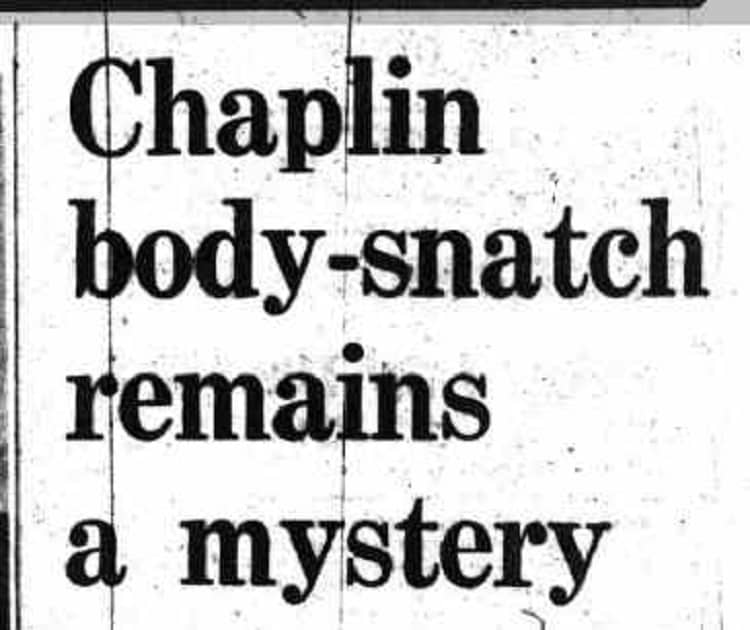 The day after the snatching the press were already speculating that British fans had whisked Chaplin's body back to his homeland for re-burial. 
Despite police receiving over 2500 letters and phone calls following the snatching, they had no leads to go on. The police were at a loss as to who had taken him, or where he was. 
A series of anonymous phone calls, made to the police and to Chaplin's lawyer requesting ransom money of £320,000, which today is a little over £1.9 million, or $2.5 million USD,  proved to be the downfall of the body snatchers. 
When this was refused, the body snatchers said they would instead settle for £14,000, or just under £85,000 today ( $1.1 million USD). Quite a substantial drop. 
With a reported 200 public phone boxes being bugged by the police, the pair were quickly tracked down and arrested in the Swiss town of Lausanne. With one snatcher even being caught in one of the phone booths according to the Belfast Herald.  
The Reburial Of Silent Movie Actor Charlie Chaplin 
After it was discovered buried in a corn field near the village of Noville 11 weeks after the theft, Chaplin's body was reburied in a coffin reinforced with concrete in the same graveyard that he was snatched from, the cemetery at Corsier-sur-Vevey. 
Turns out that the body snatchers, Wardas and Ganev, got the idea of stealing Chaplin after reading about another corpse held to ransom in Italy, although I've not been able to find out which one yet. 
Charged with extortion, Roman Wardas, 24 from Poland and Gantscho Ganev, 38 from Bulgaria, were sentenced on 15 December 1978.  Wardas, thought to be the brains behind the snatching, was sentenced to four and a half years imprisonment while Ganev received a suspended term of 18 months.  
Body Snatching For Medical Research
Selling human bodies, whole or otherwise to medical establishments for research is a practice that hasn't disappeared. 
Recent cases of cadavers being taken for use in medical research include TV presenter Alistair Cooke, whose organs and limbs were exchanged for PVC piping and surgical gloves in 2005. Together with thousands of others, parts of his body were sold to medical establishments for reconstructive surgery. A 2006 case involved Gladys Hammond, the mother-in -law of Christopher Hall who owned and operated a Darley Oaks Farm, a farm that used Guinea Pigs for scientific research.
Let's take a look. 
Guinea Pig 'Terrorists': The Theft of Gladys Hammond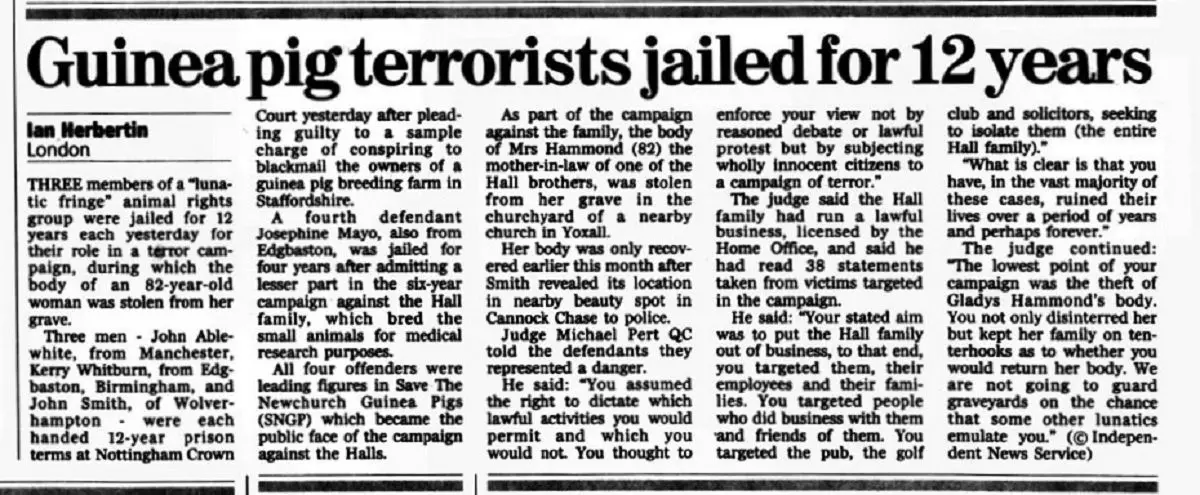 The body snatching of 82-year-old Gladys Hammond in 2006 was in protest by animal rights extremists campaigning against the use of Guinea Pigs for scientific research. 
Although Gladys wasn't directly involved with research carried out at Darley Oaks Farm in Newchurch, Staffordshire, she was the mother-in-law of one of the owners of the farm, Christopher Hall. 
After a campaign of intimidation, (which included death threats and petrol bombs) and vandalism lasting over 5 years, the group calling themselves the SNGP ( Save The Newchurch Guinea Pigs) descended on the grave of Gladys Hammond, exhuming her corpse, refusing to tell the family where her body was until they closed down the research facility. 
Blackmail Letters Sent
Letters disclosing the whereabouts of 'parts' of Glady's body were sent to the BBC and local newspapers by the Animal Rights Militia (ARM). Acting on this information, police went to nearby Brackenhurst Wood where they spotted three people, who they arrested as suspects. A fourth would be arrested later. 
Those involved, Kerry Whitburn of Edgbaston, John Smith of Wolverhampton, John Ablewhite of Manchester and Josephine Mayo of Staffordshire were all jailed for conspiracy to blackmail.
The men were sentenced to 12 years imprisonment each, being released after serving five years of their sentence. Mayo served half of her four-year sentence, being released in May 2008.
It would be over a year and a half before the snatched remains of Gladys Hammond were found in woodland in May 2006. Darley Oaks Farm closed its doors in 2006.  
Body Snatchers in New York: The Theft of Alistair Cooke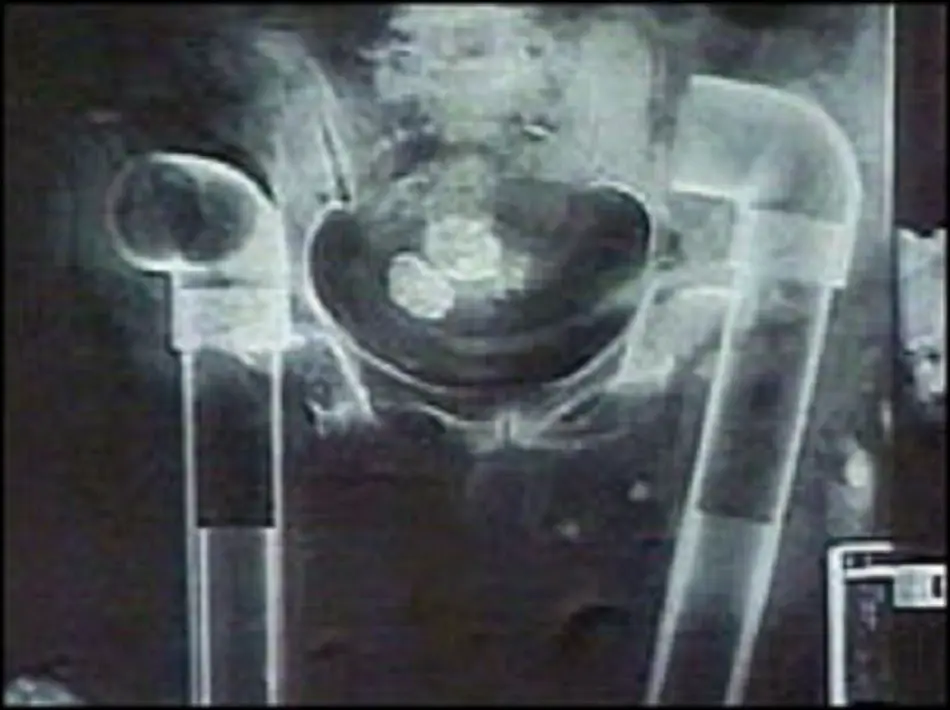 You wouldn't think a dentist and a funeral director would have much cause to cross paths let alone conjure up an illegal trade harvesting bones for reconstructive surgery. 
But in what has been dubbed a 'body-parts-for-sale-scam'  by the press, that's exactly what they did. 
In 2005, Michael Mastromarino, a former Dentist, together with Funeral Director Joseph Nicelli illegally harvested the bones of TV broadcaster Alistair Cooke who'd died of cancer in March 2004. The donation of his body for use in reconstructive surgery was authorized using false consent. Cooke's arm and leg bones, sent to Regeneration Technologies in Florida were never used, although it is unclear where his hips and 'other body parts' were distributed.
Body Snatching Scam Discovered By Former NYPD Detective 
When former NYPD Detective Patricia O'Brien investigated a complaint at Daniel George & Son Funeral Directors in Brooklyn, not even her wildest dreams could have prepared her for stumbling on an operating theatre on the first floor of the premises and undercover a body snatching syndicate worth more than £3.68million ($5million USD). 
What started as a simple complaint about money, slowly unraveled to reveal a darker side to New York's funeral industry. 
Investigations led to the discovery of over 1,000 bodies having been mutilated and bones sold to hospitals for use in surgery. Bones were replaced by PVC pipes, human tissue with surgical gloves and aprons. 
Now, it turns out that Nicelli was a former business partner of Michael Mastromarino, dentist turned organ and body tissue supplier to the transplant industry. 
Mastromarino's company, Biomedical Tissue Services, provided a full service to the transplant industry, newspapers reporting that the following were harvested by the company for resale:
Discovering Alistair Cooke
Among those bones illegally harvested were those of TV presenter Alistair Cooke, best known in the UK for 'Letters From America'  and in the US for 'Masterpiece Theatre'. Cooke had died 30 March 2004 after suffering from lung cancer which had since spread to his bones. 
In order to sell Cooke's bones and 'other body parts'  for use in reconstructive surgery, New York Mortuary Services, would liaise with funeral directors prior to cremation who would falsify paperwork and remove bones, skin and other organs for use in reconstructive surgery. 
In Cooke's case, his age was altered giving the suggestion, as the Irish Independent says, that his corpse would appear fresher than it actually was. The cause of death was also altered from cancer to cardiopulmonary arrest.
The theft of Cooke's bones netted the gang between £2900 – £5100 ($4000 – $7000 USD), no one seems to know for certain and were sold to two transplant firms. Estimates for the sale of a single body were reported to be as much as £110,500 ($150,000 USD). 
Uncovering The Scam 
Involved in the scandal were Christopher Aldorasi, who helped fabricate legal documents and Lee Cruceta, dubbed by the press as 'cutters', the men who removed the limbs and organs from the cadavers before they were cremated. 
The body parts taken from the corpses including Cooke's were never found, although the 'syndicate' of at least seven funeral directors involved in the scam does seem to have been closed down. 
It's thought that the illegal sale of human body parts for this particular scam, which had been in operation for four years, was valued at £ 3.68 million ($5 million USD).
Alistair Cooke's Body Snatchers Are Brought To Trial 

Indicted on more than 100 counts, the trial of the New York body snatchers was heard in court on 18 June 2008. 
Michael Mastromarino, aged 44, considered the mastermind and ringleader in the scheme decided that the best route for him to take was to save his own skin in all of this. 
Mastromarino was sentenced on 27 June 2008 to 18 – 54 years in prison after pleading guilty to the bone harvesting racket. He died on 7 July 2013 while still serving time, Mastromarino, at the age of 49 died after suffering from liver cancer. 
Christopher Aldorasi, just one of a team of 12 'body cutters' was sentenced to 27 years behind bars after his role in the scam was unravelled. He personally made £2 million ($2.7 million USD).  Aldorasi, together with Joseph Nicelli were sentenced to nearly 10 years in prison.  
Chief Assistant to Mastromarino, Lee Curceta pleaded guilty and was sentenced to eight years in prison. 
Strange & Bizarre Cases of Modern Body Snatching
I can't not talk about modern day body snatching without mentioning these next two infamous cases. 
Ed Gein, body snatcher and murderer from LaCrosse, Wisconsin perhaps needs no introduction for he is known the world over for having made household and wearable items from the skin and body parts of women he either murdered or snatched.
Anatoly Moskvin however, you may not have come across. His raids on churchyards culminated in him dressing the corpses he stole and keeping them in his bedroom, completely unbeknown to his parents. 
Both are exceptional cases that fall under the category 'Strange and Bizzare'.
The Russian Doll Man, Anatoly Moskvin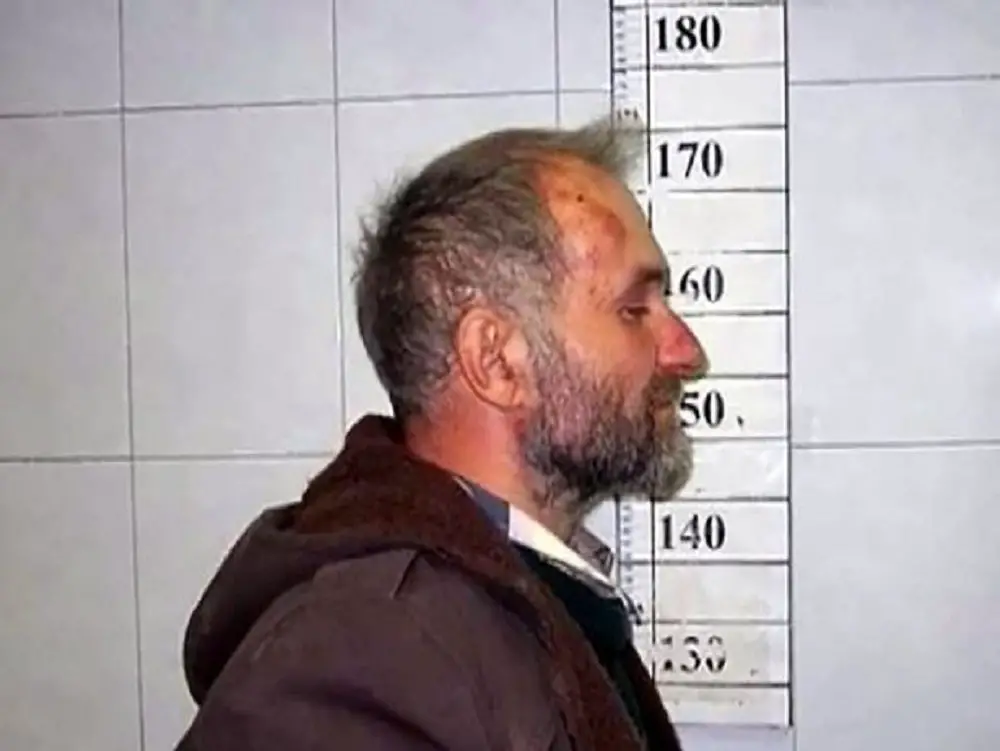 To say that the 'certain quirks' and characteristics of Anatoly Moskvin went unchallenged or investigated for so many years is astounding once you start to read around his case.
Approached on many occasions by authorities as he was conducting 'research' into 725 cemeteries in and around the Nizhny Novgorod region of Russia, Anatoly Moskvin, a linguist, historian and author of many books, was simply allowed to carry on his macabre act purely because he states he was an academic and it was for research purposes.
What Had Anatoly Moskvin Done?
Anatoly Moskvin, 45,  was arrested 2nd November 2011 for desecrating the graves of twenty-six girls and young women in the cemeteries around Nizhny Novgorod before removing their corpses. Moskvin, mummifying the bodies at the cemetery, would later dress them and arrange them around his bedroom and garage, at a home he shared with his parents. Following his arrest, he was removed to a psychiatric clinic where, as of February 2019, he remains. 
After having a fascination with cemeteries ever since the age of twelve, Moskivin believed that the girls had been abandoned by their mothers following their burial and that he was actually doing 'good for them'.
"These girls are girls. There are no parents in my view. I don't know any of them," he said. "Besides, they buried their daughters, and this is where I believe their rights over them finished." quoted the New York Post in November 2020.
Moskvin's strange obsession with the dead stems from an overly macabre situation that he found himself in 1979, then aged twelve.
Stopping to watch a funeral procession go by, he was inexplicably forced to repeatedly kiss the corpse of eleven-year-old Natasha Petrova as she made her way to the cemetery. Some say it was later to transpire that this was a strange marriage ceremony, thrust onto Anatoly by the girl's relatives. Powerless to resist, Moskvin was never the same again. 
How Was he Caught?
In 2009, police were alerted to a number of desecrations in graveyards in and around Nizhny Novgorod where Moskvin was 'researching'.   
Initially, these acts of vandalism were attributed to extremists and it wasn't until 2011, some two years later that police would finally stumble on the astonishing life of Russian 'cemetery expert' Anatoly Moskvin. 
When a terrorist attack was carried out at the Russian airport at Domodedovo, Moscow in 2011, police linked the attack with reports that Muslim graves were again being violated in the Nizhny Novgorod region. During a raid, Anatoly Moskvin was seen painting over images on Muslim graves. Believing him to be involved with the attack, he was immediately arrested. 
Why Did Moskvin Make Dolls Out of Corpses?
Little did police think that when they arrested Anatoly Moskvin in 2011 would they stumble on the most macabre and bizarre cases of body snatching to have been discovered in recent years. 
When investigations led back to Moskvin's home that he shared with his parents, (who incidentally claimed they knew nothing of their son's macabre graveyard raids), twenty-nine dolls, all made from human corpses, were discovered. 
Anatoly Moskvin embalmed the bodies of girls and young women, ranging from the age of three years up to twenty-five years believing that they had been abandoned by their parents when they were buried. Moskvin also kept the dolls as a substitute for Russia not allowing him to adopt.  
The corpses were to be his replacement. Carefully embalmed using a technique he devised himself, Moskvin would then dress the corpses in various attire, some even belonging to the deceased. 
How were the 'Russian Dolls' Made?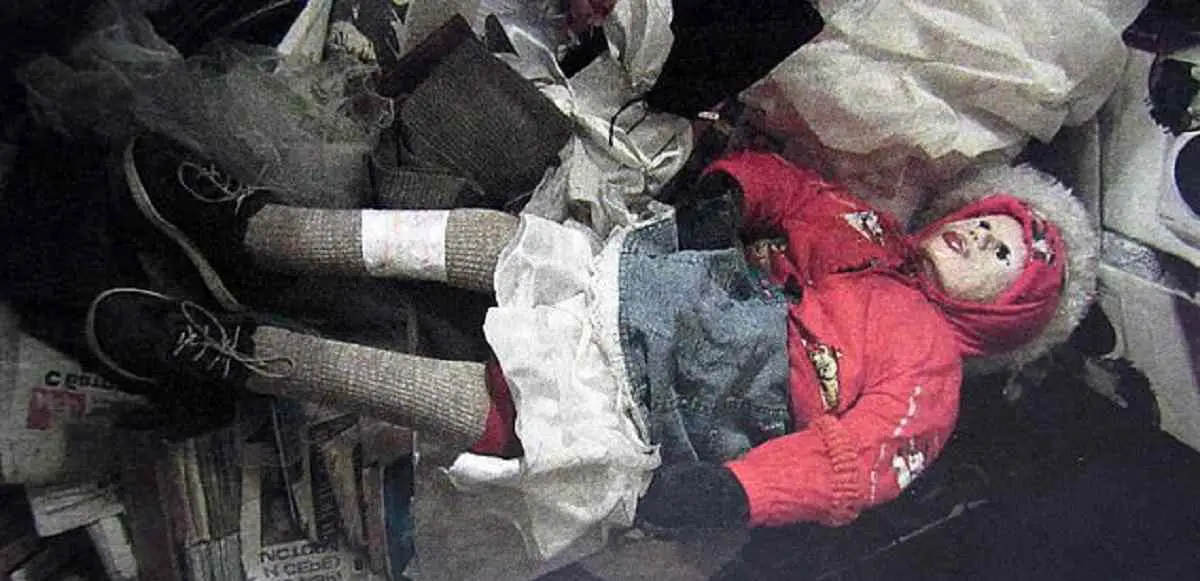 Perhaps feelings of loneliness passed through the thoughts of Moskvin as he rebuilt and dressed the bodies of the girls he stole. 
False faces were tied to some of the cadavers, buttons sewn on for eyes so that they too could watch cartoons. In one girl Moskvin has sewn a music box into her abdomen which played music when disturbed.
Over the period that Moskvin was stealing cadavers, he'd learnt to fashion limbs from rags that he'd stuff into the empty cavities of legs or arms, moulding them into shape to suit his needs. 
The end result was a doll-like corpse that Moskvin thought was keeping him company. In return, he'd celebrate their birthdays with them. 
This 'unique' individual is believed to have desecrated over 150 graves in total by the time of his arrest in 2011.
Where is Anatoly Moskvin Now?
Moskvin was tried for the desecration of graves and dead bodies, and it was clear that Moskvin could not survive the 5-year prison sentence that the conviction would carry had he been found guilty. 
After a psychiatric evaluation, he was deemed unfit for trial, admitting that he was aware that what he was doing was a crime. Diagnosed with paranoid schizophrenia, in 2012 Moskvin was transferred to a psychiatric unit. 
Regular assessments of his mental health have been carried out and in 2018 doctors even considered that he was no longer a threat to society. Thankfully, Moskvin was not released following this completely incorrect observation and as of February 2019 remains in hospital.
Ed Gein: The Butcher of Plainfield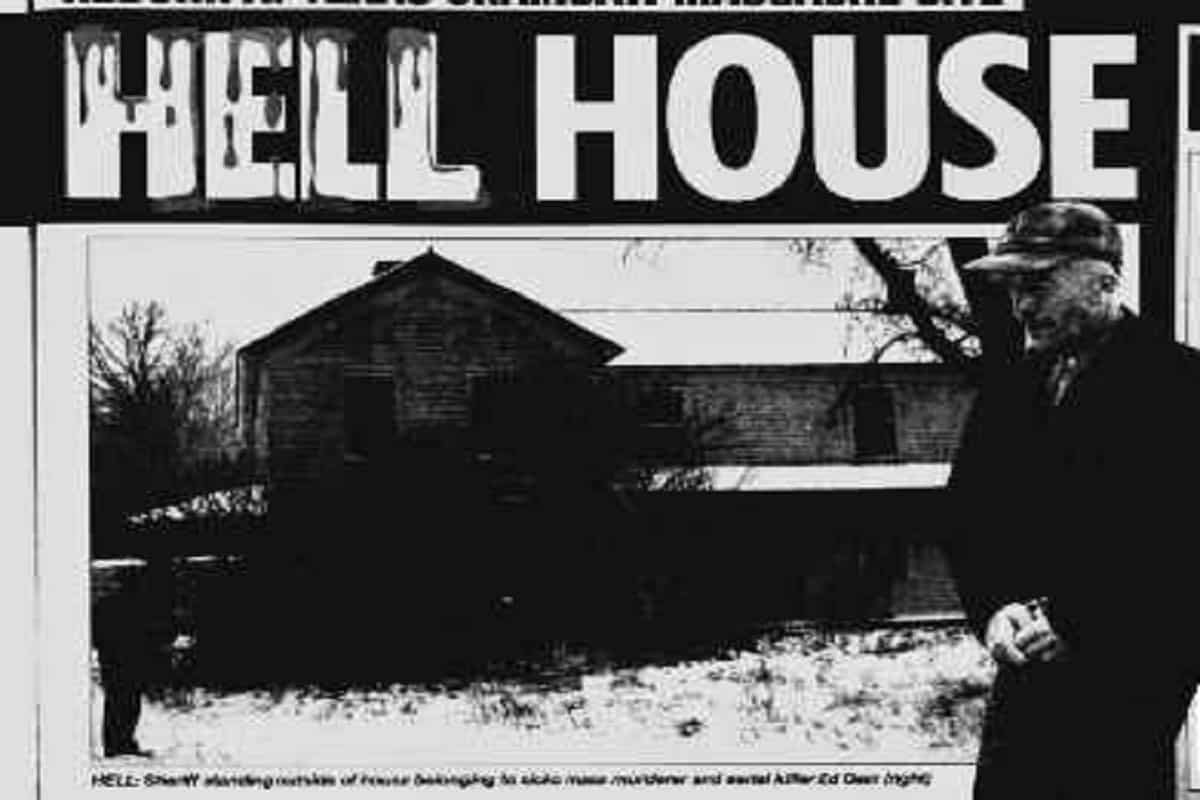 The crimes of Ed Gein,a man they also call The Butcher of Plainfield, are not the type that you come across everyday, thank goodness.
For this man, living on an isolated farmhouse on the outskirts of Plainfield, Wisconsin, seemed to have had no barriers when it came to mutilating his victims. 
What Is Ed Gein Known For?
Following his arrest for the murder of the owner of a local hardware store, Ed Gein, odd job man and handyman, exploded onto the pages of the press after the discovery of a number of disturbing artefacts in his home. 
Known primarily for fashioning keepsakes and various items for the home out of female human skeletons and skin, Ed Gein also murdered two women, tavern owner Mary Hogan in 1954 and Bernice Worden, owner of a local hardware store in 1957. He also stole and mutilated the bodies of between nine and eleven females in total, all of whom were said to have borne a strong resemblance to his mother.  
Gein's body snatching habits are where he obtained most of the body parts that he fashioned into items displayed around his home. With human skulls being used as bowls and belts made from human nipples, he'd had to have got his resources from somewhere. 
When the case came to court questions were raised over how one man could have exhumed a cadaver all on his own. The same types of questions that were being asked when people were trying to figure out how Georgian Body snatchers removed a corpse. 
The graves were particularly shallow in the graveyards Gein targeted, which primarily centred around Plainfield Cemetery. 
In a book written by Robert H. Gollman, the Judge presiding over Gein's trial, which I referred to extensively when writing a larger post on Ed Gein and body snatching
they're reported to be less than 2ft deep (61cm) and in predominantly sandy soil, which is much easier to dig.
How Was he Caught?
When the truck belonging to the local department store in Plainfield, Wisconsin was seen leaving the back of the store on the morning of the 16th November 1957, nobody really paid it any attention. 
It was only when the store failed to open that day, did people become concerned. Deputy Sheriff Frank Worden stepped through the doors of his mother's department store at 5pm that evening only to discover a trail of blood on the floor and the cash box left open. 
On the counter was a receipt book, the last entry noting a sale of antifreeze, an item last purchased by Ed Gein earlier that morning. 
As police arrested Gein in a grocery store, another unit headed to his home in an isolated part of town. 
No amount of training could have prepared them for what they were about to discover.
Items Discovered At Ed Gein's Home.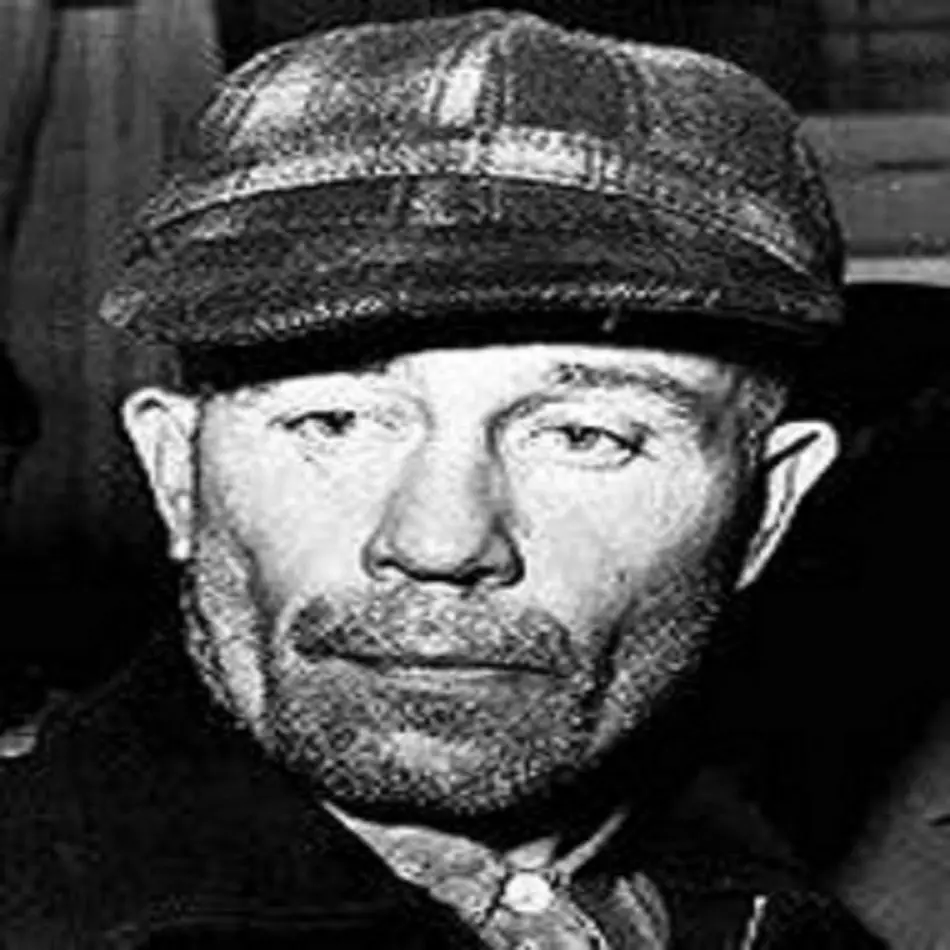 When officers walked into the shed at Gein's home they discovered the flayed body of Bernice Worden hanging upside down from rafters. 
Bernice had been killed with a .22 calibre rifle, presumably shot at her hardware store where the blood was found. 
Continuing the search of the property, police from the Waushara County Sheriff's Department move into Gein's home. The discoveries made here will forever go down in history. 
This isn't a full list of items discovered, but the more famous 'relics' are as follows: 
The list continues and becomes more deranged as it goes on. 
Amongst the findings was the head of Bernice Worden, placed into a sack and discovered thrown onto a mattress at the back of the kitchen. 
As the day progressed, more and more disturbing discoveries were made and by the 21st November 1957, the crimes of Ed Gein were ready to be heard in court.
Where Happened To Gein After His Trial?
At a hearing on the 21st November 1957, it was quickly realized that Gein was unfit to be questioned and he was sent to Central State Hospital for the Insane at Waupun, Wisconsin. 
His trial would not come to court for another 10 years, when on 7th November 1968, Gein was deemed fit enough to be questioned. At least that's what officials at first believed. It was quickly discovered that Gein was anything but. 
Gein was found guilty on 14th November 1968 and convicted of brutally murdering Bernice Worden in 1957. He readily admitted to the murder of tavern owner Mary Hogan.  
Immediately after this, a second trial was held to judge the mental state of Gein where he was found to be clinically insane. He was sentenced to life in the Central State Hospital mentioned above, now the Dodge Correctional Institution. 
Ed Gein died from respiratory failure due to lung cancer while at the Mendota Mental Health Institute on 26th July 1984, aged 77yrs.  
One blog I do recommend if you want to read more on Gein's story however is Cult of The Weird where they've written extensively on his story. Check out what they call the DIY Ed Gein Tour. It's a road trip in the making if that's your type of thing.  
*This figure is given by talkdeath.com but I can't seem to access the website so I can't check any further.